Black Dog Lunker Punker - $35.99 to $39.99
The Black Dog Lunker Punker is a "Walk the Dog" bait. The Punker has a patented design that keeps the body working slowly across the surface mimicking a large bait fish. The bulk of this bait will push a lot of water, catching the attention of the big ones and bringing them up from the depths, while the action and finish of the bait, along with the feathered treble, will trigger savage strikes.
| | |
| --- | --- |
| Black Dog | Weight |
| 6" Lunker Punker | 2.4oz |
| 8" Lunker Punker | 3.5oz |
Comments: When this bait gets bit you will not be disappointed. Top water action and monster fish at the end of your line, what more can you ask for? Only down side is its expensive to have a GOOD set up to throw these big baits.

From: HmoobYaj: San Diego
Comments: Striper knocked this lure four feet out of the water yesterday. Today they hit it four times! Believe! This bait means business! Both sizes work!

From: Tacklejunkie
Comments: 9in. trout or foiled trout kills the pig stripers and catches the occasional largie. Only thing is the the hooks need to be swapped out with 3/0 owner stingers.

From: Josh: DVL, Cali
Comments: Every striper Ive caught on the punker has been 10 lbs+, every LM over 6lbs. Big fish bait period! There comming out with a 4" wood punker soon btw. Cant wait!

From: Seth: Lodi, CA
Comments: No joke, I just saw my friend pull in a 4 and 7lber LM today. He also got multiple hits that knocked this lure into the air multiple times. They are heavy, but they pull in heavy bass as well. Awesome bait! I like the wood ones a lot better than the plastics.

From: Brian: San Francisco, CA
Comments: Bought the 6" model and took it out for the first time last night! Hooked 2 and got 1 in! Can u believe it was only a 1 lb. Largemouth!! I throw it on a 7'8" Carrot Stix Gold Heavy rod, Revo Toro HS, Big game 25lb.

From: Grant: Susanville, CA
Comments:How can there be no reviews of such a great bait? The Punker in my opinion, is one of the best big baits ever made. It just simply catches fish everywhere and of all sizes. It has that side to side erratic "make them bite" action. I've done well on both sizes of the wood baits; and have also done well on the plastic. Don't know how many bass I've caught on Punkers. So fun to fish and the bass just drill them. I own 7 of them and will probably own more.
From:ACH: So Cal, USA
***Note: If you have questions about this product or need assistance with an order please email your questions to info@tacklewarehouse.com
View Large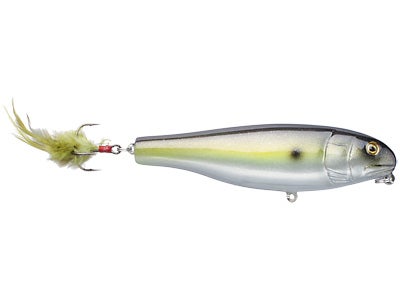 6 Available Colors
More Black Dog Bait Co. Swimbaits