Boat Bling Hot Sauce - $19.95
Give your boat some bling with Boat Bling Hot Sauce - the ultimate water spot remover. Just point, spray, and wipe off, for a streak-free shine that will leave your boat looking like it never touched the water. Made with specialty polymer and silicon waxes, the water-based Boat Bling Hot Sauce easily removes stubborn mineral deposits and engine exhaust, while leaving your current wax coat intact. Intended for use on fiberglass, plastic, chrome, glass, and all painted surfaces, the Boat Bling Hot Sauce is a great way to put a spot-free shine on your entire vessel. Make your boat the jewel of the fleet with the Boat Bling Hot Sauce.
Features:
–Biodegradable, water-based product
-Made from specialty polymers and silicon waxes
-Won't strip current wax, adds wax sealant with each use
-Spray on, wipe off application
-Safe to use after each outing
-Removes hard water spots, mineral deposits, and exhaust residue
Comments: I've used alot of products (boatdacious, BTS, bass boat saver, pro tec, Lucas oil slick mist and others) and this is the best I've used. Takes off water spots great and leaves boat with a nice shine.

Comments: bottom line this stuff is the best for wiping your boat down it leaves a great shine and it even leaves a slick coating like a light wax makes my ranger look great you've got to get you some

From: Ada: Hayward ca

***Note: If you have questions about this product or need assistance with an order please email your questions to info@tacklewarehouse.com
View Large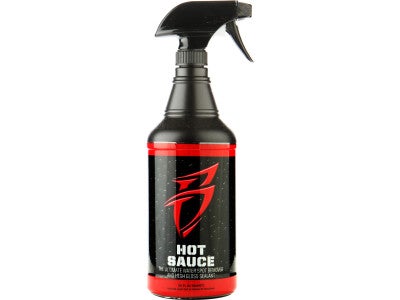 Place Your Order
More Boat Bling Products