Boomerang Tool "The Snip" Basic Line Cutter - $11.95
Stop searching your boat for you line cutters and clip on a Boomerang Tool Co. The Snip Basic Line Cutter. The Snip Tool offers anglers an effective alternative to awkward, easily misplaced cutting tools like scissors or nail clippers. The spring-loaded retractable leash allows the Boomerang Snip Tool to be attached anywhere on your boat - or on your person - and it extends a full 36-inches. The Boomerang Snip Tool makes retying a breeze.
The Boomerang Snips are compact, lightweight, extremely durable, and they can make clean cuts with just one hand (even with gloves on) through monofilament, fluorocarbon, and braided line (50-lb test) quickly and easily. When you're finished cutting, just squeeze the stainless steel handles on the side of the casing to lock the blades in safe-mode, and let go. The Boomerang Tool Co. The Snip Basic Line Cutters will automatically return to its original position - ready for use whenever you need it.
Dimensions: 3.25" x 1.25" x 0.75"
Weight: 1.25oz
Features:
-Ergonomic design for one-handed operation even with gloves on
-Convenient O-ring to connect to you boat, vest, or pants.
-36" retractable cord
-Jaws: 420 Stainless Steel
-One-Year Product Warranty
Comments: Best braid cutting tool I have found yet Ive been using it for almost 2 years with no problems.

From: Ed: FL

Comments: This thing is great. It sure beats my old clippers. It cuts nicely through any line. I also like that it retracts back. I put mine a carbiner clip and it is always there when I need it

From: Josh: TN

Comments: The best line and braid cutters out there

From: Lenny: CA

Comments: "The Snip" is the real deal. Keep in on your belt loop during the day and you will have a tool close at hand that will handle brain, mono and flourocarbon with ease. Cool little tool!

From: Buggs: Durham, NC

***Note: If you have questions about this product or need assistance with an order please email your questions to info@tacklewarehouse.com
View Large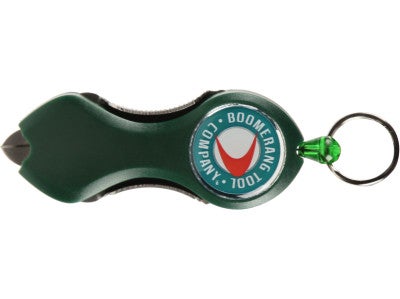 2 Available Colors
More Boomerang Tools