Booyah Baby Boo Jig - $2.09

A scaled down version of its big brother, the Booyah Baby Boo Jig approaches bass with a stealthier, diminutive presentation that will have even the most skiddish fish begging for a taste. Unlike the original Booyah Boo Jig, the Booyah Baby Boo Jig does not have a rattle, which can make all the difference around heavily-pressured fish. Built using an ultra-fine, 60-strand silicone skirting, the Boooyah Baby Boo Jig moves through the water with a fluid, pulsing action. Complete with a razor-sharp 3/0 Mustad Ultra-Point light wire hook, the Booyah Baby Boo Jig is a great finesse jig for triggering finicky fish to bite.
View Large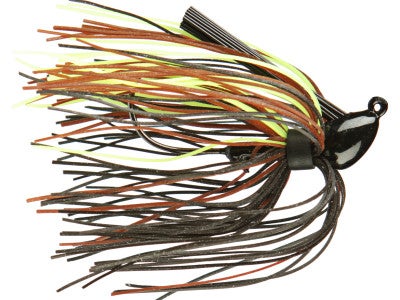 More Booyah Jigs
Comments: these jigs are comparable to the strike king bitsy bug. Except these are made a little better. I've been throwing then 3D green pumpkin with a zoom super chunk and I love it. Hooks are a little thin, I straightend a few out so I started fishing them on a 6' 6" M rather than a 6' 8" MH and haven't had a problem, these jigs have a nice small profile for smallmouth as well. For the price I love these little jigs!
From: Chris: NE, Wisconsin 6/10/14

Comments: use this bait in the 5/16 green pumpkin color with the zoom baby brush hog in bullfrog or watermelon gold flake as a trailer pitch em into heavy cover and hold on the bass cant resist them
From: Matt: CT 6/8/14

Comments: These jigs are awesome. We had just come of a major flood and a cold front came in. The water was really muddy and the fish were not that active. My buddy and I threw these jigs in black and blue with the 5/16oz size as close as we could get to cover and we would slay them. We were using ultravibe speed craws as trailers. They were extremely durable and hook-ups were great with the weedguard trimmed. Biggest fish of the day waked up in about 8 inches of water to eat this bait.
From: Ethan: Charlottesville, VA 5/20/14

***Note: If you have questions about this product or need assistance with an order please email your questions to info@tacklewarehouse.com