Booyah Blade Colorado Willow Spinnerbaits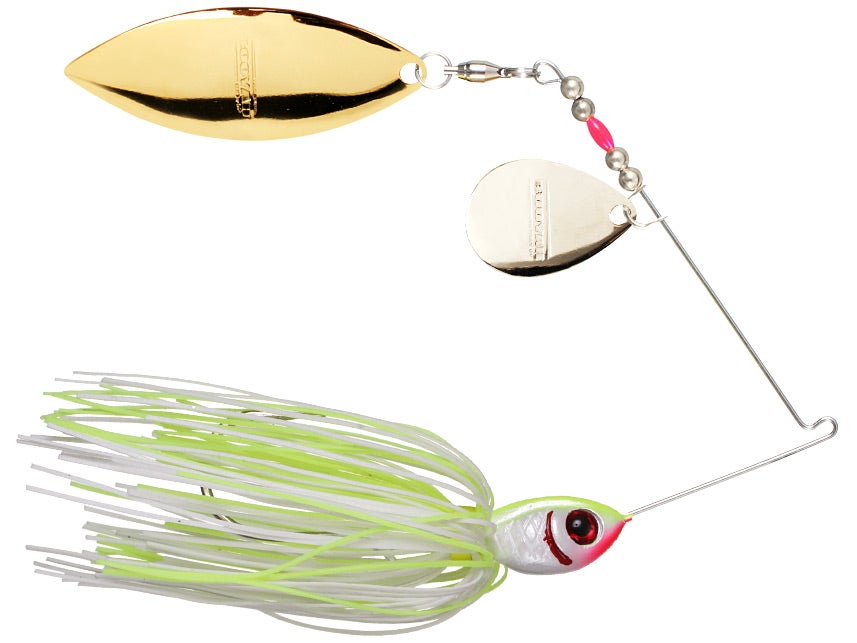 Booyah Spinnerbaits have been taking the bass fishing world by storm, and rightfully so. These blades are manufactured with top quality components that produce an honest, fish-catching spinnerbait that is a real value. The blades are plated with jewelers grade gold and nickel that resist corrosion and give true color, and the big blade is secured with a ball bearing swivel. Light, .035 gauge wire is specially tuned to produce maximum vibration and is easy to re-tune after your blade gets mauled by a big bass. The head features bright red molded in flared gills, 3D eyes, and a 50 strand Bio-Flex skirt that moves and breathes in the water. The Booyah Blade is an honest value for an honest bait.
6 Colors
More From Booyah Spinnerbaits
Customer Reviews
Comments: Been fishing em for 4yrs. Very Durable SpinnerBait and Most of All it flat out catch em constantly. Great colors selection and my daughter love the 1/4 oz.
From: Goin' Ike: CA 5/19/15

Comments: The wire is what makes this bait. Yes it is thin, but that is at makes the action. GREAT spinner bait. If you are catching fish on a wire bait, you will brake them. Use a good composite rod to reduce the stress on the wire and mono. Must use mono. If everything is rigid dont complain when the wire brakes.
From: Nick: USA 5/15/15

Comments: First time using a Booyah bait product, and I chose this spinnerbait. I know they are not expensive, but I was hoping for more than ten casts before the skirt came off. I do not know how it happened, nor did I feel anything pull it off in the water. So was not much use today because I did not have an extra skirt to replace the one I lost. Is this common with spinnerbaits?
From: River: Phoenix, AZ 5/21/14

Comments: KILLER SPINNER BAIT!!! I have the the chartreuse perch in the 1/4 ounce size. It absolutely destroys bass with its action. I've caught everything from 1.5 pound bass up to 4.2 pound bass it's absolutely great. Get one and you'll love it.
From: Unknown: USA 3/23/14
Comments: amazing. all i use is booyah and they never fail.

From: Kurt: NJ

Comments: This is a great spinnerbait, like the description says the blades are very corrosion resistant (even is the salty Hawaiian air, these and my terminator spinnerbaits are the only ones that haven't rusted). The light wire is super easy to re-tune after you catch a big fish, even peacock bass cannot phase it. This is the only spinnerbait I've used that the paint starts coming off before the wire and skirts are trashed. The flexible wire adds actions that most other spinnerbaits just don't have.

From: Frank: Makakilo, HI