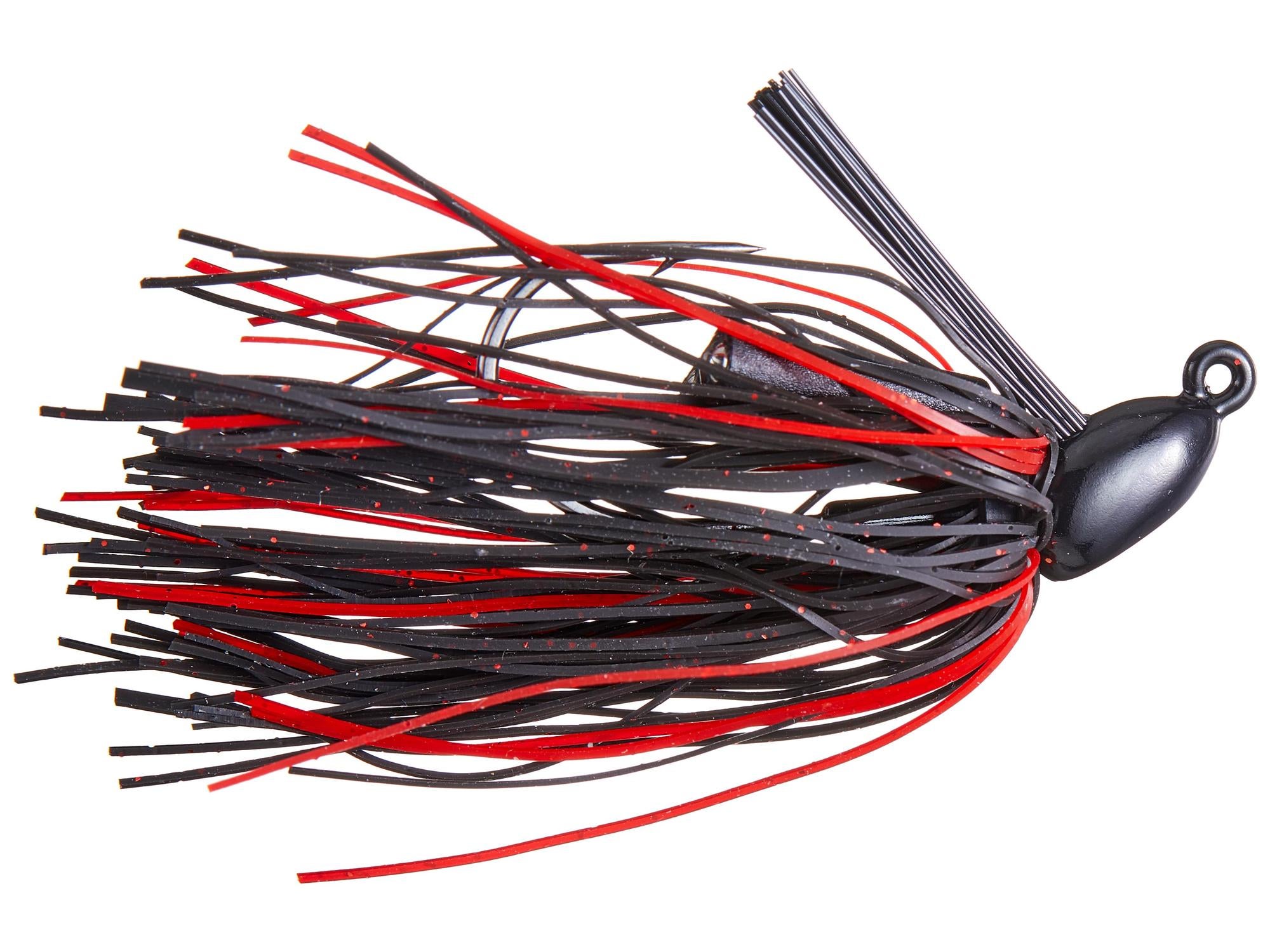 These Boo Jigs from Booyah Bait Co. are very impressive! Booyah! uses 50 strands of high quality silicone material to produce full, thick skirts so you can fish the jig right out of the package or trim it and thin it to whatever configuration you prefer. The Bio-Flex silicone skirts come in colors and combinations exclusive to Booyah! and produce great, natural colors that bass respond to. The big round bend Mustad UltraPoint hook has an 18 degree bend and the head of the jig is molded right up to the inline hook eye for a combination that comes through wood and rocks easily. Double rattles are attached to the band that holds the skirt and can be removed if you desire. There is a keeper molded on the shank of the hook to keep your plastic trailers where they belong, and the 30 strand fiber weedguard goes well past the point of the hook, ready for you to trim to the length and thickness you like. We think this is the way most of us would make a jig for fishing wood and structure and we give the Boo Jig high marks.
8 Colors
More From Booyah Jigs
Customer Reviews
Comments: Not too impressed with these jigs had one that caught about 5 fish & paint was fully chipped off & the bait keeper broke off the hook. The skirt changed from white to a brownish yellow color & the rubber band came loose so the skirt won't fit on the keeper.
From: Jackson: MN 9/14/16

Comments: For the price this is a great jig! I always catch fish on it & like how it fishes over the other store bought jigs. I put a dot of super glue on the rattles & have never had one come off.
From: Michael: Texarkana, AR 7/11/16

Comments: These things catch fish really well. Maybe it has to do with the rattles, but I almost always get bit if I'm throwing this in green pumpkin with a yum Christie craw as a trailer. My favorite thing to do is pitch these into cover. The only negative of this jig is that the skirt & rattles start to fall off after a few fish, but it's an inexpensive jig so it's not really a problem.
From: Kerry: Houston, TX 5/21/16

Comments: Great jig. The skirt should be trimmed a little bit but the hook on this thing is fantastic. The first time I used this jig I caught a 10 lb largemouth after just a few casts with a Berkley powerbait chigger craw on it. The only problem is after I caught just one bass on it (which was big and did a lot of fighting and jumping to be fair), one rattler fell off and the other wouldn't rattle anymore. Overall a great bass jig though
From: Tommy: FL 3/25/15

Comments: Great Jig. Super cheap & flares out well & stands up nice. I trim the skirts like others. Skirt will slip after use. I just use a small zip tie over the rubber band. Wire will work great if you have some. Rattles will fall out also. SUPER GLUE which most have in the boat. Paint is awesome. I don't know why I would spend a ton more for other jigs. Jigs get lost very often and a great jig that is cheap is a blessing.
From: Ben: Mohawk Valley, NY 2/27/15

Comments: Great jig love the black and blue with a peca craw chunk in okachobie craw. Great for any water conditions. I trim the skirt up it is a little long. skips very well. the only prob is hook sets. the rattle wil;l fall out but when you first get them just put a bit of super glue and their good to go. get some and give them a shot good jigs over all.
From: Tait: Huffman, TX 9/28/14

Comments: Great jig! Comes thru the weeds perfect and stands straight up when it lands. This jig also doubles as a decent swim jig. I've caught plenty of 3 and 4lb largemouth with this jig paired with a zoom super chunk

From: Santa Craws: RI

Comments: It's a good jig. Trim the skirt to make I flare out more and throw on a nice paca chunk. Oddly enough I ptch it in rocks and drag it nice and slow with 10-15 second pauses in between. Then every so often I shake the slack to make it vibrate and sure enough they pick it right up and take off with it. Good jig, it has a Ramon thumb and a half up!!

From: Ramon: lake Elsinore ca

Comments: I flat out love this jig. their cheep, have great hooks and flat out catch fish. black and blue with a 6 inch paddle tail trailer. cast near trees, weed our open water and hold on

From: WI
Comments: This is an okay jig. I've caught alot of 3 lb bass with this thing. Yes rattles will fall out but it still catches fish. Limited colors, I wish that there were more but good jig for good price. 4 out of 5

From: Tim: MI, USA

Comments: alot of negative reviews for a solid product. this is my go to jig when im fishing under 1 oz. the 3/8ths is what convinced me to become a jig fisherman. the rattles will fall off eventually, and the skirts may slide down occasionally, but the jig catches without the rattles, and just slide the skirt back up. Great jig for the price. these jigs changed me as a fisherman.

Comments: I also had problems with the skirts. If you seen Beyond the Cast with Derose jig episode the hooks on these will bend and go right back into place. A solid heavy duty jig would be Strike Kings Hack Attack for a buck more. You get what you pay for.

From: HmoobYaj: San Diego
Comments: Had problems with the skirts coming off too. It does catch fish but I rather pay a little more for a hand tie.

From: Luke: San Diego

Comments: skirt on this jig is wwaaayy to loose... i lost 2 skirts on 2 cast... crappy jigs!

From: Kolby: Vancouver, BC

Comments: I fish around a lot of cover. I bought several of these last season. Like the jig, solid construction and looks great. The trouble that I had was that last years model was grabby. It snagged everything that it passed. I fish around a lot of cyprus trees, not a good choice for those.

From: Rich: Forrest City

Comments: I have complete and total confidence in this jig. Don't let any of these negative rviews turn you away from the Boo jig. Its great. Good skirt colors, nice rattles, and a decent long lasting paint job. You cant ask for a better jig for the price. For me, I throw this jig on 20 and 17 pound Berkley flourocarbon line with a 7 foot medium heavy rod and a 7.0:1 gear ratio reel. When I am strictly swimming the jig and not really putting it in any heavy cover I go with a 1/4 ounce so I can slow down my retrieve without it hitting bottom in shallower water, and when I'm flipping and pitching the bait into any kind of cover or fishing some kind of chunk rock, vertical structure, or skipping docks I go with a 3/8 ounce jig. I've caught countless fish on these jigs. Trim the skirt finesse style and put a 3 inch NetBait Paca Craw on there and your gonna have your hands full... full of bass, that is.

From: Justin: NJ

Comments: My advice to everyone that is having problems with this jigs skirt and rattles comming off is tie a 2" long small diamater wire around the skirt and use super glue to glue the rattles to the band....these jigs are too good to write them off!!!

From: Spiderhead: Union City, TN

Comments: Favorite flippin jig. First time I used it, like the 5th cast, caught a nice 3.2 pound largemouth bass. I was using 3/8 oz green pumkin with a chart. pepper zoom fat albert grub. Green pumkin and Black brown spice< fav colors.

From: Layne: OR

Comments: I have used these off and on all year and the skirts & Rattles just fall off after no time or 1 or 2 fish. Dirty jigs are my main jig just wanted to say my peace..

From: Sonny: East Wareham, MA

Comments: Pretty good jig. Caught a nice 3 pound largemouth in the black brown spice with a green pumpkin trailer in shallow water.

From: OR
Comments: First time trying out a jig I threw a Black 3/8 with a craw trailer and caught a 4.5 pound largemouth on my 2nd cast. Skirt held up well, hook penetrated well, the finish didnt wear off all day. The weedguard did get a little bent up but then again the fish were hammering the lure pretty hard. Overall good jig!

From: Abhi: Somerset, NJ

Comments: Started fishing with the 3/8 oz. and 1/2 oz. green pumpkin with a fat albert 4'' grub. Have been whacking bass over 5lbs. since. Caught a 9.5 and 4 largemouth weighing from 5.5 to 7.25 out of a public lake i fish regularly. Fishing with this jig has improved my skills and i will buy more in the future.

From: Terry: Lakeland, FL

Comments: great jigs caught big largemouth all year perfact size not to big not to small perfact profile water melon pumpkin is a great color this jig has made me money

Comments: This would be a good jig if it had a better skirt band. The first couple of casts and the skirt was already sliding down the shank of the hook before i even caught a fish. Good head design,skirt colors, and hook but the skirt needs to be hand tied like the A-jig.

From: Ryan: OK, USA

Comments: i have already commented on this jig and would like to note that i forgot to mention the weak skirt band. i used a boojig to catch quite a few largemouth and jept fixing the skirt and the rattles were gone on the 1st fish and the skirt steadily got thinner. 2nd boojig i purchased was the same exact bit i lost 90% of my skirt and both rattles on my 1st fish! this jig is wonerful if the skirt will actually stay on for you!

From: Mat: OH

Comments: I use attractant on these jigs, and the oil that is used as a base dissolves the black plastic grommet bands which hold the rattles and the skirt. That is why they come off, leaving a black sticky mess.

From: John: Frankfort, IL

Comments: My first Booyah jig and the day I got it, the weed guard came off. I was flipping a bass bed in open water and it just came out when I was checking to see why it was so flimsy. I hope mine was just defective.

From: Edward: GA, USA

Comments: Love this jig! i like to use it as a swim jig on a 7.1:1 baitcastor. i trimmed the skirt down to make it a more compact and efficient bait then added a yum chunk as a trailor and it works great. i use the green pumpkin etc colors to represent sunfish or craws which works creat but the black and blue works well too. my only complaint is the skirt band could be more secure and the raddles come off easily which entitles the same problem of the skirt band. but i like this bait alot for swimmin and even flippimg it in grass/algae.

From: Mat: OH

Comments: I ordered 15 Boo jigs, the first day I fished with them I lost 8. I like the colors and the action of the skirts, but they are not very good in heavy brush, and the rattles are not secured very well. While I was "tuning" the jigs a few of the rattles fell off. They should not be labeled under the "flipping" jig section, I feel a flipping jig should be able to come through brush much better, probably more of a casting jig (the weed guard is a little soft for a flipping jig, even when I trimmed it down a bit) . With all that being said, when I'm not loosing boo jigs in heavy cover I'm catching fish with them. I caught 15 the last tournament I fished, even caught a peacock bass on the green pumpkin color. I fish in Hawaii, and the club I fish in has a 3 fish limit, ended up with 3 bass for 8lbs6oz, all on boo jigs. Not a bad day considering most of the larger fish here are peacock bass.

From: Frank: Makakilo, HI
Comments: i purchased the green pumpkin and had a sweet beaver trailer on my first cast i caught one and it was a horrible day so far so good.

From: Chaz: Texas, USA
Comments: I bought one of these jigs and it has been my go to bait in the summer when the bass are deep. I have caught countless bass off the jig including many over four pounds. I really like the skirt colors especially watermelon pumpkin. I definitely recommend this product.

From: Peter: Connecticut, USA
Comments: I have been fishing the 1/4 and 3/8 oz. green pumpkin jig on lake Oconee in Eatonton, GA for the past few years. Green Pumpkin works the best. I caught 9 bass flipping docks one day during the first week of June, 2010 that had a total weight of 37.13 lbs. These jigs work great tipped with a Paca Craw chunk in either Green Pumpkin or Summer Craw.

From: Josh: Eatonton, GA
Comments:I purchased 8 Boo Jigs recently and was rather disappointed. The skirts were continually popping down on the jig. It would be nice if they were attached much tighter or more permanent. I love the skirt colors and may have been a regular purchaser but, at this point I would not purchase them again. I'm not sure if I just got a bad batch of jigs with loose skirt bands but was seriously unhappy. My order came from the Tackle Warehouse.
From:Allen: Indianapolis, IN