Today's Daily Special!
Our Regular Price $6.99
You Save $1.74, 25% Off
The Booyah Boo Rig utilizes the effectiveness of a schooling rig and a spinnerbait – all in one fish-catching package. Equipped with four lustrous willow blades at the end of four stiff wire arms, the Booyah Boo Rig gets down deep and delivers a blinged-out presentation that big bass just can't resist. When fished with a wide-wobbling crankbait, the vibrations travel up through the wire, and give the willow blades even more action. Fish the rig that's full of flash, the Booyah Boo Rig.
The Boo Rig series from Booyah provides lures with the added weight necessary to go beyond their targeted running depth, and keeps them in the strike zone as long as possible. What's more, the Boo Rig series uses a flexible nylon-encased wire that allows lures to swim like they're attached straight to mono. And not they're not meant just for fishing swimbaits either, all of the Booyah Boo Rigs can accommodate all manner of crankbaits, spoons, weightless swimbaits, and even jerkbaits.
| | | |
| --- | --- | --- |
| Booyah | Middle Wire Length | Outer Wire Length |
| Boo Rig | 1.75" | 4.75" |
Comments: This lure is amazing, I love the way it swims with the 4 blades and its technique but makesure you put the right size shad swimbait on!
From: Unknown: USA 3/24/14
Comments: The rig is cool. The snap it comes with is junk. Change the snap swivel and you'll be good.
From: Unknown: USA
Comments: When I had seen the 1/2 oz Booyah Boo Rig with the quad willow blades; I was stunned how small the actual rig was compare to some of the other castable umbrella rigs. I was believing it would be something more like the Mann's A-rig which is definitely not alike to this rig. I am hoping to get this out next spring, keep on fishin'.

From: Nick: TN

***Note: If you have questions about this product or need assistance with an order please email your questions to info@tacklewarehouse.com
Color:
Alpine
View Large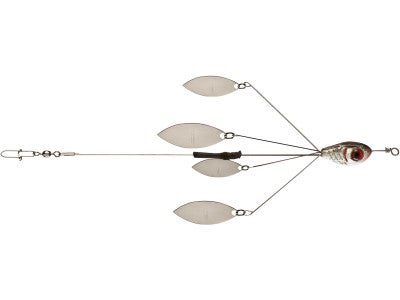 More Booyah Wire Rigs