Booyah Boo Teaser Rig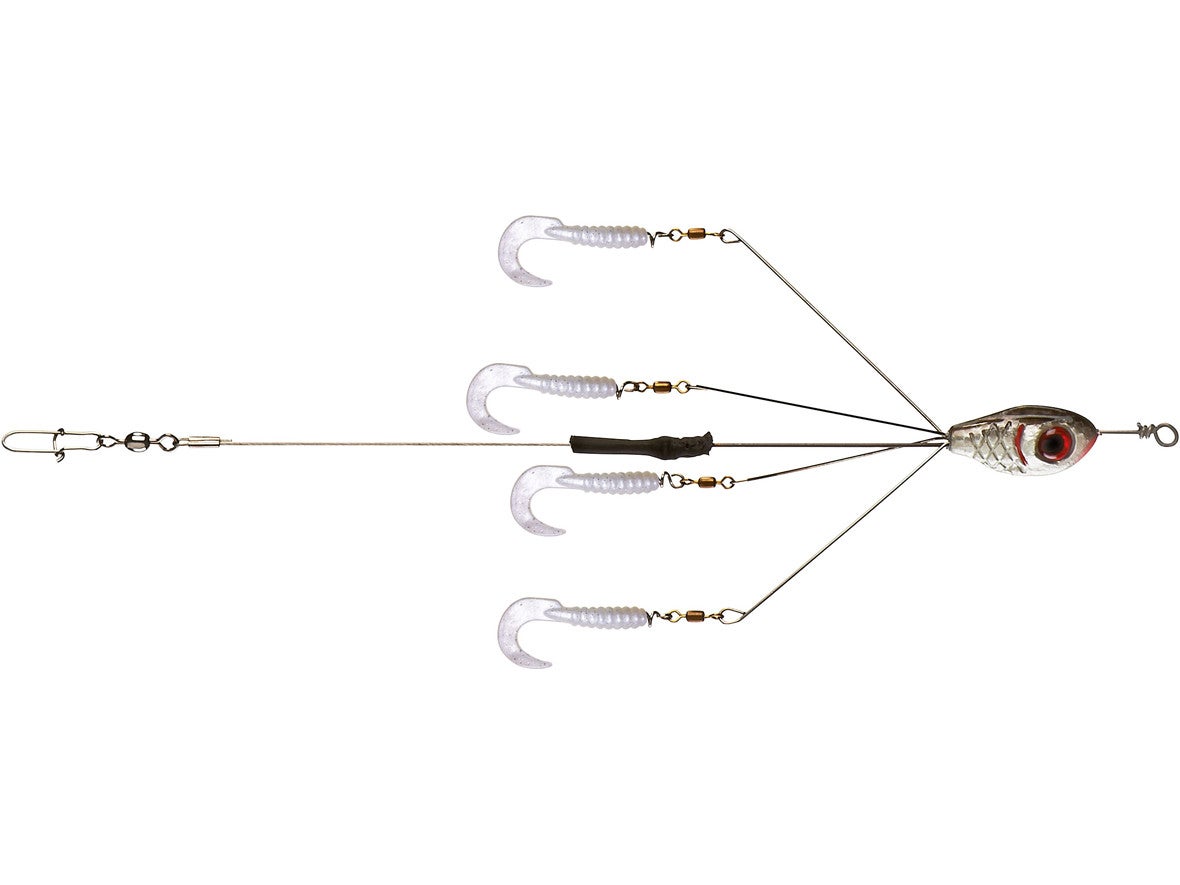 Perfect for summertime conditions, the Booyah Boo Teaser Rig kicks things up a notch with the introduction of four, lively, curly-tailed grubs (included). The grubs are held in place with screw-lock bait keepers and create an unbelievably lifelike "bait chase" scene. For those who are opposed to the use of multi-hook rigs, you can rejoice in the fact that the Booyah Boo Teaser Rig only has one lure with hooks, unlike other castable umbrella rigs. Legal in all states, the Booyah Boo Teaser Rig has what it takes to make big bass take the bait.
The Boo Rig series from Booyah provides lures with the added weight necessary to go beyond their targeted running depth, and keeps them in the strike zone as long as possible. What's more, the Boo Rig series uses a flexible nylon-encased wire that allows lures to swim like they're attached straight to mono. And not they're not meant just for fishing swimbaits either, all of the Booyah Boo Rigs can accommodate all manner of crankbaits, spoons, weightless swimbaits, and even jerkbaits.
| | | |
| --- | --- | --- |
| Booyah | Middle Wire Length | Outer Wire Length |
| Boo Teaser Rig | 4.75" | 1.75" |
1 Colors
More From Booyah Wire Rigs
Customer Reviews
Comments: Great rig when baitfish surfacing, I used all day yesterday and win the local tourney by over 4 pounds with 3 fish limit. Only flaw is the clip where the bait attaches to the rig. Make sure to check after every fish,. After a decent fish they open up, lost a 5 pound plus at the boat lifting out if water, lost crankbait with all trebles hooked as he choked it. All in all great lure but upgrade clasp!!!!
From: Todd: Salem, MA 7/20/14

Comments: It casts nice for a smaller A-rig type, I gave it a shot with a small rip-bait hooked up to it and tossed it at the cruising fish in 55 degree winter water. 4 casts in got a fish, after that I only had one follower, but it does look nice in the water. Occassionally gets tangled up on the cast, can be remedied a bit by using a larger bait on the back. All in all a good purchase, will be using it again.

From: Brandon: San Diego, ca