Booyah Boo Teaser Rig - $6.99
Perfect for summertime conditions, the Booyah Boo Teaser Rig kicks things up a notch with the introduction of four, lively, curly-tailed grubs (included). The grubs are held in place with screw-lock bait keepers and create an unbelievably lifelike "bait chase" scene. For those who are opposed to the use of multi-hook rigs, you can rejoice in the fact that the Booyah Boo Teaser Rig only has one lure with hooks, unlike other castable umbrella rigs. Legal in all states, the Booyah Boo Teaser Rig has what it takes to make big bass take the bait.
The Boo Rig series from Booyah provides lures with the added weight necessary to go beyond their targeted running depth, and keeps them in the strike zone as long as possible. What's more, the Boo Rig series uses a flexible nylon-encased wire that allows lures to swim like they're attached straight to mono. And not they're not meant just for fishing swimbaits either, all of the Booyah Boo Rigs can accommodate all manner of crankbaits, spoons, weightless swimbaits, and even jerkbaits.
No customer feedback has been added yet! Be the first to write something about this product.
***Note: If you have questions about this product or need assistance with an order please email your questions to info@tacklewarehouse.com
View Large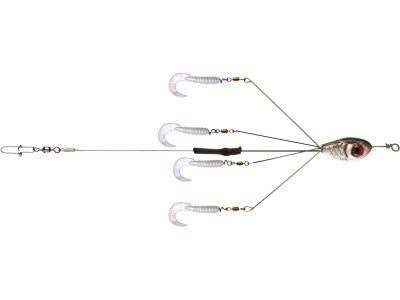 1 Available Colors
More Booyah Wire Rigs