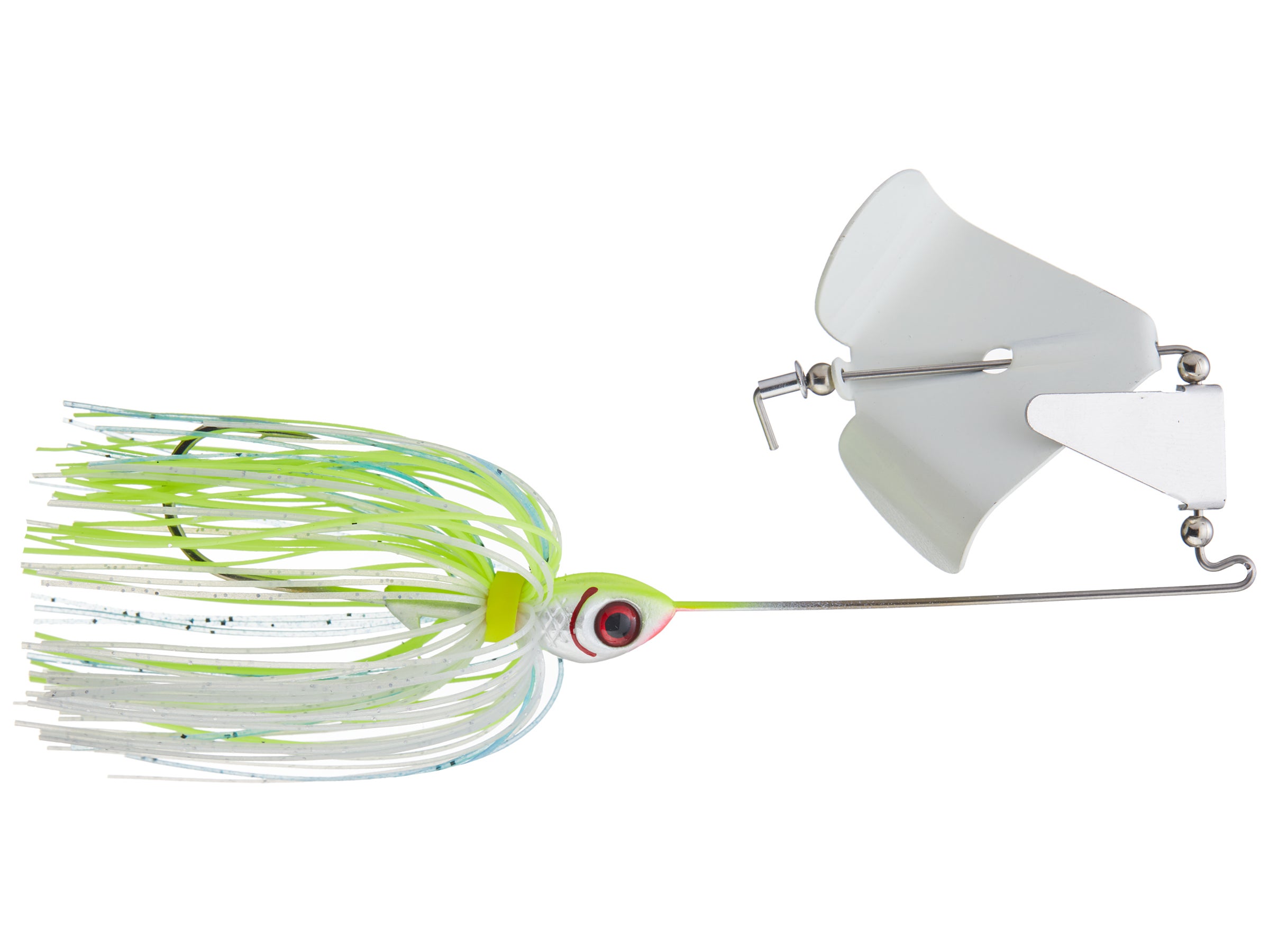 The Booyah Buzz is made with premium hard coat paint, extra large 3D red eyes and flared red gills, the Booyah Buzz planes quickly and runs true out of the package. The Booyah clacker really attacks the blade and the 55-strand Bio-Flex silicone skirt and a 5/0 Mustad Ultra Point hook do the rest.
6 Colors
More From Booyah Buzzbaits
Customer Reviews
Comments: Best buzzbait on the market. I was kinda turned off by the clacker by i tried it anyway. Caught at least 200 fish alone on this buzzbait in the summer. in ponds too.
From: Collin: IL 2/5/16

Comments: One of the best buzzbaits on the market. Really loud clacker & bass crush it. Great price, holds up really well & of course Tackle Warehouse has all the colors. Buy you some, you can't miss with this bait
From: Johnnie: Lancaster, KY 11/23/15
Comments: This Buzzbait is the best on the market in my opinion. I holds up well and just flat out produces more fish. The Clacker is better for stained water, but I have had success in clear water too. This bait is a superb buzzbait and is my go-to top water bait. Also can be worked as a spinnerbait, and sometimes when the fish have seen spinnerbaits so much that this bait is just different enough that it can beat spinnerbaits.
From: Mitch: MN 8/18/15

Comments: This bait will not only work on bass it will work on anything that is able to put its mouth around it. Not to long ago I caught a Northern Pike with the the black. This bait makes a ton of noise in the water and it will attract a big fish you want.
From: Cole: Littleton, CO 4/6/14
Comments: Bought the 1/2 oz. black on black. You can launch this a country mile and cover a lot of water. At first I wasn't hitting out of package and was frustrated. Then I was determined to catch some bass on this baby so I made some adjustments. Drilled 2 holes, trimmed skirt, added a grub or fluke as trailer and booo-yah as a 4lb smallie crushed it the following day. Sure it was bent but bent back into shape for the next blow-up on it. Vary your speed of retrieval to a gurgle or burn or a slight stop and go. Mix it up and you'll scream boo-yah on your hit!

From: bass-o-matic: New York, New York

Comments: Great buzzbait! my mississippi homewaters kill em on the white shad and nothing else! if they stop biting i always have 1 were ill take off the clacker or drill holes in it like a revenge buzzbait or ill do both, but nonstop action from smallies and largies!

From: Josh: MS

Comments: I also bought one a while back ago. I normally would rather fish a frog or walk the dog bait but i gave this a try. I agree with the last comment. This bait would not swim right even after i tried to tune it. I have friends who even bought $2 buzz baits and they worked right out of the package

From: Josh: IL

Comments: Bought this buzzbait just to try it...BOOM! 2 lb bass, I was shocked cause at that pond it rare for a top water hit. So if you love a topwater hit this bait in white shad.

From: Connor: Arkansas

Comments: Caught a nice 5+ lber two nights ago, for the price of these buzz-baits they work great. I have some issues with the quality of all Booyah products but you have to remember they are half the price of most. The wire and paint are cheap, in fact the jig heads on all the Booyah products I buy are always chipped right out of the box. Also, the wires bend so easy that you must be really careful when opening the package or you will be reshaping the wires. But they do what they are intended to do, just learn how to fish them right and you are golden. I use mine at night, I will use other top waters in the day.

From: Joe: Ohio

Comments: I bought 2 and one of them always swims on it side and no matter how much I tune it won't swim right.

Comments: my buddy just cought a 20+ inch smallie with the black model and a 10 inch steel liter!!! their that good!

Comments: wow....this thing is awsome, great value, sounds great, good hooks, comes through cover very well! Black on Black is the bomb! period. have over 10 in the box in case the bass go on a rampage and my buddy's forget theirs.

From: Kyle: WI

Comments: Great buzzbait at a great price. I caught my personal best topwater fish on this lure. 5 lbs 1oz in a summer rain.

Comments: i fish alot of shallow water with pads and hydrilla. this buzzbait comes thru the cover better than the cavitron or revenge. i fish it on 50lb braid and was surprised how long they hold up. go with the black on black 1/2 oz. definitely gonna order a few more

From: Humpty: FL

Comments: these baits are amazing

From: Jon: USA
Comments: Booyah made a great product with these buzzbaits, but I make quite a few changes to them before tying one on. I never fish it straight out of the package. If you can make the changes that work for you, they are hard to beat.

From: Bill: Olney, MD
Comments: I love these buzzbaits! Have had great success with them on multiple lakes/states. The Booyah Buzz is the only buzzbait I keep in the boat!

From: Chris: Pell City, AL
Comments:My favorite buzz bait. The clacker is really loud and this bait does plane quickly. I've caught big pike and bass off this bait. I use it in shallow water during sunrise and sunset, and anytime of the day in stained water that is shallow. Black's been the most effective color for me.
From:Pete: 10,000 Lake, MN