Booyah Pigskin Jig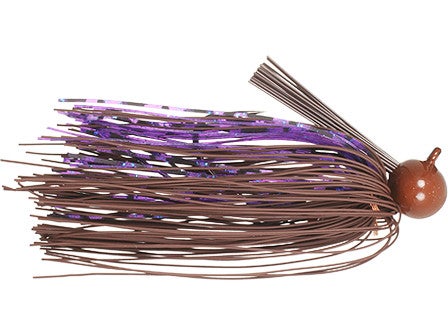 The Booyah Pigskin Jig was one of the baits Alton Jones used to win the 2008 Bassmaster Classic. The Booyah Pigskin Jig features a hand-tied round rubber and silicone skirt. The round rubber creates full shaping and an enormous amount of fish-enticing motion. Silicone strands allow for fabulous color combinations. The Booyah Pigskin football head has a durable powder-coat finish and is backed with a premium Gamakatsu hook with Plasti-Keeper.
"The skirts of these jigs are the key to their action. You can work one dead slow and still have a great, realistic profile. It's a perfect imitation of a slow-moving crawfish".
Alton Jones, 2008 Bassmaster Classic Champion
6 Colors
More From Booyah Jigs
Customer Reviews
Comments: Really good bait for smallmouth and probably my favorite football jig out there. Caught a lot of fish dragging and hopping this jig. As far as location goes, i'd throw this on points and rock piles. My favorite trailer to throw on this is the zoom chunk but any craw trailer will work. I strongly recommend this jig to anyone who does a lot of bank fishing because its a low profile bait and is very weedless. Tight lines!
From: Giuliano Matricola: Montreal 11/9/16
Comments: Best jig ever!! The hookup vs. landing ratio is the best of any jig that I have ever used. I land probably 85-90% of the fish that I stick with this jig!! Booyah!!
From: Jason: VA 3/29/14
Comments: GREAT jig! I have one 3/4oz jig in creek craw, that in the same day, I drug across the bottom in 30ft of water, then later flipped in over hanging willows and hammered them both ways! They have a solid skirt, nice sharp hook, great brush guard..all around an excellent jig. Buy some, you'll love them!

From: Keegan: Freezing

Comments: Great jigs, they work on any retrieve. swimming the ozark craw will land some bass

From: Marcus: HI

Comments: I can't say enough about this jig! I've caught tons of huge bass on this jig, including my personal best. And i've had 30+ bass days with this thing! Its incredibly high quality, the paint is unchippable! The skirt's lifelike action just kills bass, it just flairs out like crazy, and the awesome style hook is simply unescapable for bass. I had some of my best tournaments with this thing, including a win at the end of the season! It caught them when no one else was getting anything - Awesome lure.

From: Cobi: MI

Comments: I have been using this jig the past two weeks fishing in water with a temp of 55-53. I have caught 90% of the fish on this bait the biggest being a 4.5 lb spotted bass. The rubber skirt really gives it great action. I love the creek craw color in the 1/2 oz. The only thing I had a problem with is that it got hung up a lot.

From: Phillip: Birmingham, AL

Comments: my favorite jigs hands down its hand tied, durable, and catches fish. i have caught over 80 fish on the same jig in the last 2 weeks.

Comments: This is a great jig! I love the fine rubber skirt strands, they have an amazing action. The Ozark Craw color is my favorite color, it's worked well for me in Hawaii and Arizona. I prefer a twin or single tail grub for the trailer. It comes through sticks and brush piles with ease and is also great for steep rocky banks. It' works well flipped/pitched or casting. The skirt is also wrapped and stays on very well. It's a great all around jig.

From: Frank: Makakilo, HI