Booyah Vibra Flex Spinnerbait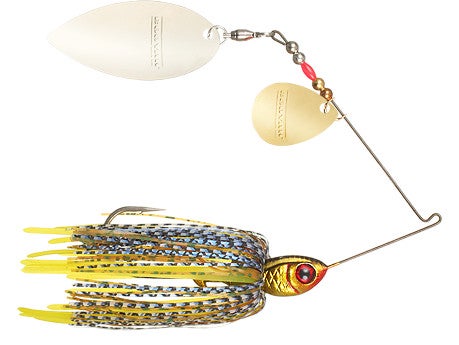 The Booyah Vibra-Flex Spinnerbait series delivers additional spinnerbait vibration, which means extra fish attracting potency. The Vibra-Flex Spinnerbait's frame is built from Vibra-Flex wire that creates more vibration than standard stainless wire. In addition, the Vibra-Flex wire is twice as strong as standard stainless wire frames, ensuring it remains tuned after several catches. Every Booyah Vibra-Flex Spinnerbait is loaded with great strike-provoking features, including counter-rotating gold and nickel-plated blades, hard coat painted head with 3-D eyes, Plasti-Keeper Spike, Mustad Ultra Point hook and Booyah's durable 84-strand silicone Silo-Tek skirt.
5 Colors
More From Booyah Spinnerbaits
Customer Reviews
Comments: Overall, great spinner bait. This bait has caught me a lot of 4-5lb largies. How ever this bait is not very durable. Every time I catch a fish I find myself re adjusting the wire. If they were to make and improvements it should be the wire. My favorite color out of all these is the golden shiner!
From: Cody: Ripon, WI 10/27/14

Comments: With counter rotating blades and Silo-tek skirt, this one is made to last. Most importantly, the Vibra-Flex flat catches tons of fish! Get ya some.
From: A.J.: RI 4/11/14
Comments: The bait is great especially for smallies but it doesnt matter to me how long the wire lasts becuse usually the hook point rolls first

From: Jake: NJ

Comments: love the spinnerbaits they are about all i use but they are not stronger than the rest i have never broke a spinner bait wire until this weekend i hooked a good fish and had it close to the bank and the spinner bait broke in half and lost the fish but i will not stop using them

From: Chris: Flora, MS

Comments: BEST SPINNERBAIT EVER! I've caught probably around 60 fish on this spinnerbait...ONE bait, the same one and ive caught that many fish and it is still in great condition. The paint is chipped from all the bass teeth but the wire is straight, it runs perfectly true. I bought it in bluegill color and last year somehow my line wrapped around the skirt and it was snagged and when i pulled it off the braid cut every strand of the skirt clean off, i bought a pack of strike king perfect skirts in bluegill color and the bass still crush it. I've caught a bunch of nice bass including one 6 lb bass. Great spinnerbait

From: NBM: NE

Comments: this is a good bait but nowhere near as good as the counter strike i wish tw carried those

From: Doug: Blacksburg, SC

Comments: I love this bait...!

From: Ruan: Middleburg Mpumalanga South Africa