Bruiser Baits Avenger 4.25" 7pk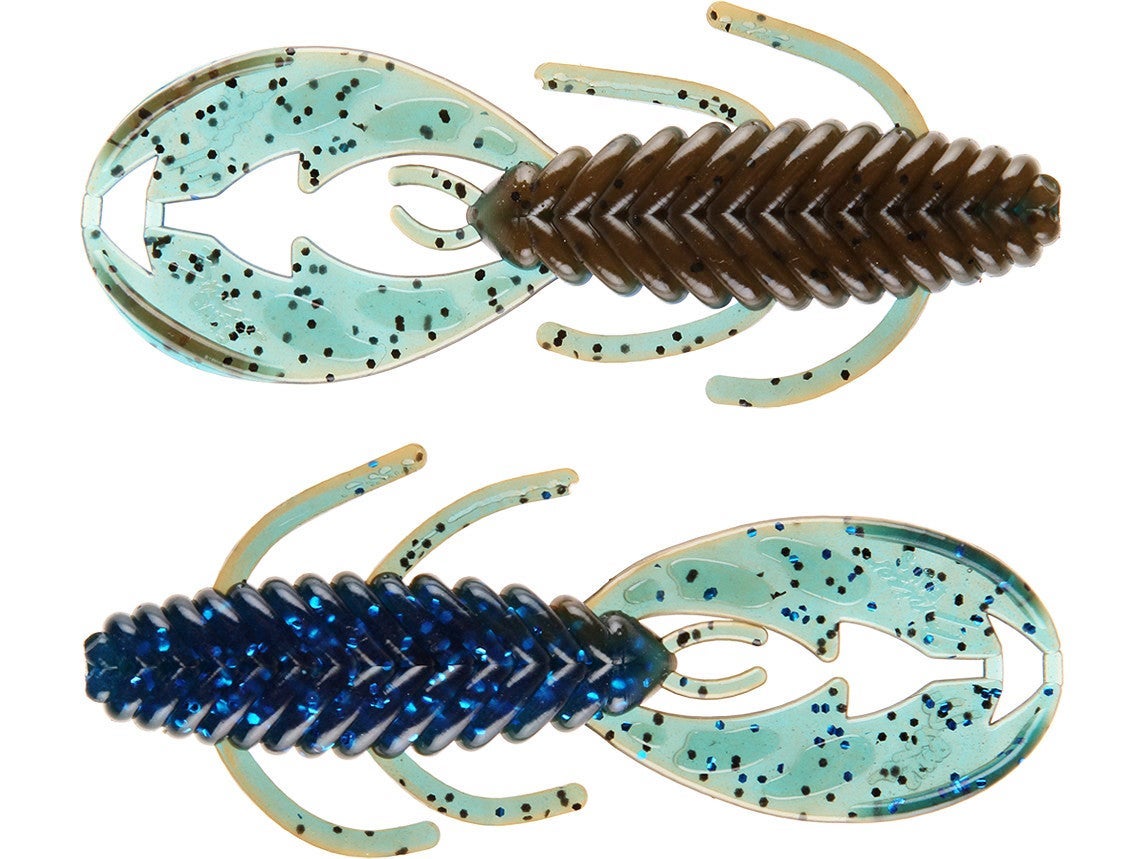 Designed for anglers that like to catch fish and win tournaments, the Bruiser Baits Avenger combines the best features and body designs of two of Bruiser Baits most popular baits the Intruder and Crazy Craw. Measuring in at just over 4-inches, it's awesome for flippin', pitchin', and even swimmin', the little appendages on the side of the bait are very streamlined when punching through cover, but when the bait hits the bottom, they flair open similar to a jig. They also twitch and pulse with slight movements of the rod. The claws are large with thick edges to help create a bigger, better action as well, and you can leave them attached for a slower, gliding fall or pull them apart for an amazing flapping action. The Avenger also has a ribbed body to create additional water disturbance. Texas rigging the Bruiser Baits Avenger with the proper weight can result in big fish and lots of them.
Bruiser Baits - Knocking out the competition.
| | |
| --- | --- |
| Length | Quantity |
| 4.25" | 7 |
8 Colors
More From Bruiser Baits Creatures & Craws
Customer Reviews
Comments: I used this bait in watermelon and June bug in the Okeechobee channel & Lake & we'll bass magnet without scents. Will buy a load of these but sadly the flaps, pitcher areas break easily.
From: Joseph: FL 4/11/16

Comments: This is an amazing bait for flipping flooded shallow cover. The best part of the bait in my opinion is the fact that the center of the bait is thick enough to still use a strait shank flipping hook. I hate when the bait is so thin that the point sticks out the other side, once its rigged. Color selection is perfect too! This is my new go to bait!
From: Nathan: Beaumont, TX 3/29/16

Comments: The Houdini color is by far my favorite! Caught 5+ lbers on them & they skip really nicely when used on a jig. One of my go to baits for catching big bass. The durability is pretty decent I don't find that the pincers rip off too easily & I can usually catch 3 or 4 fish before it's gotta be replaced. Buy some you won't regret it.
From: Joe: St. James, MN 9/1/15

Comments: I've been using the Avenger the last 2 years on Ky Lake when the water gets into the flooded buck brush. It is simply the best overall bait I have tried. It's a perfect size, lots of action and very durable. I've flipped just about every beaver style bait there is and I now try the Avenger before any others. Green Pumpkin and Knockout cover all color needs.
From: Marshall: KY 4/20/15

Comments: this is a great bait. It actually has similar action to the rage craw. I like to think of this thing to be the son of the craw fatty by Berkeley havoc and the rage craw. It's very Durable and it can be fished on a 4/0 EWG you can even go weightless and have a top water action very similar to the horny toad. Lilly pad is a great color try these out they are versatile and a great price!
From: Derrick: Auburn, AL 2/12/15

Comments: The baits are solid. They aren't the best craws I've used but the hold up pretty well and fish of all sizes eat them. Sometimes I'll throw these on when the bite slows on other baits. The craw action is great an it's got a large profile. Try these as a backup and you wont be disappointed
From: Victor: Ontario, Canada 12/10/14