Buckeye Lures Football Jigs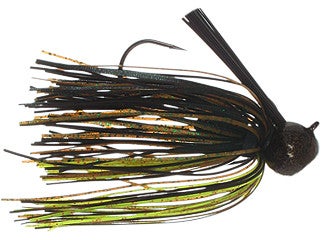 The Buckeye Football Jig is built with a unique flat-head design that enables it to stand up when moving along the bottom. This innovative design helps create the illusion of foraging prey or a crawfish in a defensive position. The Buckeye Football Jig also features high-quality silicone skirting, and an extra-durable fiber weedguard for fishing around thick cover and rocky structure. Fish the Buckeye Football Jig, and see why Buckeye Lures are considered to be "better than luck."
8 Colors
More From Buckeye Lures Jigs
Customer Reviews
Comments: This is hands down my favorite jig. Pb&j. I have caught countless bass over 4 pounds on 1/2 ounce jigs from buckeye amazing prouduct
From: Dicky: Grand saline Texas 2/5/17
Comments: This is the best football jig that I have ever fished. I use a chigger craw trailer and it's a deadly combination. I've caught a ton of good fish on this jig. I would highly recommend this jig to everyone.

From: Ron: Trabuco Canyon, CA

Comments: best football jig i have fished with.but one problem,need better eye tie on hook came across burs on bottom of tie.will still fish these jigs but will have to file the burs off

From: Douglas: Memphis, TN

Comments: Love this jig with a chunky trailor like a reaction innovations sweet beaver cut in half to decrease bulk. ive caught some really nice bass on this jig! id recommend it to guys who like to through jigs!

From: Mat: OH