Buckeye Lures Jiggin' Blades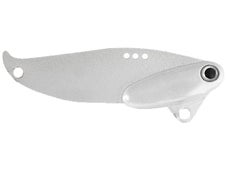 A deep-water problem solver, the Buckeye Jiggin' Blade can plummet to a desired depth in seconds. It's exceptional vibration drives fish wild, and like most blade baits, the Jiggin' Blade sinks fast, flutters when it falls, and delivers a hard, pulsating vibration when pulled through the water. Once you locate a school of baitfish on your depth finder, rip the Jiggin' Blade bait through the school and let it flutter back down, most bites occur on the fall. Bass take notice of its distressed baitfish action, and have a hard time resisting the chance at an easy meal.
All Buckeye Lures Jiggin' Blades come with VMC clip-on Hooks!
3 Colors
More From Buckeye Lures Blade Baits
Customer Reviews
Comments: if you bass fish then you can see that this is a copy of the heddon sonar and the silver buddy. if this lure is like the first two i mentioned, it WILL catch fish. jann's netcraft sells the blade blanks and the lead molds for these designs in different sizes and wt's. these lures are the best for smallmouth in the fall and winter mos. and great for schoolies any time---

From: Wes: Salinas, CA