Buckeye Lures Spot Remover Finesse Jigs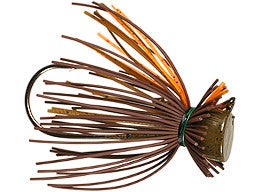 The Buckeye Lure Spot Remover Finesse Jigs come with black nickel hook in six different colors. They are similar to the Spot Removers except for the tied rubber around the head to increase action. They enable you to use worms or craws as trailers. The Spot Remover Finesse Jigs work well for deep water largemouth, spotted and smallmouth bass and are excellent for bedding fish.
5 Colors
More From Buckeye Lures Jigs
Customer Reviews
Comments: good jig spot remover is the best shaky head jig i have found and the skirt on this one just makes it better especially when your needing a little bit biger profile

From: Ethan

Comments: Tried this last week on our first outing of our Bass club on Lake Oconee. Had two 2+ pound LM Bass in the live well in the first 1 1/2 hours. Then I got hung up, lost it and didn't have any more in the tackle box. Only got one more one in the next 6 hours without the Finesse Jig! Had a green pumpkin green trick worm trailing to finish the job. Great lure!

From: Tom: Eatonton, GA

Comments: ll i can say about these jigs is WOW, got it right out of the box to see the action on this dude. put it in my fish tank without a trailor and nope the thing didnt stand up and it didnt have alot of action. but after putting a net bait paca chunk on it everything changed. it stood strait up and down and had all the action it needed. cant wait until bass season to try it out.