Bullfrog Rust Blocker 16 oz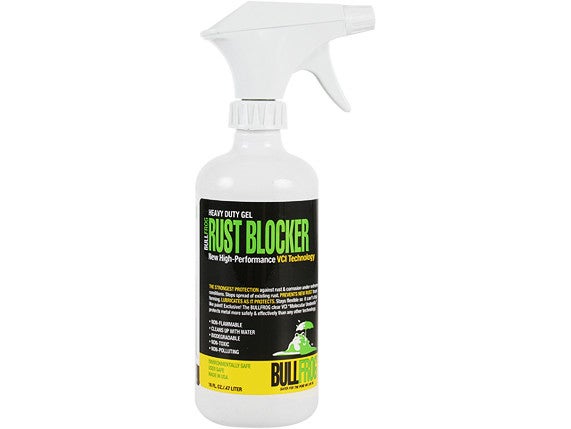 Bull Frog Rust Blocker provides strong protection against rust and corrosion even under extreme conditions. It stops the spread of existing rust, while preventing new rust from forming. Just spray BullFrog Rust Blocker on the entire metal surface to form a thin non-greasy coating.
Utilizing the same Vapor Corrosion Inhibitor (VCI) technology developed for use in the Military, NATO and Major Industries. The VCI technology forms an invisible electrochemical umbrella which seals metal against the air and moisture that cause rust and corrosion. The VCIs also migrate to seal any adjacent metal surfaces that air can reach. If the Bull Frog Rust Blocker Heavy-Duty Gel is ever scratched from the surface, VCIs in the surrounding air immediately form a new molecular umbrella that re-seals the vulnerable surface. Bull Frog Rust Remover has no effect on electrical, mechanical, or chemical performance.
Bull Frog Rust Blocker is environmentally and user safe.
Non-Flammable
Biodegradable
Non-Toxic
Non-Polluting
Cleans up with Water
Made in the USA
More From Bull Frog Accessories
Customer Reviews
No customer reviews have been added yet! Be the first to write something about this product.