Bullfrog Rust Remover 16 oz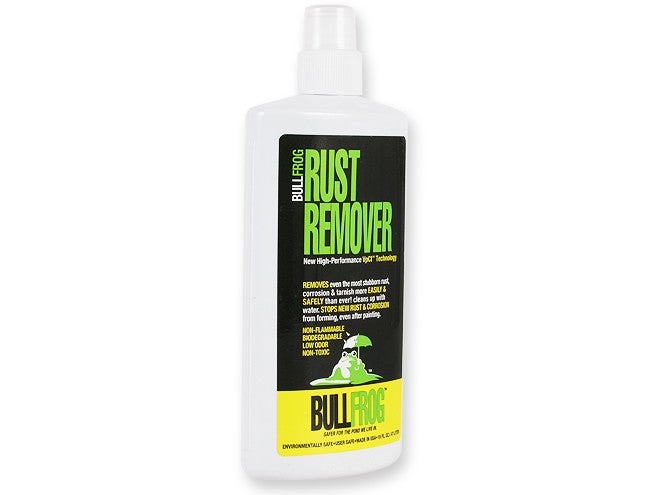 Bull Frog Rust Remover comes in a ready-to-use gel that is simple to apply and continues to protect metal surfaces even after rust is gone. Simply apply BullFrog Rust Remover to the metal surface and let the gel do the work. The gel will stick to angled, horizontal or irregular surfaces. Wait 15 minutes for lightly rusted areas and up to 2 hours for more heavily rusted areas, then simply rinse the surface with water.
Bull Frog Rust Remover continues to protect metals even after rust is gone with the same Vapor Corrosion Inhibitors (VpCIs) developed for the Military, Nato and Major Industries. The VCIs bond electromagnetically with the metal surface to seal out the air and moisture that cause new rust to form.
Rust Removal is no longer harmful for the user or the environment. Organic, Biodegradable, Non-Toxic and Low Odor, Bull Frog Rust Remover is also Non-Flammable and does not contain any Volatile Organic Compounds (VOCs).
Made in the USA
More From Bull Frog Accessories
Customer Reviews
Comments: The reviewer from Boulder, NV seems to have been confused. This product is a rust _remover_. Once he finishes using this product to remove current rust, he needs to use a different Bull Frog product, Bull Frog "Rust Blocker" to keep the rust from coming back. I've used both products, and they work well.
From: T: TN 7/23/14

Comments: stuff is brown and kind of thick/sticky. Soaked rusted hooks for 15min but not such great success. Soaked for a day (yep, much > than 2 hrs) and stuff worked great. Only time will tell if this stuff provide protective coat but as far as rust remover, I would recommend this product.
From: Matt: CT
Comments: Totally disappointed. Used it on stainless steel handrails at our indoor pool and stainless steel lifeguard chairs. Rust returned in 3 days. Gave it another try with the same results.

From: B: Boulder City, NV