CL8 Bait Swimbait 9" - $79.99
The CL8 Bait 9" Trout Swimbait is the result of five years of research and development in high-pressured Southern California lakes. The CL8 Bait is a hard swimbait featuring resin-construction, three joints and a soft tail and fins. Oversized eyes, an intricate scale pattern, and natural paint scheme result in an extremely realistic bait, but also are evidence of a product in which no detail has been overlooked.
What really sets the CL8 Swimbait apart from other high-end trout baits is that the lure bristles with well-disguised Gamakatsu hooks in all the right places. A single top hook is sure to pin any fish grabbing the bait by the head. The bottom hook is a 4/0 Extra Wide Gap double hook, hooking fish attacking from below, and a 2/0 Extra Wide Gap Treble at the tail of the bait finally brings a solution to the problem of short biters, without having to employ bulky, profile- and action-ruining stinger rigs. Both of the rear hooks are held securely in channels by magnets. This ensures that the bait swims correctly on every cast and are in strike-ready position at all times while allowing the hooks to swing freely, making it more difficult for big fish to throw the hook during the fight. In addition, each hook is painted to blend in with the color of bait.
| | |
| --- | --- |
| CL8 Bait 9" Swimbait | Weight |
| Floating | 4.4 oz. |
| Slow Sink | 4.7 oz. |
| Fast Sink | 5.2 oz. |
Comments: Im only thirteen and I got this for my birthday, the first day I got a 7 and a 10 pound largemouth, I also got a mamoth 6 pound smallmouth on the end hooks, the hooks are exellent and this lure(baby bass) is totally worth the money, that is if you want huge fish.

From: Ronaldo: Plymouth, MA

Comments: We put the hammer down on some n. Utah bass with the perch . In fast and slow mode. This rig is the real deal. First

From: Nam: Ogden, UT

***Note: If you have questions about this product or need assistance with an order please email your questions to info@tacklewarehouse.com
View Large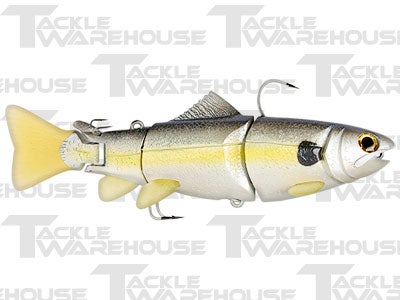 4 Available Colors
More CL8 Bait Swimbaits