Castaic Baits Hard Head Swimbaits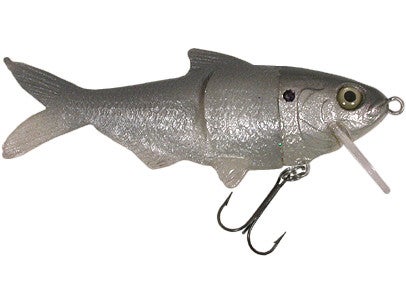 In the real world, there are predators and there are prey. It may not be politically correct to think that animals actually do harm one another, but a big hungry bass is not a member of any political party, tea party, or any other organization that doesn't believe in the true ethos of nature; eat or die. That's why we are able to catch bass. They have to eat, and nothing looks tastier to a hungry bass than this line up of Castaic baits. Just think, right now somewhere in your favorite lake a big fish is eating a little fish, and tomorrow when you go fishing, the politics of nature will be re-played countless times. While you are fishing, maybe the bass are keying on small baitfish. If so, tie on the Threadfin Shad, or the Baby Crappie, or the Baby Sunfish. If they are keying on larger prey, we have the Gizzard Shad and the Sunfish to entice a hungry predator.
These baits are incredibly effective because they are incredibly life-like. The pictures of bait on this page look just like baitfish that you have seen swimming by your boat. When you put these baits in the water and give them some action, they come to life with movement that perfectly mimics living fish. What hungry bass could resist that combination of good looks and a nice wiggle? The key to these baits is the hard plastic head with the bill molded into it. This gives a natural swimming motion to the jointed soft plastic tail. All these lures can be thrown on a rod that you probably already own. The lures give a whole new dimension to the idea that started with crankbaits and other baitfish imitators with their realistic looks and swimming action. Imagine swimming one of these beauties on the edge of a weed line or over some underwater cover, or even casting one of the shad imitations into an active boil. In any one of these areas, your lure is going to get bit.
The small baits come with a replacement tail and the Sunfish and the Gizzard Shad have replacement tails available at a very reasonable cost. If a fish rips the tail off, you can glue a new one back on in seconds without re-tying. Be sure to get the glue kit when you buy the baits, or you can use super glue and an accelerator that is available at our local hardware store. Try the Castaic Baits for big fish in your local lake and you'll see why they are so highly regarded by the anglers who use them.
Baby Crappie, Baby Sunfish, Blue Threadfin, Green Threadfin : length 3 1/2" weight .48oz.
Large Sunfish : length 4 1/2" weight 1.28oz.
Blue Gizzard Shad and Green Gizzard Shad : length 5 1/2" weight 1.12oz.
Baby Crappie, Baby Sunfish, Blue Threadfin, and Green Threadfin : $10.99.
Blue Gizzard Shad and Green Gizzard Shad : $16.99
Large Sunfish : $19.99
3 Colors
More From Castaic Swimbaits
Customer Reviews
Comments: These baits swim great! Some of them just need to be tunned. I was going to buy the baby sunfish becauser that's my favorite castaic hard head swimbait, but now TW don't keep them anymore. :(

From: Marco: Portugal

Comments: Excellent action that consistently produces quality fish. Tails are durable and relatively easy to replace at home (in the field likely not an option). It is necessary to tune as per the instructions on the packaging. A must have in the arsenal

From: Gabe: Chapel Hill, NC

Comments: This bait is awesome in the spring, i just go very slow along the weedline and bass go crazy, i have gone through a couple of them and some of them need to be straightened out of the box, other then that the lure is awesome.

From: Colin: Moline, IL

Comments::i found one of these at my park and the bill was gone so i put a jig head threw the head and i had to twitch it to move life like and all of a sudden i see a huge flash and the swimbait going up and down i was so stunned i waited 10 secs to set the hook it was 8 lb 2 oz large mouth you need to get one of these there awsome

From: Brian: Costa Mesa, CA

Comments:I swear by the larger Castaic Shad minnows for Northern Pike! I keep them stocked all the time. I like the smaller ones for bass as well. I have recently starting using some of the newer sinking models with magnets, and without a diving lip; Yet to have formed an opinion on them though; I like the older ones so much the newer ones have seen little use. The only negative feedback I would have is that "Hooksets" aren't always that great. I have lost a few pike that have grabbed the bait without getting hooked well. Still; I have taken several nice fish. Great product thank you!
From:Issiah
Comments: This is my second purchase of the Gizzard Shad & Threadfin Shad Castaic hard baits. When the Bass are schooling, they are deadly! The life-like action of these lures is impressive, and they catch fish. Big water or small water, they are effective. Take the time to follow the directions on the package and tune your lure, once tuned it will swim straight and true. With the replaceable bodies, they are lures that you can use for a long time, which for me makes it more than worth the money.
From: Robert, Texas
Comments: When I first purchased the Castaic baby sun fish, I thought it would be a bait that was to big and bulky. I figured it was a bait for southern fisherman. When I was crappie fishing at lake Stonewall Jackson in West Virginia, every time I caught a small crappie or sunfish this lunker bass would chase the fish as I reeled them in. On my next fishing trip I forced my self to tie on the Castaic baby sunfish and I was going to catch fish or go home skunked. My fishing buddy said I wouldn't catch anything on it, in these little lakes in southeastern Ohio. As we started fishing that day he was using a plastic worm. He started off by catching three or four small bass but after I figured out what kind of retrieve the bass were wanting I caught a bass that out weighed all of his. After awhile my friend started looking in his tackle bag for anything that resembled my baby sunfish. My friend caught about 10 or 12 little bass that day but I caught 5 big BUCKET MOUTH LUNKERS! Since that day the baby sunfish is rigged to one of my rods at all times only to be removed to retie.
From: Brian, Cameron Ohio USA 1/04