Megastrike Cavitron Buzzbaits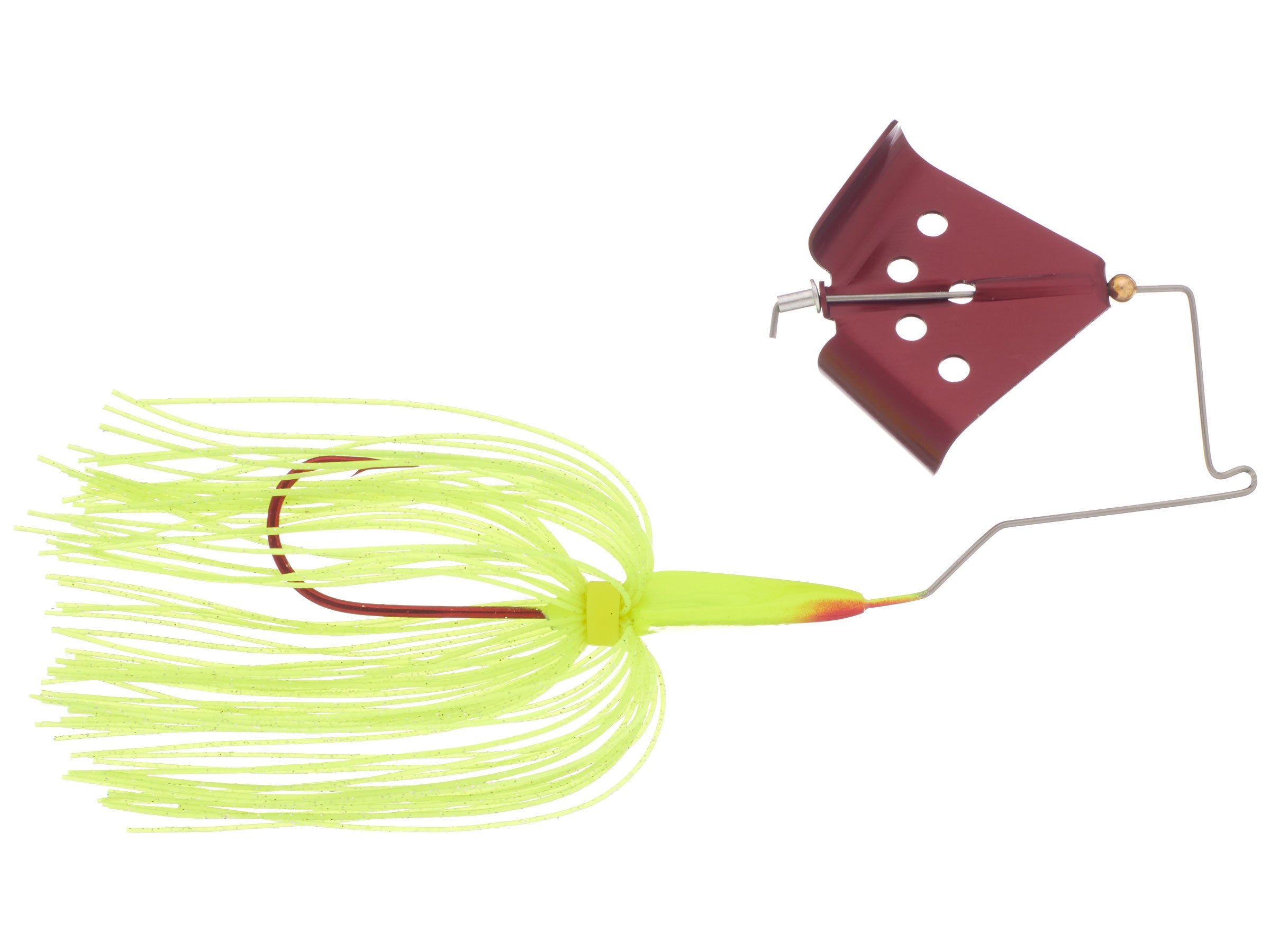 The Cavitron Buzzbait is built with an "oxbow bend" design. This bend is a pre-engineered modification allowing the bait to ride deeper, resulting in more hook-ups. The Cavitron Buzzbait has 4 holes stamped into the blade, providing less turning resistance while creating more disturbance, this enables the bait to be retrieved at lower speeds than traditional buzzbaits. The Cavitron Buzzbait features a high quality Gamakatsu hook that rides further back, eliminating the need for a trailer hook.
6 Colors
More From Megastrike Buzzbaits
Customer Reviews
Comments: You ever notice how us anglers often think the original is always the greatest? The whole pre-Rapala Wiggle Wart is a prime example of this phenomenon. I still have in my possession and use the original Lee Bailey versions of the Cavitron; and I can truthfully say that the Megastrike version has no discernible differences from the original model. If you throw the Megastrike version you're still getting the same attributes as the original with the possible exception that the skirts of the Megastrike Cavitrons are actually of a higher quality.
From: Mike: Aurora 12/3/16
Comments: Have used these since last year. They are fantastic buzzbaits! Have caught some big lm bass on them. You can really work these slow & some times that will help increase your # of strikes. They have a good strong, sharp hook on them & an excellent built-in squeak on them that seems to help the fish home in on them! One of the best buzzbaits I've ever fished with!
From: Timothy: Dallas, TX 8/27/16

Comments: best buzzbait i have ever used. you can reel as slow as you want & it will still squeak & make bubbles. even better with a white horny toad on the back
From: Drew: Upstate, SC 6/8/16

Comments: Caught lots of nice largemouth & even some smallmouth on this bait. It's got a weird squeak to it that seems to make a difference. I won't throw anything else.
From: Nolan: VA 12/15/15

Comments: Best underated buzz bait out there. Most baits you have to reel in quicker to keep them going but with this one you can slow this baby down to a crawl. Perfect bait all around with a great sound. These baits are going to be discontinued soon so i stocked up.Get all u can. while u can! Best buzzbait out there period!
From: Dave: Kentucky Lake, KY 12/6/15
Comments: This is probably the best buzzbait I have ever thrown. The other day I caught a nice 5 lb. lm bass on the fire tiger color/gold blade. The Cavitron is the slowest buzz I have ever used.
From: Timothy: Dallas, TX 10/25/15
Comments: Been using Cavitron's for years. I have caught tons of fish on them and have won a good amount of money using them. I always have a black with gold blade sitting on the deck of my boat.
From: Bill: WI 7/14/15

Comments: my favorite buzz bait on the market. I purchased the black color with red buzz and the bass just kept slamming it. A great lure to fish the shore line. Definitely recommend you try these buzzbaits out!
From: Peter: Chicago, IL 2/23/15

Comments: Great Buzzbait. Actually the best buzzbait EVER! Don't think I'll ever use anything different than one of these however I do wish there were some more color options
From: Steve: TN 12/19/14

Comments: There just isn't a better buzzbait out there. First off it planes quicker than any others, and it stays on the surface so well with just a slow crawl. It's noisy, squeeky & rides good and straight. Finally it's durable. How durable? Durable enough to stand up to 40-50 pike, some of them topping 3 feet. Largemouth, smallies, and pike crush this thing like it's crack. The color selection is awesome too. All other buzzbaits are obsolete.
From: Tyler: Grand Junction, CO 9/23/14

Comments: I absolutly love this bait, it is my favorite buzzbait by far. it works so well that 10lb catfish even come up and smash it. if they made a clacking model that would be amazing. this bait deservs an 11/10

From: Nick: USA

Comments: There are other brands that make buzzbait blades with holes, but only Cavitron makes the right size, which results in the unique loud squeaking noise that drives big river smallmouth simply crazy! Durable wire, too. Loving Cavitron!

From: JV: PA

Comments: If you never use/ have confidence in a buzzbait this is a great lure. Has good squeak and can be slow rolled. by far my first and last buzzbait I will use

From: Ryan: USA

Comments: I really like this buzzbait for some reason it just runs better than most other buzzbaits. These fish a lot better than those terminator t1 buzzbaits and most other brands. Between these cavitrons and the D&M custom baits hot rod/ slow roller buzzbaits are the best on the market. Overall very happy and pleased with this buzzbait.

From: CJ: PA

Comments: A really great bait,sound drives bass nuts even in pressured waters!I take the skirt off and use a small plastic topwater frog on it.

From: Bryan: Newport News,Va.

Comments: Awesome buzzbait. I caught a 5 pounder in 12 feet of water about 10 feet from the boat. The fish followed the bait from the bank for about 35 feet. She tore this thing up and scared the life out of me. I recommend it to anyone.

From: Tyler: Lumberton, NC

Comments: Awesome bait, i've caught several largemouth on this bait. Just like any wired bait after a few years and probably close to 60 fish it was put into retirement.

Comments: This bait is awesome, Who shops at Wal-mart UGH !!!!!!

From: Dale: Albuquerque, NM

Comments: I have two of the black color. This buzz bait is very quick to plane. I add a twister tail for added bulk and vibration. I have had loons follow this right up to the boat. There is something about the sound that draws loons in so be careful not to hook one

From: Derek: Ontario, Canada

Comments: I would have wrote a review about a year ago ,but I was too busy takin fish off the hook these buzzbaits are awesome black and chartruse work best. With all buzzbaits solid colors are best unless they are eating shad or small bass.

From: Connor: AR

Comments: only buzzbaits I use anymore, but I will downsize occasionally. You can reel these slower or faster than other buzzbaits, must haves.

From: Durt: VA

Comments: The best buzzbait I have ever owned! This thing stays in the strike zone longer and has a squeak that will drive the big ones wild. I have caught several quality bass on this lure and today I got ahold of a monster and pulled the 7lber in the boat. Try these you wont be sorry.

From: Joshua: Lansing, NC

Comments: found the chart. white red hanging in a tree, didnt think it was worth much because someone had just left it in easy reach of a boat. threw it in a box and never really thought much of it. i then found the bait on tackle warehouse and started looking at it in a whole new light and it turns out to be a great bait, about to buy a few more

From: Jonathon: TN

Comments: This is by far the best buzzbait I have ever used. It comes up on plane fast and then you can work it slower than any other buzzbait i've ever used. These things have a lighter wire but, I think that helps it with the overall performance. You can't go wrong with a Cavitron

From: Jason: Wise, VA

Comments: Ive tried many buzzbaits and cavitron is by far my favorite single blade buzz. Planes very quickly, runs very true, its HARD to make it turn on its side and hook is SUPER sharp. I normally fish with a trailer hook, cavitron says you dont need one and they are right, i have yet to miss a bass on this buzz.

From: Jeff: Rensselaer, IN

Comments: Awesome buzzbait!! gets bit like no other. Great bait to have in your box

From: Nicholas: San Jose, CA

Comments: Great buzzbait. Caught a nice 1.5lb Largemouth when fishing was extremely slow. The prop is nice and loud. Good colors good bait all around.

From: Jacob: Apache Junction, AZ

Comments: These are a fine quality buzz bait, however at first the reviews caught me off guard, that is until i saw that it was almost certainly the same person complaining about them compared to wally world buzz baits for 1$.

From: Joe

Comments: By far the best buzzbait ever designed. I have caught over fifty different bass on one bait and I am still throwing the same Cavitron. These buzzbaits have produced more big fish bites than any buzzbait I have ever used. It runs true and stays in the strike zone ten times longer. I prefer the 1/4 oz. white/gold over the 3/8 oz. due to high quantity of hydrilla in Lake Seminole and easier control.

From: Beau: Bainbridge, GA

Comments: Best Buzzbait ever! It catches BIG Bass!

From: Joe: NJ

Comments: I love this bait, it has put more fish in the boat than any other buzzbait. Big fish love it, I wolud like to see more colors for clear water maybe a gold on gold or a light green head with a green and silver skirt.

From: David: Stokesdale, NC
Comments: Tried this buzz bait on a whim, saw it advertised on another site and decided to buy it...The 2 I received ran soo far to the left I couldn't use them!! They would not stay in the strike zone even after bending them up and changing blades several times...They look good but are the worst Buzz I've ever purchased!!! My 1$ wally world buzz baits run truer!

From: Shark: Where Blue Angels Fly
Comments: I have a 3/8 black with gold blade, didn't run true out of package, took a lot of bending to get it to run close to straight, hasn't caught me anything. I've caught more fish on my black $1 buzzbait from walmart that I tweaked. It does plane up to the surface fast.

From: Massachusetts, USA
Comments: Not the worldest slowest buzzbait as it claims. I have $1 buzzbaits that I can retrieve slower.

From: Steve: United States
Comments: Is there a better buzzbait out there? Great planing the instant it hits water, great hookups, and a wonderful price. Make sure you retrieve this buzzbait slowly, crawl it across the surface. When you see fish busting on top, throw this into the mix, you'll see!!!! Colors: Ghost minnow red blade in 3/8, Black and red blade in 3/8.

From: David: Murrieta, CA
Comments: Lure gets on top instantly and runs perfectly from crank 1. The design of the head helps it come through bushes, pads, and any other cover very smoothly. Great product.

From: Thomas: Rockwall, TX