Chompers Twin Tail Skirted Grubs 10pk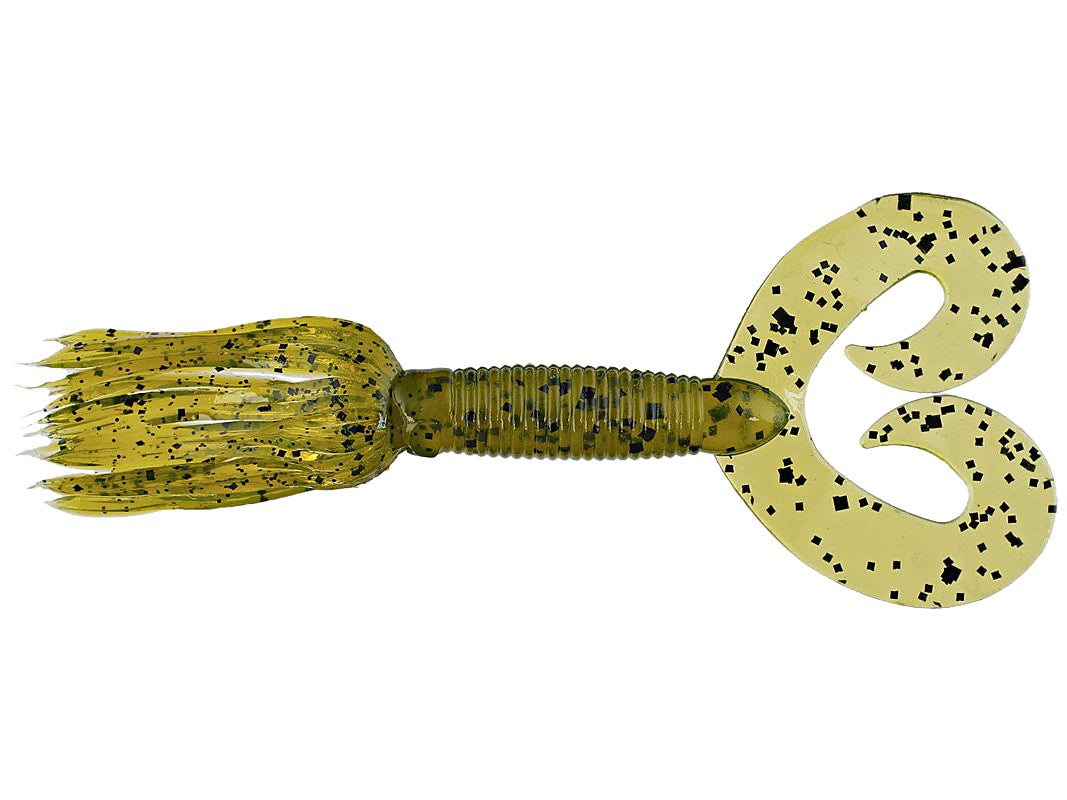 Double tail skirted grubs are excellent for a variety of fishing situations. The Table Rock Chomper DT Skirted Grubs feature full flowing skirts and thick tails with a sharp curl for lots of action in the water. Chompers are also known for their bass-attracting garlic scent and are loaded with salt, which makes big bass hold on longer when they bite. Rig these DT Skirted Grubs on a weedless jig head and fish them in submerged brush and thick cover, or try flipping them when shallow fish are not responding to the standard rubber jig and trailer combination. They are excellent for rigging on heavy football heads and going deep when you want to cover a lot of deep structure quickly and efficiently. The Table Rock Chomper DT Skirted Grubs are available in some great fish catching colors. These double tail grubs are bound to become one of your favorite baits, if they aren't already.
Table Rock Baits also offers the stand-up head for fishing structure and the weedless head for flipping or fishing around cover. For heavier heads look at the Yamamoto Football Heads in weights up to 1 1/2 ounces.
| | |
| --- | --- |
| Length | Quantity |
| 4" | 10 |
| 5" | 10 |
13 Colors
More From Chompers Soft Baits
Customer Reviews
Comments: Haven't used them yet , but they look killer. Very high quality. And a scent that would buckle a buffalo knees. I can already tell that'll I'll be coming back for more.
From: Unknown 1/8/17
Comments: These are Great and more Durable than Yammies. Killing them on Orange Marmalade!
From: Michael: Green Valley, AZ 2/26/16

Comments: Best bait for bed fishing.

From: Sam: USA

Comments: If you can't catch fish on this lure you might as well go home, because they are not going to hit anything !

From: Mark: Central, TX

Comments: These plastics produce, produce, produce. I caught a ton of lm bass last year on these and have already caught some nice bass this year. 3/30/12 caught a 19.5" 3lb 11oz largemouth that came unloaded on this bait. I texas-rig this lure with either 1/8oz or 1/4oz, depending on the wind and what kind of fall i want and it catches bass.

From: Kirk: Roscoe, IL

Comments: Great falling action....Best results on a 1/8 ounce head in green pumpkin w/red and purple flake. Have caught 5+ pound smallmouth, highly recommended.

From: Elijah: Watertown, NY

Comments: These are very durable baits and have incredible action. I love fishing these over any other sort of creature bait. Also I put them on swim-jig heads and tear up!

From: Matt: Columbus, OH