Classic Patterns DVD Clear Water w/Joe Thomas - $9.99
Classic Patterns for Clear Water with Joe Thomas Fishing in clear water conditions presents a whole new set of challenges and requires some changes in your approach. In this installment, Classic Patterns for Clear Water, Ohio pro Joe Thomas shares some of his knowledge on how to be more effective when fishing in water with high visibiliy. In this episode, Joe makes a trip to Georgia's Lake Lanier and brings the viewer along as he gets onto an ever-exciting topwater bite for Magnum Spotted Bass. He also travels to lake Erie in Michigan and gives some tips and strategies for catching some of those tough fighting Smallmouths. Check out the "Product Video" link underneath the image to preview DVD.
No customer feedback has been added yet! Be the first to write something about this product.
***Note: If you have questions about this product or need assistance with an order please email your questions to info@tacklewarehouse.com
View Large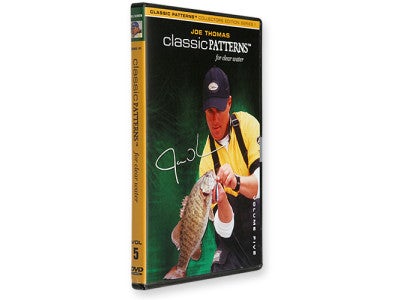 Place Your Order
More Classic Patterns DVD's