Classic Patterns DVD Spotted Bass w/Gerald Swindle - $9.99
Classic Patterns for Spotted Bass with Gerald Swindle F.Y.I. the Largemouth Bass has an aggressive, tough fightin' and mad little cousin that you may not have experienced, The Spotted Bass. This edition of Classic Patterns for Spotted Bass features Gerald Swindle getting on a strong bite then catching one Spot after another and having a blast doing it. He explains where you can find a morning topwater bite and how he looks for the schooling fish to throw his bait into, almost guaranteeing a strike. If you are already addicted to fishing for spots or it's a new thing to you, this video will get you excited to hook into some of these mean lil' guys. Check out the "Product Video" link underneath the image to preview DVD.
No customer feedback has been added yet! Be the first to write something about this product.
***Note: If you have questions about this product or need assistance with an order please email your questions to info@tacklewarehouse.com
View Large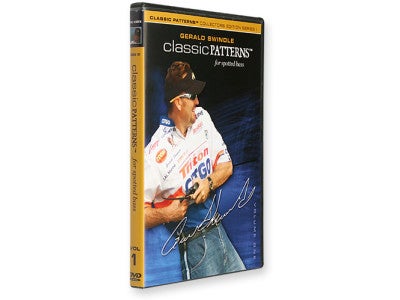 Place Your Order
More Classic Patterns DVD's