Cobra Heavy Cover Flippin' Hook 5pk -
$1.47
Honed and refined on the waters of Florida, where flipping heavy vegetation for huge bass is the norm, the Cobra Heavy Cover Flipping Hook has all the qualities you need to take full advantage of every bite, and land more fish. Cobra's unique micro point, chemically sharpened hook technology offers faster penetration and a longer lasting hook point with superior strength.
View Large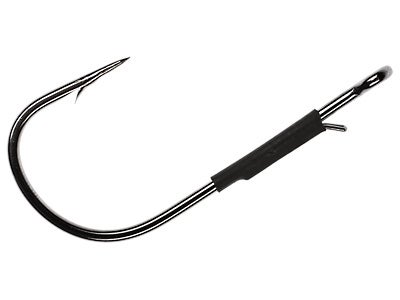 Place Your Order
More Halo Fishing Terminal Tackle
Comments: i take back what iv said , the hook looks great , the keeper is great , but iv broken about 15 of these hooks and thats the 5/0 4/0 and 3/0 and so have a few of my friends.i have purchsed mulitple packs , we all fish heavy cover here in central florida and dont waste your time ,lost 4 diff tournament fish and threw them all in the water 2 weeks ago. hack attack is where its at!

From: Garrett: Lithia, FL
Comments: I love these hooks! they are quality made, they are sharp, won't bend out. The bait keeper is welded so it never slips or fails. Hookup ratio is awesome. I flipped with this hook all day and caught over 20 fish on it and it's still sharp. I've tried trokar's, and the other name brands and this is by far my favorite

From: Scott: Vermont

Comments: GREAT flipping hook. iv been thru the every flipping hook you can think of and these are the best. the eye is welded and the barb is welded and the rubber dosnt slip. the hook is sharp too. i flip the nastiest stuff on the kissimmee chain and okeechobee and they stay sharp and never bend out! thats using 8 foot rods and 70 lb braid. get some

From: Garrett: Lithia, FL

***Note: If you have questions about this product or need assistance with an order please email your questions to info@tacklewarehouse.com