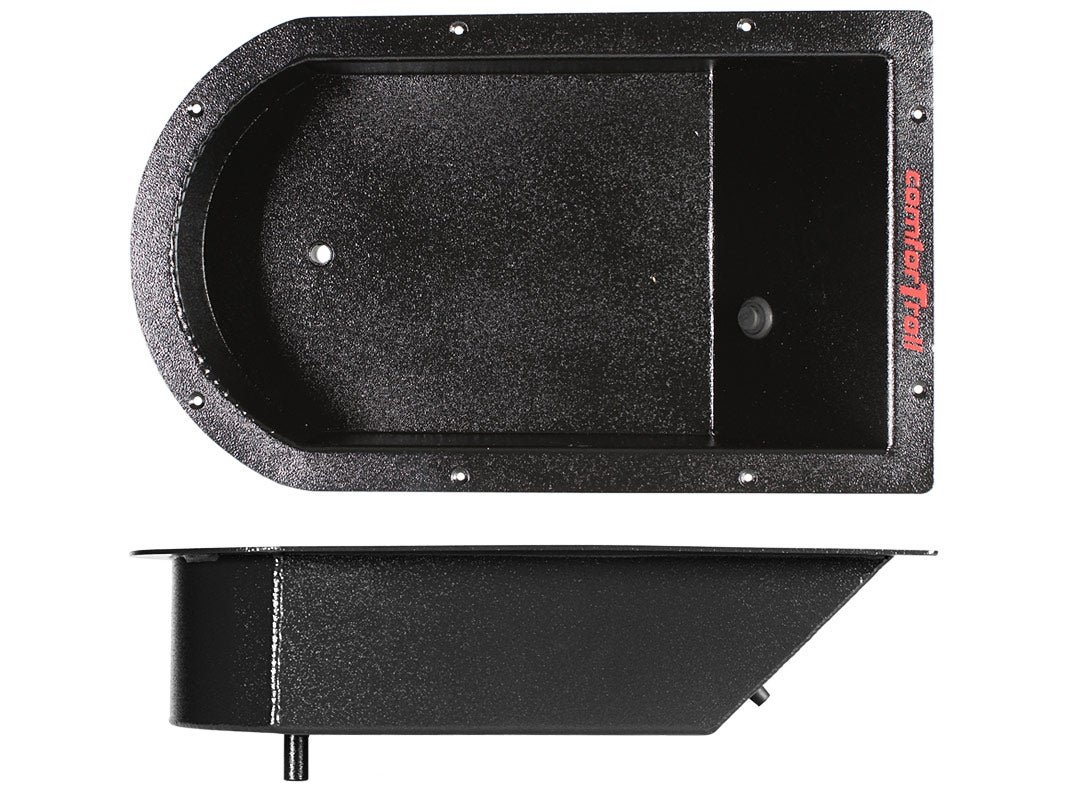 Note: Does not fit Minn Kota Ultrex trolling motor pedal.
Finally ... a solution for uncomfortable leg position while fishing. The ComforTroll installs easily in any bass boat and allows your foot assembly to sit flush with the deck surface. Aside from adding a clean look to your casting deck, it also allows for a safer, more stable stance, while greatly reducing leg and back pain - helping you fish comfortably all day and even avoid injury. Constructed from heavy-duty 1/8" aluminum that is powder coated for added protection, the ComforTroll has a universal fit and installs in approximately 1 hour. An Installation Kit, included with each unit, is equipped with all the parts you need for proper installation.
Dimensions: 17.5" x 9.5" x 4"
6 Colors
More From Comfortroll Accessories
Customer Reviews
Comments: Wish I would have put this on my boat a few years ago. Probably the best investment in my boat yet! My installation was a breeze as I have nothing under the deck. I would highly recommend using a multi-tool to make the cuts, it was the perfect tool. Makes the front deck look larger and much cleaner looking. Great heavy duty product with everything needed to install it.
From: Tony: Lebanon, TN 2/3/17
Comments: Minn Kota Ultrex Foot Pedal will not fit properly. The base is too long and stops midway up the 45degree angled lip of the pan.
From: Logan: Mineola Tx 1/11/17
Comments: Great electronics mount. Have one of these for a Helix 10 & it has just enough room to clear my foot pedal tray on my Crestliner VT18. There is a little pressure on the cables coming out the back because of the Humminbird cable collector coming off the back of the unit, but it isn't bad. I love the freedom of mounting it however I please since you drill your own mounting holes. Going to make my own tool holder for the side of it using angled aluminum since I already have everything I need to make one. I don't understand why people would pay twice as much for a similar fixed mount.
From: BK: USA 5/22/16

Comments: Put one on my new Crestliner VT 18 to hold my Helix 10 and it is great. Gives enough height for my foot which goes under the mount slightly. I don't see a reason to buy any of the other brands that cost almost twice as much. I would buy it again in a heartbeat.
From: Brad: NE 4/5/16

Comments: Fantastic Customer Service from Comfortroll. They really stand behind their product. And their product is great. Had a slight issue with mine & it was made right almost instantly. Thanks!
From: Martin: Somerville, MA 1/7/16

Comments: I love this bad boy. 140 bucks is a lot but it is well worth the investment. I have back problems so when I got done fishing before I had this, my back would hurt for a couple hours. But now, it doesn't hurt at all, and you don't look like you are at the gym on the stair stepper when you are on the trolling motor. The only thing I wish they would change is the template is a big piece of copy paper. For 140 they should at least include some cardboard or something. If you are on the fence about it, get it. You won't regret it.
From: Ross: Auburn, AL 10/25/15
Comments: I order one for my Ranger R81 and it took me 3 hrs to complete. Took me a hour to measure and finally have the guts to cut into the hull. In all very easy with the help a buddy.
From: Charlie: Milwaukee, WI 4/3/15

Comments: Great product, extremely strong, wish the template was a little better, flimsy paper hard to deal with when your trying to get it perfectly straight. Little tip after you get it taped down where you want it, cut a small hole in the dead center just large enough to get a tape measure in to make sure you have the proper clearance. That way you still have a little room for adjustment. When I did that, I found my middle storage box wall was much thicker than I thought and I only had 1/4" clearance instead of the 1" I thought I had.
From: Kirk: TN 8/21/14

Comments: This is a great product. Very heavy duty & easy to install. My only suggestion is to cut outside the template line. I cut right on the line and had to go back with a different saw to open up the hole. Looks sharp! Took about 2 hours to install and 45 minutes of that was making sure that my measurement was perfect.
From: Tim: Kalispell, MT 6/27/14

Comments: Great product. I looked at other mounts that were fiberglass and plastic and was concerned with warping or the lip cracking under heavy loads. This is all aluminum material and can support heavy loads. Installation was not so bad for a first time installer. I wish the templete had a centerline for true allignment but you can draw one on your own. The option of running your powerline thru the boat makes it look sharp. Do not forget to put a chamfer on the edge of the cutout, this will allow the mount to sit flush on the floor.
From: Jerry: Vail, AZ
Comments: Bought the red one to match my boat's hull. Took a little over an hour to install after making sure I wasn't cutting through any major structural parts of my aluminum bass boat (2007 Lowe Stinger 190). No more standing on one leg like a flamingo...

From: Chad: Vancouver Island, BC, Canada

Comments: OMG, wish this available 30+ years ago.

From: Gary: Atascadero, CA

Comments: Excellent design and build quality. Easy but nerve racking install. Took about 1 hour to measure and convince myself I chose the right spot. And about 30 min for the actual install. My fishing posture is now much more relaxed and hopefully this will help me with lower back pain after tournaments. Only con I have is the template should be a thin cardboard rather than regular paper.

From: Dan: Hebron, CT
Comments: Awesome. Took about 1.5 hrs to install and makes a world of difference. I ran my trolling motor wires under the deck and it really cleaned it up. The deck seems MUCH bigger with the pedal recessed and it REALLY saves your back after a long day of fishing.

From: Chris: Acworth, GA
Comments:Very Good product. Got mine for my birthday and installed it myself here at my house, took my time and was done in less than two hours. Very easy to install, just measure 2 times and cut once! Makes an 8hr day of fishing much easier.
From:Jay: Livermore, CA