Conquistador Conquest Casting Jigs - $3.59
The Conquistador Conquest Casting Jig is especially designed for fishing rocky western reservoirs with spare cover. The Conquest Jig uses a light wire Mustad Ultrapoint hook, perfect for using light line in clear water. This jig excels when fished around jagged structure. The head style keeps the hook point up and away from rocky hang-ups. When the Conquest Jig is used with the craw trailer, the claws float up imitating a crayfishes defensive posturing.
Conquest Casting Jigs use the best silicone skirt material available. Silicone provides best combination of action, color and durability, making Conquest Jigs second to none in the industry.
The Conquest Casting Jig color combinations are not your run of the mill colors. Additionally, Conquistador Tackle offers soft plastic jig trailers in color combinations that match the color scheme of each jig.
**Each jig comes with 2 matching craw trailers**
Comments: These jigs catch fish. The trailers don't have a lot of action, but they look phenomenal paired with the jig. I am not sure what it is, but when I throw the Fall Craw color, the fish always seem to hit it. High quality jigs.

From: Rodney: Gainesville GA USA

Comments: First jigs I ever used. I have the fall craw and green craw colors and I think they look great...I'm looking at getting the PBJ color next. The trailers are great...not your run of the mill looking trailer either. Although, the trailers are a bit wimpy and get shredded after a few hard hits, snags and/or casts. I really like that the skirt is held on with wire and not a rubber collar. All in all I'd give this jigs 4 1/2 stars out of 5

From: Yosef: Liverpool, NY
***Note: If you have questions about this product or need assistance with an order please email your questions to info@tacklewarehouse.com
View Large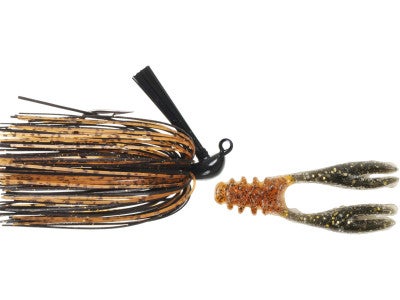 8 Available Colors
More Conquistador Jigs