Cul-M-Rite Team Fish Scale - $259.99

Serious tournament fishing is a whole different world than just chucking and cranking on Saturday mornings. Very few of us would be on the water with the $29.95 Zebco rod and reel combo sold at the local Big Box Mart. The Cul-M-Rite Team Fish Scale is as different from the Zebco De-Liar spring scale as a G. Loomis rod is from...well, a Zebco rod. The Cul-M-Rite Fish Scale is a sophisticated computer that not only weighs your fish accurately down to the 100th of a pound, but keeps track of how many fish you have weighed and put in the livewell. It also lets you know if the subsequent fish you weigh enables you to cull what you have on board. Each fish is assigned a color which matches the special floats for the Cul-M-Rite Fish Scale. The computer remembers the lightest weight and compares the new fish's weight. With the push of a button, you will know which fish to cull without re-weighing them. This time saving device lets you make the most of your time on the water. You can use the Cul-M-Rite Team Fish Scale with a variety of culling systems. The Cul-M-Rite Team Fish Scale is a must for serious anglers especially in the a Pro-Am or Pro on Pro situation.
-Stores up to 10 fish/colors in memory
-Max weight 15lbs
Comments:Best scale there is. used it today for the first time and it was 100th of a ounce off. it works just like it was designed.
From:Chase: Thibodaux, LA
***Note: If you have questions about this product or need assistance with an order please email your questions to info@tacklewarehouse.com
View Large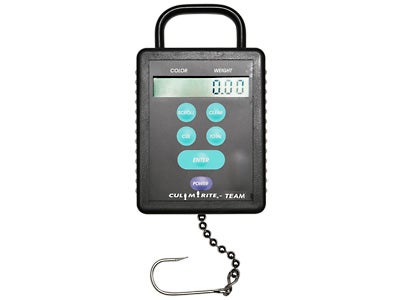 More Cul-M-Rite Accessories