Cul-M-Rite XL Tournament Fish Scale - $199.99

Serious tournament fishing is a whole different world than just chucking and cranking on Saturday mornings. Very few of us would be on the water with the $29.95 Zebco rod and reel combo sold at the local Big Box Mart. The Cul-M-Rite Tournament Fish Scale is as different from the Zebco De-Liar spring scale as a G. Loomis rod is from…well, a Zebco rod. The Cul-M-Rite Fish Scale is a sophisticated computer that not only weighs your fish accurately down to the 100th of a pound, but keeps track of how many fish you have weighed and put in the livewell. It also lets you know if the subsequent fish you weigh enables you to cull what you have on board. Each fish is assigned a color which matches the special buoys for the Cul-M-Rite Fish Scale. The computer remembers the lightest weight and compares the new fish's weight. With the push of a button, you will know which fish to cull without re-weighing them. This time saving device lets you make the most of your time on the water. You can use the Cul-M-Rite Tournament Fish Scale with a variety of culling systems. The Cul-M-Rite Tournament Fish Scale is a must for serious anglers especially in the a Pro-Am or Pro on Pro situation.
-Stores up to 7 fish/colors in memory
-Max weight 15lbs
Comments: This thing took a crap after weighing two fish. Pos. Call, email, no response from this company. I will proudly discourage people from buying a product from them.
From: Zach: IL 6/23/14

Comments: This thing really is not worth $200. It weighs light. It takes forever to weigh, now mine won't even work. I've only turned it on about a dozen times. PLUS you can't replace the battery. You have to send the thing off to get it replaced. Save your money. This thing is junk.
From: Bill: Cookeville, TN 3/15/14
Comments: Man...A ton of bad reviews on here! I really like this scale a lot...I see a lot of people on here crying about how the scale is inaccurate...Who cares as long as it is consistent? The scale does tend to weigh light...Doesn't bother me though...Disregard the bad reviews on here and pick one of these up. I've used several other scales and while this one might not be perfect...It seems to be the best out there right now...
From: Jeff: AL
Comments: I bought this scale thinking $200 HAD to be the best scale I could buy. Wrong. I had a feeling they were weighing light. One day a couple friends just happened to be fishing close and when I weighed a fish on my $200 scales, I got them to weigh same fish on their $40 scales. Mine weighed the fish 5 oz. lighter than both of their cheaper models. The next tournament my $200 scales weighed a fish 6 oz lighter than the certified tournament scales. Very disappointed.

From: William: cookeville, tn

Comments: I purchased this scale based on the theory of quality costs money and boy was I wrong. Theres no reason I should feel I need to Have a culling beam onboard after spending $200 on a scale. It takes forever to lock in and once it does you can reweigh the same fish and never get the same weight. I'm going to wrap some braid and a lead sinker around this thing and have the worlds most expensive marker buoy...................

From: Brian: Wauconda IL USA

Comments: Junk.......I hate to say it buts its 100% junk. After buying this I was pretty excited to have such a "quality" scale for tournaments and fun fishing......I could not be more disappointed. Very hard to turn on....the gaff hook hanging is a joke.....not accurate at all.... like not at all..... like it sucks.....I would buy an awesome digital scale if one was made but I'll just suffer. Don't buy you will HATE!!!!!

From: Rick: Oak Park IL

Comments: Great scale worth the money.

From: Lance: Livingston, TX

Comments: Great scale I love it, but it would be nice if they told you in the description that the colored ropes are not included

From: Steve: WI

***Note: If you have questions about this product or need assistance with an order please email your questions to info@tacklewarehouse.com
View Large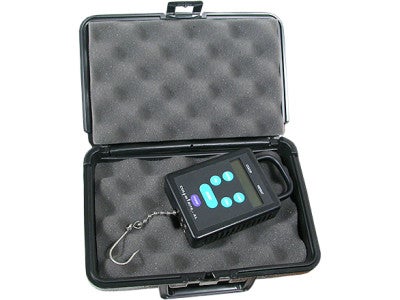 More Cul-M-Rite Accessories