Culprit Fat Max Worm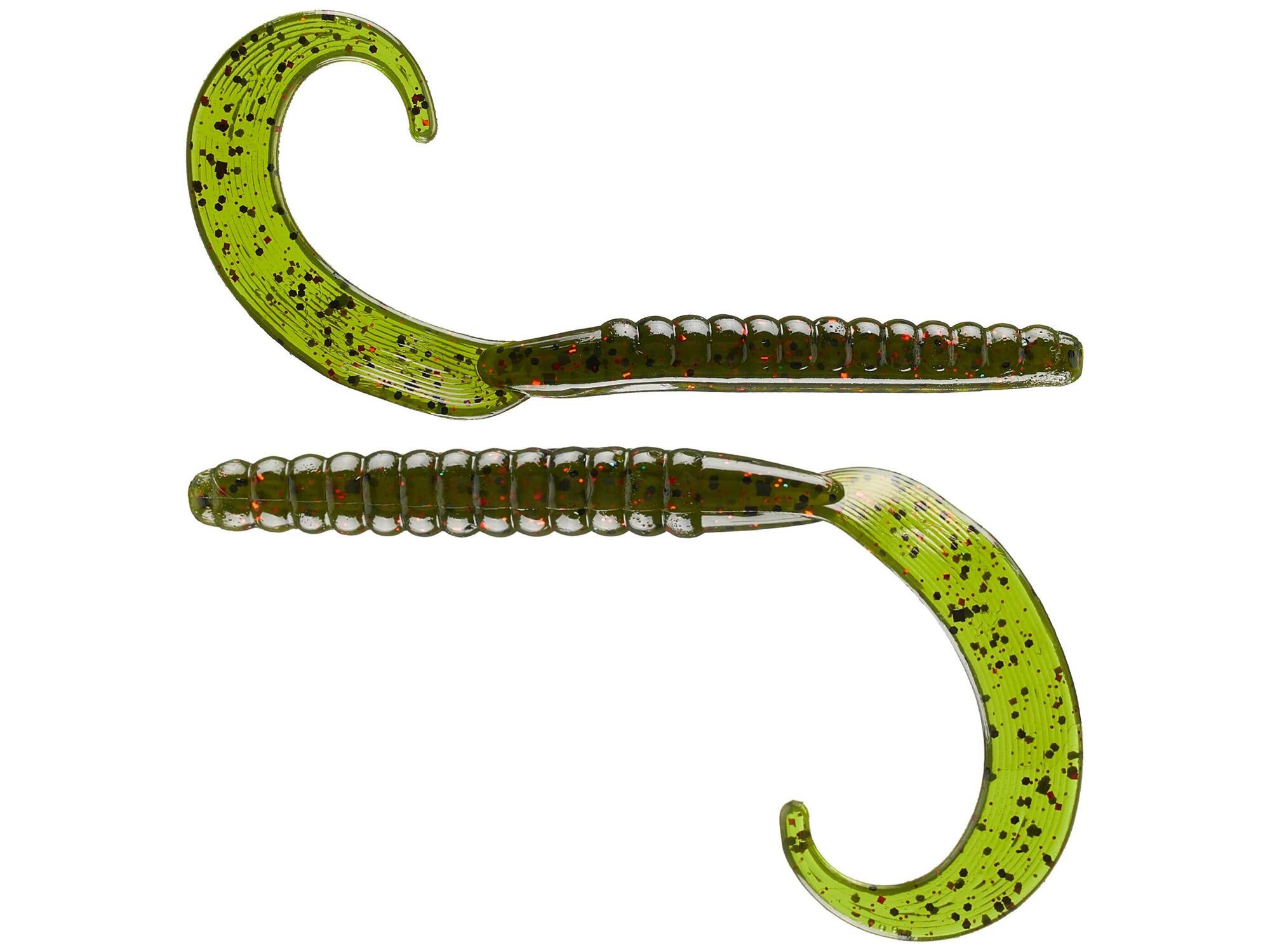 Bulkier than a standard worm, the Culprit Fat Max Worm has a tail design that doesn't wrap around cover, making it the ideal heavy cover flipping worm. A versatile bait that can also be used in a variety of different ways, it really excels in shallow water flipping where most anglers are using jigs and creature baits. Beef up your spinnerbait profile by adding the Culprit Fat Max as a trailer.
"This worm [the Culprit Fat Max] gives me a distinct advantage over my competition - at least until they discover it for themselves." - Dustin Wilks, BASS Elite Series pro.
| | |
| --- | --- |
| Length | Quantity |
| 7" | 10 |
| 9" | 5 |
17 Colors
More From Culprit Soft Plastics
Customer Reviews
Comments: Put a 7" or 9" Black Shad on a 3/8 or 1/2 oz. swing jig with a 5/O EWG. Reel steady, make sure you keep bottom contact. Every once in a while let it drop and hit bottom to make sure. Oh, and hold on. Weed edges, drop offs, or just strain all the good water with that swing jig. In the water the black shad looks like a strobe light; light, dark, light, dark. Give it a shot.

From: Frank: Boca Raton, FL 7/21/15

Comments: caught a 6 # n 10# on back to back casts , same worm there tuff n work great even on tuff summer days on lake okeechobee

From: Marc: West Palm Beach, FL

Comments: These worms along with the original culprit worms in the red shad color are always my backup bait. The Fat max, being the bulkier version is great for flipping heavy cover. While it is good for fishing heavy cover you can also drag this bait along deep points and pick up some trophy bass. The Fat Max often produces much bigger fish due to its bigger profile. The red shad color is awesome for the murky summer water in the Boston area.

From: Jake: Saugus, MA

Comments: This is one of the best baits in our area lakes here in Central Florida. As a member of the Bay Area Bassmasters we fish Kissimmee, Toho, Harris Chain, Istokpoga, and Okeechobee and this bait is always one of the top performers. It catches numbers and quality and can be fished in a variety of ways. Thanks to the guys at Culprit for putting out a bait that simply catches fish!

From: Michael: Tampa, FL

Comments: These worms are killer.. They are made for flipping heavy cover but are also great on ledges... Buy some you wont regret it..

From: Kory: Boston, MA

Comments: The Fat Max worm are the best. They are my number one go to soft plastics no matter what the season. A staple in my tournament fishing.

From: MElliott: Deltona, FL

Comments: This is definately a Big fish bait. Use this bad boy when you want to fish where the big ones are hiding! The tail action wakes them up for a fight. If you like to catch big fish put a fat Max in yoiur tacklebox!

From: Poppaken: MS

Comments: The Culprit Fat Max worm has become Ógo toÓ bait for me. It gives you the versatility of having a thicker, bigger profile but still short enough to attract all the bites. ItÕs the perfect combination for fishing for numbers and big fish at the same time. I donÕt leave home without one tied on anymore.

From: Hume: Fayetteville, NC

Comments: One of the greatest worms made is the Culprit Fat Max. This worm has helped me land many quality fish and is one of my go to baits! The bigger profile and action from the tail is awesome! It does something that the big Bass just can't resist!

From: Trace: Bossier City

Comments: The Fat Max has totally changed my view of flipping.I really like the size and colors. I have flipped it into some of the heaviest cover never to have it hang up unless it's a fish on the other end. the bulk of the worm makes it an excellent big fish bait. another option for the Fat Max would be carolina rigged, I can't wait to c-rig it down some deep points.

From: Mike: Disputanta, VA

Comments: A great worm that can be used in almost every way imaginable. I have swam it, hopped it, crawled it, and every other way. I really like the size and bulk of the bait. It seems to always get the big fish bite. Been a great bait for me this year and is a bait every angler should have tied on!

From:Sam: Knoxville, TN

Comments: The Culprit Fat Max has been a great addition to my fishing arsenal this year. I have used this bad boy in every way possible, but my greatest success has been pitching and flipping it into various cover. the wide tail gives off incredible vibration and it slides through cover with ease. The strikes are never subtle, they are violent! I believe this is because of the unique size and action this bait offers. If you have not tried it on your water, you need to.

From: Mike: Goldsboro, NC

Comments: There is not other bait on the market like the Fat Max. It is my go to bait in stained water. It's bulky profile displaces more water than any other bait on the market making it easier for the fish to find the bait. This is a must have in the boat.

From: Bill: Florida, USA

Comments: Another great soft-plasstic bait from Culprit! The Fat Max worm is deadly when texas-rigged with a light to medium sinker, and being dragged and hopped along the bottom. I have done very well fishing with this bait pulling out numerous 3-5 pound largemouths at my local ponds. I have also noticed that the bulkier profile and shape of the Fat Max worm allows more vibrations to be transmitted through the rod with allows, the angler to have so much greater contact with the bait and allows me to know what it is doing at ALL TIMES during the retrieve. Simply put, the Culprit Fax Max worm allows me more sensitivity to feel the bait, pick up on the lightest and slightest strikes, whichn inturn allows me to put more fish in the boat. As for the best color selection-RED SHAD all day long!

From: Kyle: Saugus, MA

Comments: This has been a go to bait for me this year. It simply has an all around better presence compared to other ribbon tail style worms. Its bulkier profile gives it a more subtle and organic action. So far, Texas and Carolina rigs have both produced consistently.

From: Brett: Wilson, NC