Culprit Incredi Craw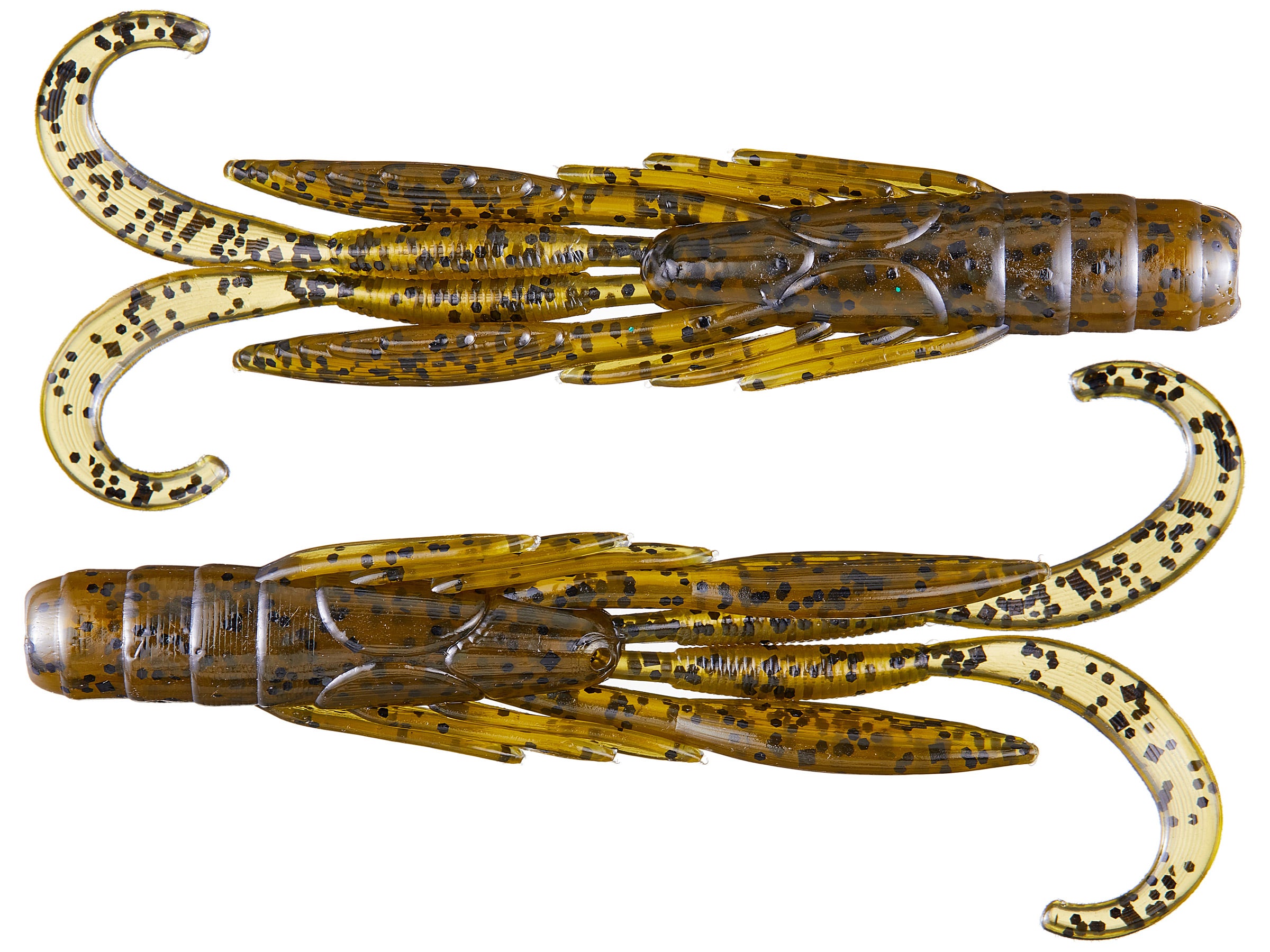 Great for flippin' and pitchin', the Culprit Incredi Craw is very versatile and a great choice for a variety of bass fishing applications. Its claws and creature-inspired appendages generate a wavering action on the fall, while its streamlined body allows it to slip in and out of tight pockets. By removing both interior arms, the Incredi Craw is morphed into a more compact creature bait, which is an excellent offering on a shaky head or utilized as a jig trailer. Available in several proven colors, the Culprit Incredi Craw is a bait every angler could use in their arsenal.
| | |
| --- | --- |
| Length | Quantity |
| 3.5" | 8 |
| 4" | 6 |
10 Colors
More From Culprit Soft Plastics
Customer Reviews
Comments: Great looking bait! scent is good & awesome action. I throw the crawdad color on a 1/2oz VMC Swinging Rugby jig on 40lb braid, a 7' MH rod with a Daiwa tatula 7.3:1 for largemouth & monster smallmouth!
From: Billy: NJ 8/3/15

Comments: This is a big fish bait period. I pitch docks with this on a 3/8 weight. Love the crawdad color. If you have not tried this bait you are missing out.
From: Bruce: Sparta, NJ 6/8/15

Comments: These are great baits, I was a little skeptical of them when I ordered them but they area pretty amazing craw baits. They work great punching, flipping and pitching, Texas rigged, even trimmed down the body and use them as a jig trailer and have slayed the bass! Great addition to anyone's fishing arsenal!
From: Corey: Tifton, GA 5/20/15

Comments: These are great baits for pitching into the thick stuff. It gives me a little more bulk and action than a beaver. I like the 4" with a 3/8oz tungsten bullet. The design allows it to punch and slide through the grass with ease. It catches good quality fish! Green pumpkin/Blue flake is my favorite. Flippin' stick and braid!
From: Matt: Conway, AR 4/5/15

Comments: My confidence bait. These have caught more fish than all of my other tackle combined. I like to drag em slow with a couple pops mixed in on a 3/0 wide gap or flipping hook with a 3/8 oz tungsten bullet sinker.
From: Matt: IL 10/31/14

Comments: I've used these and the KOMPAK craws. I like both. When it gets tough, I just have more confidence in the kompak craws. The material is just so darn soft and salty and reactive but when they are turned on I'll fish these.
From: Sherman: NY 4/15/14
Comments: Havent really fished it, but its different, the only thing close is a kompak craw, but this has curly tails to jazz things up. they will do good I think

From: Connor: AR

Comments: If you fish the California Delta waterways and haven't tried these there you are missing out on some great fishing action. These are great for flipping, pitching, punching, used as a jig trailer. Their unique design makes them a must have for fishing the Delta.

From: Ron: Fowler, CA

Comments: This is my new favorite flipping bait. Even with all the extra arms and action, it moves through the grass really well. Caught a lot of nice fish on it. Definetly try it, Bama Bug color.

From: Sam: Knoxville, TN

Comments: The Incredi Craw was just what I needed to add to my pitching & flipping arsenal. I really liked the 3 1/2" model the best. It slid in and out of rugged cover with ease, and to top it off the bass HAMMERED it like there was no tomorrow!!!! Best colors for me were green pumpkin/blue flake and watermellon red. Bulky enough to pitch and flip with ease. easily out performed any other brand of similar bait I have used. A++++++++++++++++++++++

From: Mike: Goldsboro, NC

Comments: The Incredi Craw is an amazing bait! it has so many different uses. It can be used as a flipping bait, jig trailer, or even carolina rigged! The long tenticles can also be easily clipped off to give the bait a more compact look! the body of the bait also has the realistic look of the shell on a crawdad! Give this bait a try because it catches fish and you will not be disappointed!

From: Taylor: Oneonta, AL

Comments: This lure is by far my favorite craw on the market. I recently read an article that said less is more. If I had to scale my arsenal down to just one craw, without a doubt this would be it. It rigs nicely, it has nice action, it is durable, and it catches fish. Highly recommended.

From: Peter: Cleveland, Ohio

Comments: I've been using the Culprit Incredi-craw for about a month and a half now. Ever since I first tied it on a shakeyhead I've been catching trophy bass every time, in fact, about an hour and a half ago I caught a six pounder, and a two pounder, and sadly also lost a four pounder... But, the two colours I like to use are the Green Pumpkin Blue and the Bama Bug colours in the 3.5 inch size on a 3/16 Picasso Shakedown jig in Green Pumpkin. These baits are very durable and seem to really catch fish! Go buy some!

From: Jordan: Ontario, Canada

Comments: Awesome new bait! Great action and colors. The size of the bait is perfect. Will only last for one fish but it's OK for the results. They tear every fish with a flipping hook. Need some super glue I guess but I'll be buying more

From: Wes: ILM, NC

Comments: This is a dynamite new lure from Culprit! The first day I used it, I pitched it into grass and wood and the bass would just take off with it. Today, I caught one almost 5 pounds in deep brush on the 4 inch green pumpkin/blue. This is a big bass bait for two reasons. One...it resembles a crawdad...and two the back end is really bulky much like a real crawdad giving it a bigger profile. I would recommend the Gamakatsu 5/0 EWG hook with this bait though because of the bulkiness. This is a wonderful new bait!

From: Lance: Sherwood, AR

Comments: This is a bigger bulkier bait that can withstand punishment from multiple fish on a single bait. It slides through weeds easily and has a great profile in the water. Definitely a big fish bait in the 4" version. These things flat out get smoked.

From: M.S. IA

Comments: I used these craws for the first time last weekend. I wasn't catching anything with my usual go to baits but when I switched to the Incredi Craw I caught three bass within a 30 minute period. I caught a 9.65 lber that ended up as the FL Bass Federation Nation Central region tournament Big Bass on the 3.5 inch Black and Blue! I heard about this bait and color from Elite Rookie Kyle Fox who caught an 11 lber the week before on the same lake. Get bait, sturdy, and culprit sent embedded. You can't go wrong with Culprit!!

From: Steve: Valrico, FL

Comments: Michael from NC, keep at it! Here in southern Onario the bass season has yet to open, but a recent trip to the south end of Lake Champlain made me a believer. The largemouth were off the beds and were hanging in some thick vegetation, Texas rigged with a 4/0 straight shank anqd a 1/2 ounce weight smoked em!

From: Mark: Port Perry, ON, Canada

Comments: I had my first chance to put the new Incredi Craw to work this weekend.I can tell you now this is one awesome new bait.After switching from a jig the second pitch with the incredi craw i boated a fish.The action of the craw is tremendous and the little added bulk allows for a larger hook that will increase hookups.This will become my go to flipping bait.Thanks Culprit for another great product.

From: Tommy: New Haven, KY

Comments: If you are in the market for a new flipping bait that us unique and unlike any other then this is the bait for you! It has the ability to be fished in several different ways including texas rigged, carolina rigged, and also it makes a great jig trailer. The long tenticals can also be removed to make the bait more compact for a more natural presentation. This bait is great for flipping into grass. I highly recommend giving this bait a try!!

From: Tayler: Oneonta, AL

Comments: The New Culprit Incredi-Craw is an awesome bait for the right situations, not so much as a weightless bait but for flipping heavy cover such as brush or grass of different sorts. The best reaction comes when using a bigger weight. Faster fall allows it to move more water to trigger reaction bites. It is also presenting a bigger profile so it can be very productive in deeper water situations such as ledge fishing with either a Carolina rig, or Texas rig, or even as a trailer. Always match colors to the water, really dingy water use dark colors and clear water use light natural colors, I carry all colors in my boat.

From: Bassmaster Elite Pro Kyle Fox: Lakeland, FL

Comments: Culprit has raised the bar with the incredi-craw, the 3.5 is the perfect flipping bait and for me the 4 has some serious bulk excellent for punching grass or even as a carolina rig, this is gonna be my go to creature bait for a long time.

From: Michael: Disputanta, VA

Comments: This craw has to be the best on the market.just got done guiding 3 boys and we caught over 21 bass all in the 18 to 20 inch range using it with a weighted jig. Hurry out and get some of these. I have been with Culprits pro staff for over 10 years know and there products jut keep getting better and better.

From: Pete: Eagle River, WI

Comments: This bait is one of the most versatile craw imitation baits on the market. I really like how I can cut the appendages accordingly to the style of fishing I'm doing. The fish really like to hit it on the fall and the wavering action is something they cant resist. My personal favorite is the black blue flake color. Definitely a must have bait if you're a flippin type of guy.

From: Jake: Saugus, MA

Comments: Great Bait: Let me tell you these baits are so versatile! You can Texas Rig, Carolina Rig, Heavy Dropshot them or use as a Jig Trailer! They just will not be still in the water. If you want a little more subtle action pinch of part or all of the antanas. They work perfect for punching mats. They are slim and compact so they slide right throuh the thickest stuff. On the 4" I have been splitting the backside a little to make it a little thinner for better hooksets. You better Get You Some, if you don't want to get beat by them!!

From: Terry: Magnolia, AR

Comments: WOW! Thank you Tackle Warehouse for carrying the New Culprit Incredi-Craw, I was having trouble finding Them, after I received my order last week I went fishing flippin' and pitchin in my old favor spots (Harris Chain) I didnÕt have much time and caught a 5lb in about 5 minutes, What I have found is to fish the Incredi-Craw real slow, was using the June Bug 4Ó, you canÕt go wrong thanks to all for Bring this new lure to Tackle Warehouse, fantastic lure a must try!

From: Ron: Leesburg, FL

Comments: I've been using the Incredi Craw on Joe Pool Lake in the grass and they have been killing it! I Texas Rig it and it slides right through the grass without getting hung up. I like the Big Texan color, it seems to get their attention. I definately will be getting some more.

From: Dewayne: Grand Prairie, TX

Comments: This soft plastic is great! It has a great action and moves a lot of water and that triggers bites! It works great as a trailer or Texas-rigged by itself. Great bait!

From: Kory: Saugus, MA

Comments: Awesome! Fished these new craws in and around the grass where I live and the fish killed them! When the fish are in the grass you can't go wrong with these craws. The junebug is a must have for this. I also like to use the junebug, green pumpkin, watermelon red and watermelon colors in clear water and the junebug, green pumpkin, black neon, and black and blue flake in stained or muddy water. Many more colors I can't wait to try. You can modify this craw many ways and fish it texas rig, carolina rig, shakey head, a trailer for jigs, and even run it weightless as a topwater. A MUST HAVE craw if you're serious about bass fishing, load up on some of these bad boys today!!!

From: Kenneth, MS

Comments: Great lure, a must try for sure, Black Blue Flake is the best color for Okeechobee, You can't go wrong

From: Daniel: Okeechobee

Comments: I have tried these craws as weightless and as jig trailers and have failed to receive a solid hit. I have used them on 2 occasions where I fished them for a total of 5 hours in ponds where I have routinely come out with more than 5 fish in 2 hrs of fishing. I have had 5 lbers come up to the black blue flake on a black blue jig and just look at it. One look and its over. But flip in a black blue jig tipped with a black blue pit boss and those fish kill it. Then I decided okay lets try fishing this craw/creature a different way. I tried the camo color which isn't listed here. The fish wouldn't even look at it in clear or stained water but flip in Berkley havoc pit boss in perfection green fleck, and it is all over. I'll give it a few more tries but right now I have nearly no confidence in this lure.

From: Michael: NC