Custom Lures Unlimited Zero Gravity Jig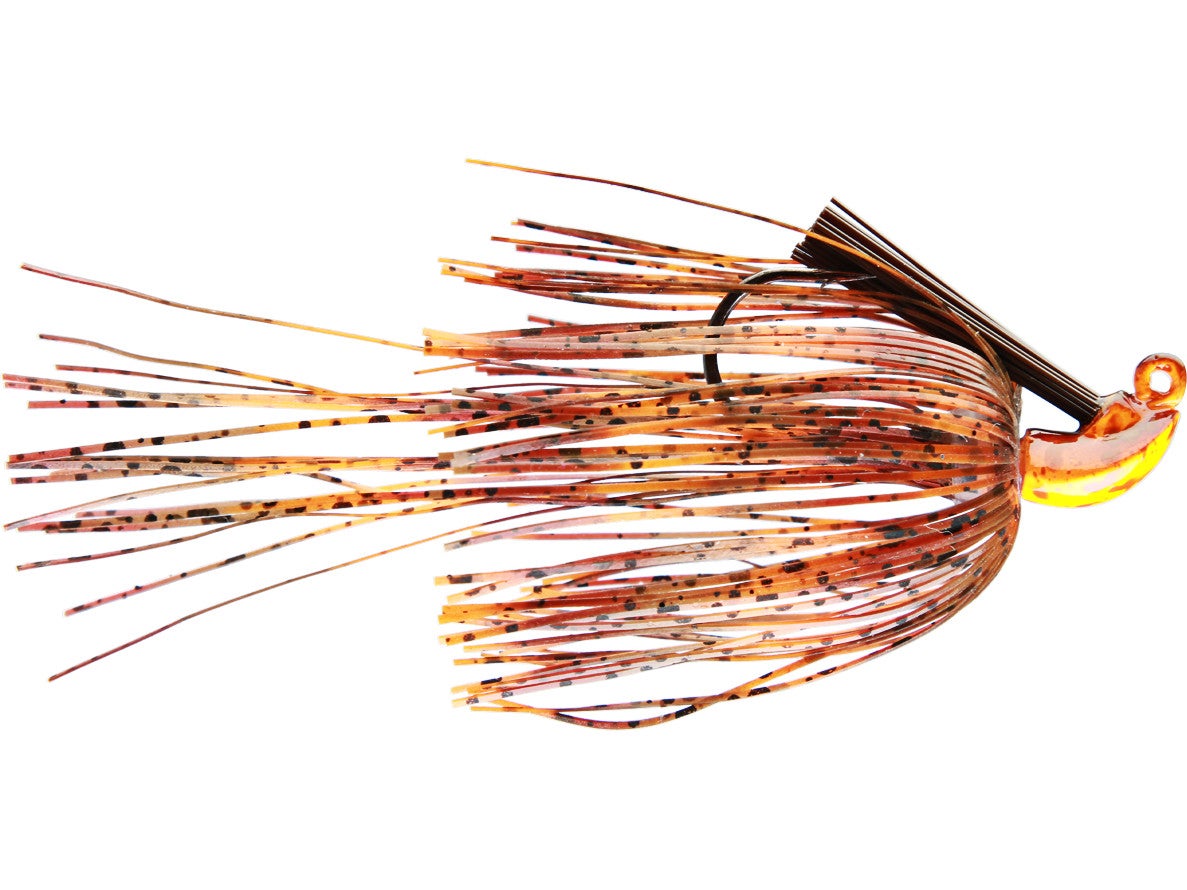 Every once in a while a revolutionary concept sweeps through the fishing industry and starts to raise some eyebrows, the Zero Gravity Jig has been the catalyst for such a reaction. Constructed from a non-lead material and precisely shaped, the Zero Gravity Jig has earned its name from the incredibly slow 1 foot per 3 seconds rate of fall. When fishing a jig it's not uncommon to get bit on the drop, so prolonging the amount of time spent descending can only have one result - more fish.
Not only does the Zero Gravity Jig's rate of fall create a desirable characteristic for traditional jig fishing, but it also opens up other avenues of application.The near neutral descent allows anglers to wake it, swim it, jerk it, and even Carolina-Rig it. In addition, the Zero Gravity Jig makes an ideal choice following cold fronts or when swimming through pads, grass, trees, and stumps. The Zero Gravity Jig comes equipped with a patented fusion banded die-cut skirt with built-in kicker legs, as well as, a color matched fiber weedguard and a super sharp 4/0 black nickel VMC jig hook. The innovative design and construction of the 0.21oz Zero Gravity Jig presents a slow-moving snack for lethargic fish and ushers in the next generation of bass fishing jigs.
11 Colors
More From Custom Lures Unlimited Jigs
Customer Reviews
Comments: Got the bluegill pattern and put half a senko on the back. It will walk underwater like a jerk bait with short twitches. Works great in shallow water with mucky bottoms. Hook sets were easy and solid.
From: Phil: Fort Collins, CO 5/9/16

Comments: Got a zero gravity jig in the bluegill color and man it's a great bait to throw at any piece of cover. I prefer to put a Keitech Swing Impact Fat in the bluegill flash color. I have only use this bait for about a month and its caught me about 35 bass. it's an all around great bait.
From: Payne: DE 7/27/15

Comments: Just used these for the first time & I'm excited about the results. I used the Bluegill color with a copper candy Erie Darter trailer on a clear water lake with lots of emergent vegetation. In calm sunny conditions, I'd flip this into pockets in the grass. It lands with almost no splash & looks very natural. Twitch it & it's kind of like a jig & a suspending jerkbait had a baby. I caught 7 fish in one day on this. Also used it as a follow-up bait when fish missed the toad. Seems like a game changer in the right conditions.
From: Brian: Oak Forest, IL 5/25/15

Comments: I am VERY impressed with this Zero Gravity Jig. I bought some and on my first time out fishing with this bait I caught a personal best. A 9.10 LMG. I LOVE this bait. The fall is something that drives the fish crazy. Get you some of this one. It is fantastic.
From: Bobby: LA 3/29/15

Comments: i have some of the first of the non lead jigs that came out. the weed guards were the only thing that i had a complaint about. they were molded out of the same material as the jig and too stiff to be effective. these new gravity jigs are a big improvement. i use pork trailers to slow the fall rate even more when needed. there are so many applications for these jigs it's up to the fishermen to pick and choose which to use. the carolina rig seems to be the best for me. shadzilla is my favorite color along with bluegill.
From: Wes: Salinas, CA 3/18/15

Comments: An absolute GAME CHANGER...the profile of a jig with the SLOW horizontal seductive fall of a senko/weightless plastic...it is an acrylic/plastic head that weighs virtually nothing...But the whole jig weighs enough (with a good size trailer) to cast easily and pitch to docks/shoreline structure. There is no weight densely packed in 1 spot like on most jigs (in the head) so it falls totally horizontally and slowly. When you "hop" it it glides upward then slowly down almost suspending...This thing is amazing and gives the bass something they truly haven't seen.
From: Tanner: Fall River, MA
Comments: Nice to see a replacement for the acrylic head spro jigs of years past. But unfortunately the weed guard is absolutely worthless. It will catch on wood no matter how slow it is brought through. Broke off four times luckily I was able to get them back each time. Ordered five jigs and all of them have hook points that can be felt through the guard. I thought nk a dab of epoxy while bent into position will do the trick. Other than that. They offer great bulk and a great presentation. I fish alot of submerged wood. And with fish suspending near the tops it is a great way to present a bulky bait to negative fish. An improvement to the weed guard is a must. Adding a bait keeper would be nice too although not a deal breaker.

From: ScoobyDoo: Bridgewater, nj
Comments: One of the best kept secrets in bassfishing. Love swimming this jig thru grass and shallow cover. Fish have never seen a jig with this action and fall rate, neither had I til I tried them.

From: Bryant: Clewiston, Fla.

Comments: These jigs are awesome. The extra slow fall rate is perfect for pitching to docks when the fish are suspended underneath the tops of them. It also works great for burning across grass and dropping down into the holes! It has the fall rate of a Senko and the hooks are super stout. CLU makes some of the best products out there and I'm glad TW started picking their stuff up! Hopefully they pick up some more of the CLU products as well!!!

From: Chris: Raeford, NC

Comments: If you havent used these as yet, now is a great opportunity to try out the Zero Jigs! I was fortunate to have tested these when they 1st came out and I still use them today. CLU has made an incredable invention here and it is worth utilizing!

From: Bob: Santa Maria, CA

Comments: I am so glad that these jigs are finally available @ TW! I have been waiting for a long time to see them on here! I have been using them for about 2 years now, and they are simply amazing! Yes, they take some getting used to, but, seriously these are the BEST jigs I have used in quite some time! Simply put, they catch fish! And most of the time they produce good sized bass! Not only do these slow fall jigs work, but they are fun to use on slower days! The owner of this company is top notch! Glad to see your product finally made it to TW Kelly! Good luck!

From: Shark: Where Blue Angles Fly, MD

Comments: This is a great shallow water jig , purchased some of these last year and had good luck on them , the only complaint is the weed guard is terrible , the guard it self is to close to the hook and to soft.

From: Michael: VA