D&L Tackle Baby Advantage Jig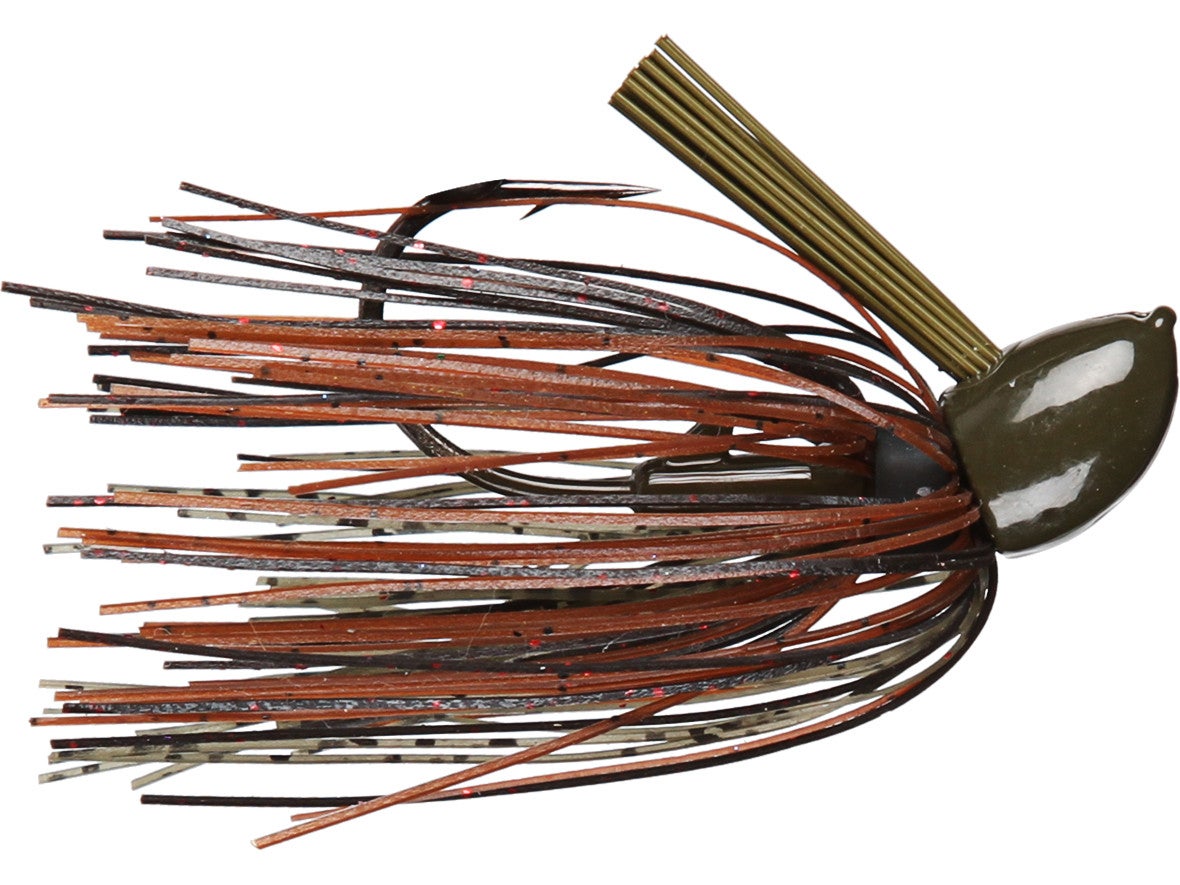 When fishing gets tough and bass are under heavy pressure, the D&L Tackle Baby Advantage Jig presents bass with a scaled-down presentation that is backed by a razor-sharp 3/0 hook. Built with a recessed line-tie and a light-wire fiber weedguard, the D&L Baby Advantage Jig moves over rocky terrain with less hang-up than a traditional finesse jig. The D&L Tackle Baby Advantage Jig is also equipped with a fine-cut "froghair" silicone skirt that generates a lifelike flowing movement that will accentuate any finesse trailer. Great for colder water conditions, the D&L Tackle Baby Advantage Jig is the ticket for sluggish bass that aren't in the mood for a feast.
21 Colors
More From D&L Jigs
Customer Reviews
Comments: I love these D&L jigs they are most deffinatly the best jigs on the market. Don't let the price fool you they are well worth the money, try them you will not regret it.
From: Shelby: Sweetwater, TN 5/9/16

Comments: These are close to the best jigs on the market for flipping timber and fishing rock. I have used many jigs of low price, and these are definitely some of the best. 4/5 on coming through cover. 5/5 on color selection, and trust me, you can not go wrong fishing a bluegrass craw colored 3/8oz d&l baby advantage jig paired up with a green pumpkin blue super chunk.
From: Sam: Danville, KY 2/10/16

Comments: Awesome jig! Started buying these last year because I wanted a jig with a little smaller profile so I could present a smaller overall package to the fish & get some more bites. In the last 12 months, I have caught 5 bass over 20 inches (Largest 23), all on the cali 420. One of my favorite jigs by far & very affordable. Highly recommend. Have used roughly 500 hours on the water, never had a hook straighten on 15lb test line, never had a problem with the line tie.
From: Ben: Athens, GA 1/31/16

Comments: I bought 2 dozen of these things because I loved the colors and sizes. Epic fail is all I can say. All but 2 of my jigs line ties/jighead was obstructed with burrs or excess lead and rough edges. Exceptionally disappointed in quality of the entire jig. Contacted D&L and all they did was blow me off again and again. Awful customer service and I tried to be cordial. Their answer" that's how they are made"anyways thank you tackle warehouse for your always great customer service for allowing me to return their product.
From: Joe: Valley City, OH 3/27/15

Comments: This jig is the perfect finesse flipping jig out there. The frog hair skirts are perfect for this jig. When the bite get's tough or if you have to go behind someone (like a co-angler) this is the best tool to have. This jig comes through cover with ease and the recessed line tie prevents snags. Great colors, great jig, great price!
From: Matthew: KY 1/8/15

Comments: These jigs will get you bites. Period! No, the baby advantage model is not good for pitching into heavy cover with braid. See the D&L advantage model for that. But these make for a great finesse presentation that will get you numbers and quality bites on tough days.
From: Jake: Lexington, KY 6/1/14

Comments: I would give this jig a 5 out of 10 score. Good looking jig, nice shirt and weedguard. The hook is not strong at all, almost straightened it twice on decent hooksets. I use Eakins jigs, and don't have that problem at all. Needs a 4/0 hook IMO. Might be good on light line, as a casting jig in clear water--not good at all for pitching or flipping

From: Brad: TX

Comments: this jig is Definitely an amazing jig I have fished strike king netbait terminator Eco pro and many more local jigs and haven't found one as good as this one flip it drag it hop it it doesn't matter this jig gets bit... Until now I have had to go to Kentucky to get these jigs. I love throwing these with smallie beavers by reaction innovations and if you really want to give them a finishing touch buy some spike it dip n glow in orange and dip them highly recommend hope this helps

From: Landon: TN

Comments: By far the best jig made.Hangs up less and hooks up better than any other jig

From: Doug: IL

Comments: I've been using these jigs for 4 years now and is one of my favorites on the Tenneessee river.They are smaller than most, comparible to a Strike King bitsy bug but the color selection is way better.Paired with a rage tail chunk or chigger craw=fish in the boat.

From: Adam: Memphis,TN

Comments: The Baby Advantage is absolutely the most versatile jig on the market. Works well wether you are flipping, casting or fishing grass. Highly recommended, you won't be disappointed.

From: Tommy: Eastern Kentucky

Comments: The best finesse jig on the market. Super sharp hooks paired with the Frog Hair skirts makes this the best jig on the market. Fish it in cover, flip it or cast it. There isn't any structure this jig isn't suited for.

From: Big C: KY

Comments: This jig is up there with the best of them. Caught a 6.8 on one the other day. Buy some and go to work! The Netbait paca chunk fits them well, too.

From: Scott: KY