D&L Tackle Football Jig - $2.99

The D&L Tackle Football Jig is perfect for working around rock and hard lake bottoms. As you bump it along the lake floor, it elicits the classic football head wobble from your bait that bass have trouble resisting. The premium silicone skirt delivers added bulk and lifelike flowing movement, and its fiber weedguard helps deflect snags. Also equipped with a super sharp hook, the D&L Tackle Football Jig is available in a range of proven colors to help you tackle any fishing conditions.
Color:
Black Blue
View Large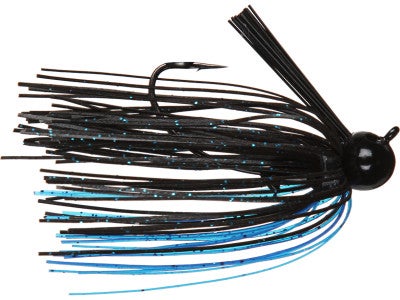 More D&L Jigs
Comments: i love this jig perfect hook no bend for those big fish. great for bed fishing and sight fishing for big bass. love the pb&j color for bass too.
From: Jared: TX 6/19/15

Comments: Don't let the previous post deter you from buying this jig. The hook in this jig is the same as in the Omega FB Jig and several others on Tackle Warehouse. The hook isn't for everyone but I haven't had a problem with it. Neither had anyone else that I fish with at Ky Lake. Great jig, as well as the entire line from D&L. This company is going to be huge one of these days. Down right quality jigs at a great price.

From: Brent: Ky Lake/ Paris

Comments: Horrible Football Jig. Nice skirt colors but the bend of there football jig will leave PLENTY of fish swimming in your local lake with sore mouths. Countless lost fish because of this. Dismal Hookup ratio

From: James: London,Ky USA

Comments: Great football jig. Don't let this jig fool you. It's equipped with a Super sharp Gammy hook and has some of the best colors to choose from. Hard to beat the 3/4 Oops on Ky Lake.

From: Terry: Ky Lake

***Note: If you have questions about this product or need assistance with an order please email your questions to info@tacklewarehouse.com