D&M Custom Baits Buzz Saw In-Line Buzzbait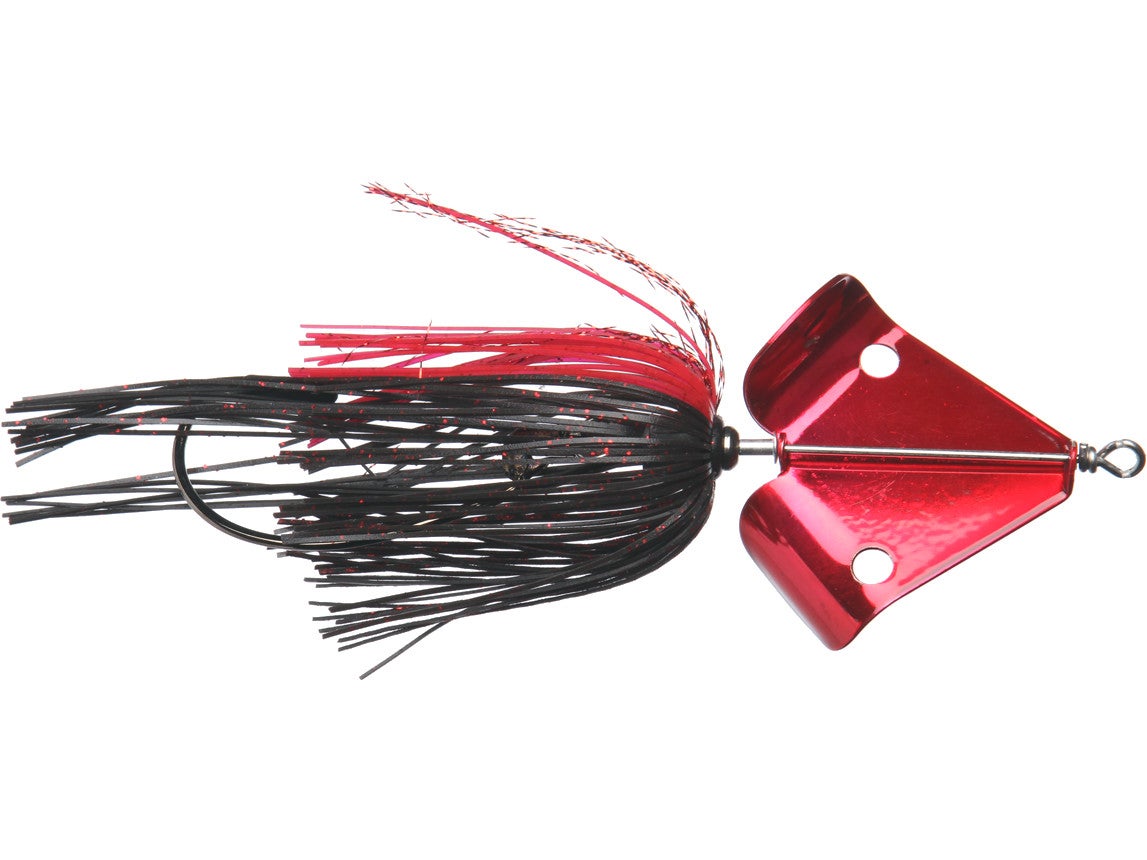 After several years of testing and thousands of caught bass, D&M has finally created a buzzbait that can perform in the slop. The unique design of the D&M Buzz Saw In-line Buzzbait allows anglers to now utilize the flash and gurgle of a buzzbait in the thickest of vegetation. The buzz blade positioned at the front of the bait allows it to deflect off of cover and debris, and when combined with a plastic trailer, it becomes a weedless wonder. Fish it through grass mats, trees, or boat docks, the D&M Buzz Saw In-Line Buzzbait provides a devastating surface disturbance. The blade even lays flat on the water after casts to help keep it on the surface, and its heavy gauge 4/0 Owner Beast Hook has the wherewithal to haul in the biggest fish. Also equipped with a magnum long tail skirt and custom Super Keeper to keep your trailer in place, cut through dense cover and get to the big'uns with the D&M Buzz Saw In-Line Buzzbait.
14 Colors
More From D&M Buzzbaits
Customer Reviews
Comments: I bought this bait thinking "great" no more short strikes. Wrong! For some reason I couldn't cast it very far. I replaced the meat hook with a smaller swim bait hook with weighted keel and screw lock (if you want to fish a trailer). Now that I got it casting far the next problem. The skirt would wrap up in the blade EVERY CAST! For $9 buy some conventional buzz baits & whatever you don't like about them just deal with it
From: Aaron: Church Point, LA 10/31/15
Comments: Like the others have stated, these things suck. I have taken mine apart and use the skirts for punching rigs and I am experimenting with the blade portion with frogs & swimbaits. Trashed the hooks these come with.
From: Phatbass: Discovery Bay, CA 8/12/15

Comments: Not sure was d&m was thinking on this one. First of all soon as you get this bait there are a few mods you have to do to it or it will not work right at all. First you must cut the longer portion of the skirt or it will foul in the prop/blade. Also change the hook to something like an owner beast or a similar hook. It should work alright once these mods are done.

From: CJ: PA

Comments: Took this out on the Potomac River and fished it side by side with my usual buzz bait. Probably had 20 hits on the D&M and only 2 on usual buzzer...problem is that I didn't hook up on any of the hits on the D&M. Not quite sure why and I do agree that the line twist was pretty bad.

From: Bill: Waldorf

Comments: Was looking forward to throwing this in heavy weeds that snag other buzzbaits but was quickly let down...it's no better or worse. Also difficult to throw due to the huge blade that catches wind during the cast. The hook that D&M uses could double as a meat hook in a butcher shop. Not sure what size EWG but has to be at least a 6 or 7. For me, this contraption will probably spend its entire career on the bench.

From: Cuz: NJ

Comments: D&M hit a home run with this great bait . I make a couple little tweaks not a fan of the long skirt so I cut it down easy and it doesn't foul the blade ever ! Second I replace the hook D&M installed with a screw lock owner beast hook just not a gamakatsu fan sorry D&M but this hook works good but not as good as the beast hook with the screw lock ! But after those little tweaks this thing is a game changer !

From: Steven: Clearlake Ca

Comments: I got 2 of these and went out to fish them today. Not a good product, surpising because most of D&M stuff is spot on. Both of them the blade bound up on the shaft causing the entire lure to spin, causing terrible line twist. Not worth the money.

From: Will: Waltham, Ma

Comments: Fished one of these for the first time today. Pretty sweet, could potentially be a game changer. There are a few design flaws though, occasionally the skirt will tangle below the blade and cause your trailer to spiral. Also, D&M put some godawful hook keeper on the Gammy. Making it almost impossible to rig some thinner profile baits on there without absolutely destroying the bait. Like most buzz baits, does not cast particularly well either.

From: Sam: IL