D&M Custom Baits Gar Swim Jig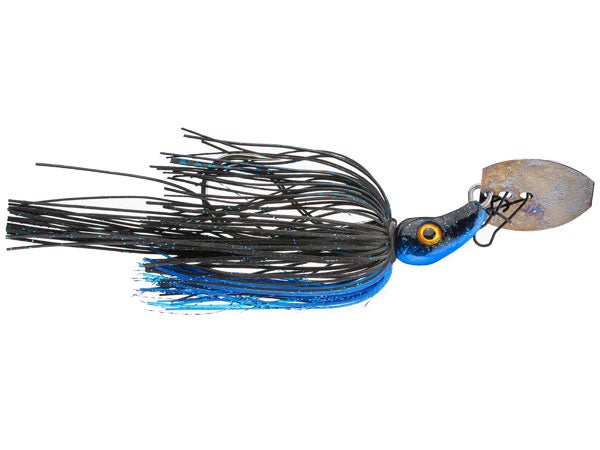 Swimming a jig through a jungle of grass or tulles can really get you some quality fish. It is a very special technique, and requires a special type of jig. It needs a strong hook that will come through the cover without getting hung up and should be able to be fished day or night. This requires a few special features. Not only does it need a great swimming action, equally important, it should have that killer vibration that drives fish wild.
The D&M Custom Baits Gar Swim Jig has all of the above. Featuring a uniquely shaped and angled head design that allows the blade to hit each side of the attachment eye, it delivers greater vibration than any bladed jig out there, and imparts an irresistible swimming action to a wide range of trailers. The blade will also lay flat against the jig head and rest behind the attachment eye. There's also no hook eye that will open up while pulling your jig free if snagged up. Equipped with a sticky sharp, 5/0 Gamakatsu Long Shank hook as well, setting the hook is just a matter of a quick crank set. The long shank 5/0 Gamakatsu hook sets back, giving you a bigger bite. But if you are one that really likes to rear back on your hook sets, the blade will hesitate for a split second and lock onto the attachment eye. This will stop your blade from flipping up and giving the fish a chance to come unhooked. Featuring incredibly detailed, long lasting paint schemes, custom painted blades and magnum long tail skirts as well, the D&M Custom Baits Gar Swim Jig is available in a range of colors proven to catch fish across the Country.
Techniques & Recommendations:
Fishing the D&M Gar is easy. Instead of letting the jig sink to the bottom, start your retrieve after the jig hits the water (depending on the depth your trying to reach). In most cases your retrieve will be much like a spinnerbait, just below the surface or just above whatever grass/vegetation you might be targeting. Try a swimbait style trailer in open water and a crawdad style trailer around tules, bullrush, cattails, grass/vegetation and mats. Simply cast out or pitch past the intended target, start reeling, keeping the swim jig in the strike zone. It's important to NOT stop reeling after hitting an object, the swim jig will have a tendency to deflect, bounce off or roll over the obstruction. In fact, that is when most strikes happen.
The Gar can be fished at any retrieve speed. A slow steady retrieve will give you great pulsating action, a rippin' technique will give you that special vibration used in the spring, can really entice the big females. It can also be slow rolled and bumped along bottom cover, counted down and retrieved through suspended bass, dropped vertically through treetops, and even burned near the surface.
3 Colors
More From D&M Jigs
Customer Reviews
Comments: I think everyone that reviewed before me owes me 8.99, so cough it up. Glad I only bought one. It is well built, but I have yet to catch a fish on this thing. YES...I know how to fish a bladed jig. Don't give me that "you don't know what you are doing" crap. I am just telling it like it is.
From: Jay6: USA 6/13/14

Comments: This is a good chatter-style jig, but I'd be cautious before thinking it's a magic bullet against heavy cover. I fish heavy weeds and this will pull in the salad just like similar baits, even if you start reeling before it drops. After trying it most of the day I went back to t-rigged plastics and topwater lures...bringing it back with 10lbs of weeds actually sent a couple nice ones running. don't get me wrong, I'd put this up against the pure poison, z-man or booyah's boogie. It's just not the big solution for anyone who's wished they could use a swim blade when the big ones are camped in jungle.

From: sb: northeast

Comments: These are the real deal. Put down the crappy Z-mans and get you some real vibrating jigs. I did awesome with these and am already catchin them with these this year. Great in stained to muddy waters.

From: Will: Waltham, MA

Comments: The reviews are dead on the money. Best chatterbait I have thrown. Got some yesterday and headed to the local pond. Vibration is insane and it begins vibrating with the first crank of the reel. Its not like others where you have to "snap" the rod to get the blade moving. Quality components and with the the long strands on the back of the skirt there is no real need for a trailer, but if you do use one the shimmying of the bait will not overpower it. Spend the extra couple bucks and buy one of these.

From: Greg: NJ

Comments: Have yet to try these out but look like awsome chatterbaits! They come with a nice hook unlike the old z-man's and have really great colors that would look nice with the big bite baits cane thumper swimbaits. The head looks like a great weedless design for fishing through grass, pad stems, and for around laydowns and docks. All of these d&m baits look great and cant wait to try them out!

From: Dudley: Valdosta, GA

Comments: WARNING: This bait vibrates so much I was afraid it was going to brake my rod. Weedless and great action. Fast retreival with some pauses and yanks make this bait look and feel alive.

From: Steven: Alachua, FL

Comments: These baits are sick! Super weedless and chatter like no other bait on the market today. You can slow roll em or burn em in and they run true all day long. D&M has raised the bar on swim jigs. Thank you!

From: Paul: Big Bait Posse