D&M Custom Baits Piranha Swim Jig - $7.49
Take a bite out of the competition with the D&M Custom Baits Piranha Swim Jig. Made with the professional angler in mind, the D&M Custom Baits Piranha Swim Jig features a sticky sharp 5/0 Gamakatsu hook, stainless snap, 3D eyes, and a matching grub trailer. These exquisite color schemes are extremely effective, and were made at the request of anglers from all over the country. No other swim jig can match the perfectly paired skirt, blade, and trailers of the D&M Custom Baits Piranha Swim Jig.
Comments: The bluegill color constantly catches fish for me and the paint job cant be beat.

From: Sam: USA

Comments: Has all other bladed swim jigs beat hands down! hope TW stocks all their colors soon!!!!!

From: Doug: Huntsville,Tx....U.S.A.

Comments: These are the best Vibe Jigs you can buy. Pure Poison are pretty good too but these have that extra touch of quality, toughness and detail that cannot be found anywhere else. I would like to see solid green pumpkin with black blade.

From: Nate: Washington State

Comments: After almost giving up on finding a vibrating jig that I liked, I read the reviews on this D&M Piranha Swim Jig and decided I should buy a couple. I went with the Black/Blue Flash and Bluegill colors in 3/8 oz. When I received the baits, I was first off very impressed with the quality of the bait, especially the hook. That thing is sharp! Fished a tournament the weekend after I received the baits. I didn't really plan on using them, but threw them in just in case. The last spot of the day was a stump filled flat. I tied on the black and blue bait and fished it aggressively through the stumps. Came through cover great, and allowed me to cull up and finish second in the tournament. Can't wait to use these some more!

From: Ben: KS

Comments: this is a chatterbait on steroids. Blows the competition out of the water.

From: Jake: NJ

Comments: Hands down the best bladed swim jig on the market. I dont know what else to say other than they flat out catch fish. The only bladed swim jig I will be throwing from now on

From: Bryson: WV

Comments: D&M never disappoints. Great quality chatter bait that will catch fish all year. D&M all day.

From: Ricky: IL

Comments: This is my favorite lure. on my second cast I caught a one pound bass and then the next cast I caught another one pound bass. after that I was getting a crazy amount of bites and I catch a five pounder right next to the shore! But I snagged this lure after about one more little bass.

From: Luke: NC

Comments: The bluegill color paint job is sweeeeet. So much better than Z-man

From: Sam: USA

Comments: A little pricey but really good quality and the best chatterbait i have found! I like to night fishing with these baits just like you would slow rolling a spinnerbait but having a different vibration and profile than a spinnerbait. A great substitute for the spinnerbait and will give a #5 colorado a run for its money!

From: Wesley: Rogersville, AL

Comments: The absolute best bladed jig out there!! Even better than the original chatterbait by z-man!!! Great quality components, hand tied skirt, an all out fish catcher!

From: mrbond007: East Lansing, MI

Comments: Shakes the rod right out of your hand. No other chatter style bait comes close. Detail and finish are phenomenal as well.

From: Blake: Scottsdale, AZ

Comments: I am almost sad this lure is now on my favorite website because everyone will be throwing it....it's so good that I call it "Money" and I even just had a custom rod built to throw it. Largemouth and Smallies love it!

From: Mike: WI

Comments: Awesome bladed jig!! PLEASE carry more colors, I just had to pay $8 and some change on another site to get 2 out of the 17 colors they carry.

Comments: If you thought this bait was good you need to try the Gar it has a tighter more erattic hunting action that gets eaten . The eyelet of the blade is solid into the head so it wont ever open up.

From: Denny: Lake Amistad, TX

Comments: Best bladed swim jig on the market hands down they hold up really well and catch fish.

From: Lance: Livingston, TX

Comments: best vibrating jig out there. blades do not bind and you dont have to pop them to get the going. super strong hook to horse big ones! great product!

From: Vu: AZ

Comments: Best Bladed Jig Out there and I have used them all, great top quality components, these things are Bass catching machines and a Big Bass bait! Thanks Tackle Warehouse for making these available on your great site!

From: Scott: Lakeland, FL

Comments: This bait is money. This thing has been a secret for so long . Let me tell you after having a co angler out fish me while I was using the Phoenix version I was truly a believer . You won't find another bladed jig on one of my rods . They got this thing right quality skirts and colors great gamakatsu hook and the right action .

From: Aaron: Lake Havasu

Comments: If looking for tournament proven product you gotta look at D&M

From: Jamel: Davis

Comments: My favorite swim jig finally easy to get! Thank you tacklewarehouse for puttin these up kn your site. These are the best chatterbaits out. Period! Skip em, long cast em it doesnt matter they catch fish! Ive now emptied my box of phoenix and have a stock pile of piranahs! Thank you D&M!


***Note: If you have questions about this product or need assistance with an order please email your questions to info@tacklewarehouse.com
View Large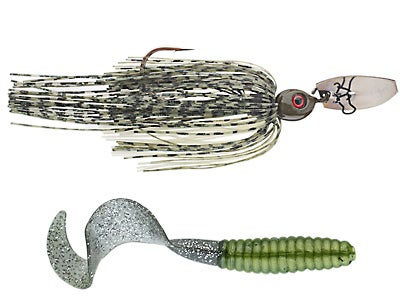 14 Available Colors
More D&M Jigs