D&M Custom Baits Piranha Swim Jig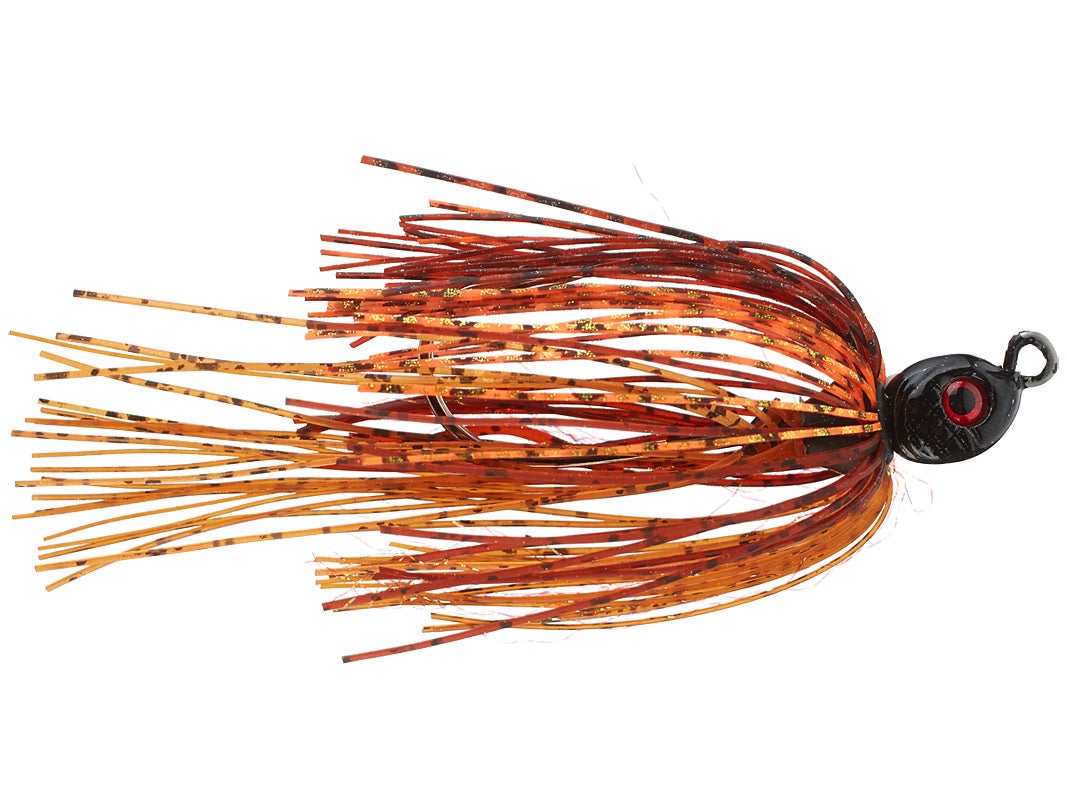 Take a bite out of the competition with the D&M Custom Baits Piranha Swim Jig. Made with the professional angler in mind, the D&M Custom Baits Piranha Swim Jig features a sticky sharp 5/0 Gamakatsu hook, custom painted heads, 3D eyes, and an open line tie that allows you to easily attach your favorite chatter blade. These exquisite color schemes are extremely effective, and were made at the request of anglers from all over the Country. No other swim jig can match the perfectly paired colors and the performance of the D&M Custom Baits Piranha Swim Jig.
13 Colors
More From D&M Jigs
Customer Reviews
Comments: Great colors and they work well. I do have one issue, I have a couple of them that don't start vibrating right away when they hit the water. I can feel they aren't working and I have to jerk them to get the blade to start vibrating. I don't have this happen with Z-Man baits- when they hit the water and I start reeling they are vibrating. I need to see what is happening with the baits. It doesn't happen with all of my D&M swim jigs. Overall, I really like the quality and colors.
From: Rob: Dallas, TX 9/2/14

Comments: this is by far the best chatter bait on market. It blows away Zman baits. It cost more but you get what you pay for. They hold up well and have excellent hook. Don't waste your money with others. Black /blue is the ticket buy several to have back up when you get bit off from a big pickerel. I talk from experience.
From: Bruce: Sparta, NJ 8/21/14

Comments: They last longer that the Zman chatterbaits, but I have honestly caught more fish on the Zman product. I get a feeling smaller fish tend to shrink away from them, and when it comes to tournaments you want every fish you can get. Anyways still a good lure that catches the 4+ pounders, and you might as well get a few before they stop making them.
From: Ben: Newport News, VA 7/30/14

Comments: They use the same blade all of the mom and pop manufacturers use. Far better than Z-man but then again so is every other chatterbait out there. Zman may own the patent but they certainly don't care at all about quality.
From: Jay: Reed County 6/25/14

Comments: Get em' while you can.. they are getting discontinued. Pretty sure because of Z man and their patent. Just stocked up. These are the best bladed swim jigs on the market... The last stickup shouldn't last long.
From: Logan: LA 6/17/14

Comments: I've won a lot of money throwing these piranhas. They are the best on the market right now. They have a different vibration then the competitor which big bass like
From: Vu: Tucson, AZ 6/2/14

Comments: This is absolutely one of the best quality bladed swim jigs you will find anywhere at any price. Holds up very well and the action is second to none. You can expect more from D&M and you will get it.
From: Phatbass: FL 5/26/14

Comments: The BEST bladed swim jig there is!! Went out early on a cold morning, nothing was working, throw this out there in delta craw color... BAM! caught 19 bass the whole day and none were under 3.2 lbs., the biggest was 5.4. Also caught 3 snakehead including my biggest ever, 13.4 lbs. The build quality on these baits is second to none. Usually after one snakehead my bait would be destroyed, but it lasted through three!! and is still going! THE BEST EVER MADE
From: Andrew: Potomac River, VA 4/22/14
Comments: Absolutely the best bladed jig, build quality is high end and most important part of any jig is the hook and this one has an awesome gamakatsu 5/0.. delta craw in early spring.. sexy shad till early summer ..blue gill thru fall then back to sexy shad.. if you don't get bit throw a cal reservoir swim jig.. johnny CD's jig are second to none
From: Joey: Chickamauga, TN 4/8/14
Comments: Didn't like these. Painted chipped off the blade right away. Contacted the company and they want me to spend more money to send them back.
From: Andrew: Jacksonville, AR 3/11/14
Comments: I really wish these guys would expand their selection of products. The quality of this bait is second to none.
From: Unknown: USA 3/2/14
Comments: Probably the best bladed jig I've ever thrown. The biggest key is the quality of the components and the fact that the blade ticks the head on the retrieve. I ordered ten of the Delta Craw color and pair it with a pumpkin spice Baby Paca Craw and I kill the fish in the spring on it. Perfect for throwing in the grass that's to shallow for a trap and too thick for a spinnerbait.
From: James: Bossier City, LA 3/1/14
Comments: Ordered the bluegill one and received the correct skirt but a pure black head called and was not helped so I emailed Dale at d&m and he's making it right and also sending extra baits! Now that's customer service. I'm a customer for d&m for life!

From: Chris: San Diego

Comments: I have only caught one fish with this bait but it was a 5 pounder. I was fishing a damiki spinnerbait in a current seam and was catching a bass in the 1-2 pound range on every cast but I got the spinnerbug hung in a low branch and didn't want to blow the spot up before the bite died so I just grab the next moving bait(prianha jig) that was on the deck and made a cast to the same spot and got a bone jarring stike which after a 2-3 minute battle my 5 pounder was in the boat. Good bait but I think the grub it comes with kinda kills the action I went with a super fluke on the blue gill color bait.

From: Debeaux: Waccamaw River, SC.
Comments: these things are great in tember and cover they do not have the vibe as a Booyah Boogee Bait but are fish catching baits. These are a must have for every fisherman, these are great baits ,looks ,hardware and actions .

From: Kevin: KY

Comments: I first used these jigs recently and they are of excellent quality. I caught bass with them when used for the first time and am very impressed. I was reluctant to spend the extra dollars but well worth it. After using 1 all day I noticed an eye was missing from the jig head so I emailed D&M about the problem. Dale promptly replied to my concern, explaining the process on how they were made, and how to prevent the issue in the future. He also shipped me out replacement jigs and threw in extras of their most popular colors. How's that for customer service. D&M obviously is a well run business that stands by their products. After this experience I will be trying/buying more of their products. Thanks again Dale

From: Danny: Vienna, VA

Comments: Nice bait, but I lost one of the eyes after the first catch.

From: JT: MN

Comments: The quality of these baits are second to none. I own all the the others as well. I have not developed a great confidence in chatterbaits yet so I really wont speak to this baits fish catching ability over the others. But as far as attention to detail, quality of components and hardware, this bait is worth every penny.

From: Nate: WA

Comments: I just can't say enough about this chatter bait! First of all D&M is a premiere custom bait and tackle provider on the west coast and Dale and Mark the owners from D&M know how to produce a great bait!!! This chatter bait is easily the best on the market it's better than the revenge, z man, molix, pure poison, etc you can slow roll them on the bottom or burn them across the grass it just doesn't matter they swim TRUE every cast with no tweaking out of the package! These baits are all handmade and the custom paint jobs are sick! you have to see the bluegill pattern in person to really respect it! I don't leave the house to go fishing anymore without Bluegill/Bama Bug tied on. D&M makes great baits be sure to check out there new weedless buzz bait called the "buzz saw" it too is an amazing bait! Tight lines

From: CJ: PA

Comments: Bluegill and Bama Bug. I will never leave the house without them. Bought them from Tacklewarehouse and took them out of the package went to local lake and immediatley caught fish with both colors. The action, color, and vibration makes this a better option compared to the original chatterbait.

From: David: Maryland, USA

Comments: I figured some of the reviews were fish stories but this lured produced 5 lb largemouth on second trip. Bluegill color is tops

From: Poda: So IL

Comments: The bluegill color constantly catches fish for me and the paint job cant be beat.

From: Sam: USA

Comments: Has all other bladed swim jigs beat hands down! hope TW stocks all their colors soon!!!!!

From: Doug: Huntsville,Tx....U.S.A.

Comments: These are the best Vibe Jigs you can buy. Pure Poison are pretty good too but these have that extra touch of quality, toughness and detail that cannot be found anywhere else. I would like to see solid green pumpkin with black blade.

From: Nate: Washington State

Comments: After almost giving up on finding a vibrating jig that I liked, I read the reviews on this D&M Piranha Swim Jig and decided I should buy a couple. I went with the Black/Blue Flash and Bluegill colors in 3/8 oz. When I received the baits, I was first off very impressed with the quality of the bait, especially the hook. That thing is sharp! Fished a tournament the weekend after I received the baits. I didn't really plan on using them, but threw them in just in case. The last spot of the day was a stump filled flat. I tied on the black and blue bait and fished it aggressively through the stumps. Came through cover great, and allowed me to cull up and finish second in the tournament. Can't wait to use these some more!

From: Ben: KS

Comments: this is a chatterbait on steroids. Blows the competition out of the water.

From: Jake: NJ

Comments: Hands down the best bladed swim jig on the market. I dont know what else to say other than they flat out catch fish. The only bladed swim jig I will be throwing from now on

From: Bryson: WV

Comments: D&M never disappoints. Great quality chatter bait that will catch fish all year. D&M all day.

From: Ricky: IL

Comments: This is my favorite lure. on my second cast I caught a one pound bass and then the next cast I caught another one pound bass. after that I was getting a crazy amount of bites and I catch a five pounder right next to the shore! But I snagged this lure after about one more little bass.

From: Luke: NC

Comments: The bluegill color paint job is sweeeeet. So much better than Z-man

From: Sam: USA

Comments: A little pricey but really good quality and the best chatterbait i have found! I like to night fishing with these baits just like you would slow rolling a spinnerbait but having a different vibration and profile than a spinnerbait. A great substitute for the spinnerbait and will give a #5 colorado a run for its money!

From: Wesley: Rogersville, AL

Comments: The absolute best bladed jig out there!! Even better than the original chatterbait by z-man!!! Great quality components, hand tied skirt, an all out fish catcher!

From: mrbond007: East Lansing, MI

Comments: Shakes the rod right out of your hand. No other chatter style bait comes close. Detail and finish are phenomenal as well.

From: Blake: Scottsdale, AZ

Comments: I am almost sad this lure is now on my favorite website because everyone will be throwing it....it's so good that I call it "Money" and I even just had a custom rod built to throw it. Largemouth and Smallies love it!

From: Mike: WI

Comments: Awesome bladed jig!! PLEASE carry more colors, I just had to pay $8 and some change on another site to get 2 out of the 17 colors they carry.

Comments: If you thought this bait was good you need to try the Gar it has a tighter more erattic hunting action that gets eaten . The eyelet of the blade is solid into the head so it wont ever open up.

From: Denny: Lake Amistad, TX

Comments: Best bladed swim jig on the market hands down they hold up really well and catch fish.

From: Lance: Livingston, TX

Comments: best vibrating jig out there. blades do not bind and you dont have to pop them to get the going. super strong hook to horse big ones! great product!

From: Vu: AZ

Comments: Best Bladed Jig Out there and I have used them all, great top quality components, these things are Bass catching machines and a Big Bass bait! Thanks Tackle Warehouse for making these available on your great site!

From: Scott: Lakeland, FL

Comments: This bait is money. This thing has been a secret for so long . Let me tell you after having a co angler out fish me while I was using the Phoenix version I was truly a believer . You won't find another bladed jig on one of my rods . They got this thing right quality skirts and colors great gamakatsu hook and the right action .

From: Aaron: Lake Havasu

Comments: If looking for tournament proven product you gotta look at D&M

From: Jamel: Davis

Comments: My favorite swim jig finally easy to get! Thank you tacklewarehouse for puttin these up kn your site. These are the best chatterbaits out. Period! Skip em, long cast em it doesnt matter they catch fish! Ive now emptied my box of phoenix and have a stock pile of piranahs! Thank you D&M!