Daiwa Exceler 100 Casting Reel - $69.99 to $99.99
Back and badder than ever, the new Daiwa Exceler 100 Casting Reel now features a sleek all-black look combined with updated components and technologies. Lighter than before as well, it weighs in at only 7.9oz and still has the value-conscious price tag that anglers have come to love from the Exceler lineup. Its new Ultimate Tournament Drag System dishes out 11lbs or max drag to stop bass dead in their tracks, and its Magforce Cast Control allows you to dial in your casting settings for any fishing conditions or situation. The six bearing system (1CRBB,4BB + 1RB) ensures consistently fluid functioning, and the solid Aluminum Frame won't bend or flex under pressure. Available in multiple gear ratios, the Daiwa Exceler 100 Casting Reel deliver Daiwa's legendary performance at a great price.
Features:
-Solid Aluminum Frame
-UTD: Ultimate Tournament Drag System
-Magforce Cast Control
-Infinite Dual Anti-Reverse
-Oversized I-Shape Handle Knobs
All new and sporting a sleek, black finish, the Daiwa Exceler 100 Casting Reel is lighter than ever before, and loaded with new technologies - all for the same great price.
Comments: This is a solid reel. Very smooth on the cast and the retrieve yet still very strong. i have been using this reel when frogging and so far i have not been let down. this reel definitely made me consider switching over to Daiwa completely.
From: Ryan: DE 6/12/14

Comments: This is a great reel. I have had it for 5 years and it is still great. it is smooth and lasts the test of time. I highly recommend this reel. if you don't mind spending the extra $50 the daiwa tatula is awesome and is far supior to any other reel in the price range and probably most reels in the $250-$300 range
From: Johnny: New Hampshire
Comments: Just got one from my local tackle shop and it is sweet!! real smooth out of box!! gonna be my new frogging reel!!

From: Ricky: CA

Comments: I had the previous daiwa exceller, and it was a great reel, but over time broke down. It squeak while cranking, and you had to manually lock it into place, same with my friends. Then i got this one. Really compact frame, and ridiculously smooth, fantastic reel daiwa!

From: Joey: Phoenix Az

Comments: prior to buying this, i had a left hand retrieve lexa 100pl. it didn't cast as far as i had hoped, even after opening it up and lubing it. i sold it and bought this reel instead (100pa). i was very impressed with how much better it was than the more expensive lexa. this casts a lot further and buttery smooth! it's also a lot more quiet when casting than the lexa. the over sized knobs are comfortable and make it easier to torque in deep diving cranks. this reel is definitely a winner and a steal for only 100 bucks!

From: Elijah: Seattle, WA

Comments: Comparing it size wise to my Daiwa Sol, it is about as compact if not smaller than the Sol. I'm pretty impress with the quality and craftsmanship of the reel for the price. If I had to choose between the Exceler or the Lexa, I would choose the Exceler.

From: Angel: Chicago, IL.

Comments: Great real so far. Cast far, smooth and compact.

From: Karson: Oak Grove, Alabama

***Note: If you have questions about this product or need assistance with an order please email your questions to info@tacklewarehouse.com
View Large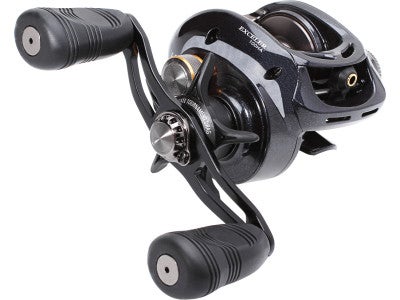 Place Your Order