Perfect for anglers who still want the control of a casting reel when throwing lighter baits, the Daiwa Lexa 100 Casting Reel features a precision balanced, super lightweight A7075 aluminum spool capable of casting the lightest lures in addition to Daiwa's advanced Magforce Cast Control. Featuring a new, compact design as well, the Lexa 100's aluminum frame and sideplate keep it lightweight, and a seven bearing system ensures consistently fluid casts and retrieves. Also featuring a sleek, stealthy look, the Daiwa Lexa 100 Casting Reel delivers the reliablility and tournament caliber performance anglers have come to expect from Daiwa reels.
Additional Features:
-Ultimate Tournament Drag System
-Infinite Anti Reverse
-Rugged, Six-point drive train support
-Paddle handles
If you like throwing lighter baits with a casting reel instead of a spinning reel, the Daiwa Lexa 100 Casting Reels have everything you need and more.
View Large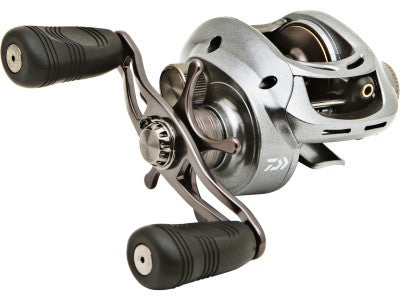 Comments: For you saltwater fisherman that visit this site like i do, this reel is PERFECT for spotted bay bass. put some braid on this reel and it is absolutely perfect for getting at the spotted fellers and not having to worry about cleaning every use.
From: Jon: San Diego, CA 1/9/15
Comments: I like my Lew's and Quantum reels better, but at $69.99,I would not hesitate. I like it enough, at evben a higher price. No problems with the reel, but I don't use my reels nearly enough to encounter the problems people have with reels. Out of production Quantum's might be better, but the Lexa 100 is a good deal.
From: Ed: Roscoe, NY 1/4/15

Comments: I know your probably thinking that this can't be a good deal because of the price, and I'm here to tell you that you would be dead wrong. Straight out of the package, this reel is stunning. it's smooth as could be and is at a nice balance weight. The reel knobs are a little bigger than most but you'll find that the bigger size comes in handy when throwing bigger baits. The drag star is extremely smooth, and so is the thumb button and all of the other trinkets. it casts light lures with little to no effort at all (even with the wind gauge ALL the way down). Do yourself a favor and pick this thing up. enjoy:0
From: Paul: USA 12/26/14

Comments: If you take care of this reel you wont have any problems mentioned below,its like any other mechanical parts. After use and dirt gets in the gears it starts to tear down amd wear out thats where you get the noise and vibration. If you take a part and clean every so often (actually clean dont just put a little oil on it) you wont have any problems,its the same as any other reel ypu have to realize that.
From: Brandon: Lawrenceburg, KY 10/11/14

Comments: Purchased this reel in april and only last 4 months. Started to make grinding sounds during the cast and retrieve. Uncle bought the same reel on the same day and had the same problems around the same time. Don't know what happened to this reel, kept it clean and lubed. Shame Diawa. My tatula is a beast though.
From: Victor: San Diego, CA 10/7/14

Comments: Having issue with mine, after a 3-4 trips the reel feel very rought even after cleaning and lubing it. It has a lot of vibration. I am going to contact Daiwa and see what they say. Overall, not happy.
From: Pao: Fresno 9/16/14

Comments: The retrieval rate of the 4.9:1 model is awesome for cranks and topwaters and has the torque to pull in those lunkers, especially with the leverage provided by its 100mm handle and nice chunky knobs. It casts fantastically and if you have an educated thumb even light baits aren't a problem. This reel is smooth and refined for the money yet seems quite durable. Throw it on a fiberglass rod and let the treble hooks fly!
From: Tony: Yukon, OK 9/13/14

Comments: I've pulled 40+ fish out of thick cover with this reel so far and it's has one of the best drags and casting reels that I've used I can pitch 1/4 (and lighter) ounce finesse jigs with this rod no problem just a dap of reel oil and it's perfect easy to use.
From: Andrew: Hingham, MA 6/4/14

Comments: I got this reel as a gift. I have always shimano fan curado and chronarch, but to give this rod a fair try i took it out. I'm impressed, casts great easy to tune any size lure. "Second cast I hit a 90cm' 15kg Barramundi. If you have been to OZ you know this is fight. The reel pulled him in like magic.... going forward I will probably give my new lex just as much time as my shimano definitely a great reel highly recommend

From: Izzy: NT Australia

Comments: Super good reel! Definitely not missing my curado.

From: Razorfish: Los Angeles,CA

Comments: Awesome, Awesome, Awesome reel.This thing is way nicer than my curado g. It cast farther and "feels" more solid. Wouldn't choose another for the money.

From: Larry: NH

Comments: Decent reel. Very, very noisy.

Comments: Holy cow these things are sick!!!! They cast a mile, you can't get a better reel than this, affordable for the price also, will be buying me many more, outfitting all my rods with these reels

From: Ryan: Albany, GA

Comments: Nice value reel, but dont expect it to be a curado killer.... In my experience the drag is awesome, but spool bearings can use a tiny drop of lube. The thumb bar and other parts need to be kept clean and free of debrit. Free spool is what you would expect from a 100$ reel. If u have an educated thumb buy a Curado or abu.

From: Nate: La Verne, CA

Comments: This is a great reel for the price. It casts very smoothly and the drag is quality. I have several of these and they are all equally smooth and quiet. They can also take a beating. I have even been using one on a flipping setup for heavy cover and it has worked flawlessly. Don't buy into the negative press. Demo one or try it at a local shop and see for yourself. You won't be disappointed.

From: Justin: SC

Comments: Just got this reel to add to my current line up. T3 ballistic, revo stx Gen 3, and 2 bps pro qualifiers. Didn't expect much because of the negative comments. I think I'm gonna stop reading these reviews... mine is quiet, smooth, higher quality than expected, and better looking too. Clutch engagement is smoothest I have felt. It is definitely worth $140. Never owned a reel by any company that didn't work, but get the impression that only lews are worth buying. I think fan boys like to trash other reels for the hell of it. Ordered another lexa handle assembly for my ballistic.

From: Rob: Cape Cod

Comments: I got the 100H and The reel is smooth on the cast, smooth drag, no backlashes. It bombs lipless cranks and the low profile makes it comfortable to fish all day

From: Sean: So Cal

Comments: Out the box this reels sweet! And at the price point its spot on. Casts lite baits well. Casts 1/2oz & 3/4oz baits very good as well. In testing not once did i get a backlash (Over Run) even with the break on 3. Reel got smoother with in the first hour of using it. Overall i recommend this reel TEAMRIPPNLIPZ RODS UP!

From: Sonny: Wareham, MA

Comments: Bass angler on a budget? The Lexa is the real deal. Pair this reel with the Cielo Cranking Rods (5 different rods designed for cranking) - ($129-$139)and you are ready to get your "KVD" on!. Here are some basic set-ups: Cielo MH 7' - 7'2" with Lexa 7.1:1 for shallow. Cielo M or MH 7'2' - 7'7" with Lexa 6.3:1 for mid depths. Cielo M 7'11" with Lexa 4.9:1 for deep cranks. You can also use these 3 different combos for spinnerbaits, tail spinners, top water lures and jerkbaits. I noticed BASS Elite pro Ish Monroe has been cranking with a Cielo combo... Quaility and price are right!

From: T: Menifee, CA

Comments: This reel is awesome, Do not let the weight scary you.. Demo it if your feeling iffy i promise you will love it. It looks awesome pair with a Phenix M1 The casting is awesome, and the feel is truly one of a low profile reel. I would compare these to the E7, not G7... E7 ..maybe better

From: Jakarvis: AL

Comments: The reviews on this reel read more like a Tackletour thread than an actual review. And guy that is pushing the Pro Qualifier are you SERIOUS??? You own 12 of those made in China pieces of crap? Also, other guy, just because you can read specs that say "8oz" does not mean you are entitled to leave a review on this reel. Besides, at this price range dont you want a little more weight in your reel? Because you wont get magnesium for under $199.00 and you know that if it aint magnesium making it sooo light THAN ITS PLASTIC!! Companies are making reels cheaper because people are buying into this sceme!! I have not used the real yet and therefore cannot help you..... Except for this Daiwa and Shimano are the only two companies that know how to build these things. Abu got close with the Winch. There!

From: Nate: Bellingham, WA

Comments: Not sure why the negative reviews, perhaps bad models? Honestly I've found mine to be a fantastic reel. I've dialed it in to where I can cast 3/16 oz lures without a problem. Dropped a dab of reel lube on parts and it has been a splendid reel. One of the best baitcasters I now own. I've never had a reel that I could set so perfectly that I don't even have to thumb the spool. Granted, I don't have a Steez, Calais, etc., but for the money, this is a heck of a reel.

From: RM: VA

Comments: Joe ,I had one returned it,cast ok ,noisy on the retrieve,if you want a good daiwa you have to go with a zillion or better !!! Although I will agree with the basspro pro qualifier well worth $100.00....

Comments: Only thing good about this reel is the aluminum frame. Not smooth, drag is a hit or miss. Throwing light lures? ...yeah right. Its horrible at that. Better off getting a procyon or something 100
From: Opama: CA

Comments: Agreed. Don't overlook the bass pro shop's low speed pro qualifier's, either. Quite possibly, the best $100. baitcaster, on the market. I own, at least a dozen, and have NEVER had any trouble w/ any of them.

From: Wheels: New Berlin, NY

Comments: There are many lighter and more compact low gear models if you look just a little ie; Komoda, Winch, EXO, & Lews with many models under 8oz.

From: Josh: Clinton, MI

Comments: I bought the LEXA100PL as soon as I saw it available and I am very happy that I did. Right out of the box, this reel is unbelievably smooth! As I cranked the handle and let it go, it just kept spinning for several full rotations. Out of habit, I opened it up and added a little bit of Abu Garcia Reel oil to all the moving parts and it became even more smooth than before! I paired this reel with a 7' 11" M Daiwa Cielo Crankbait Rod and the two together absolutely launch baits out there a long distance without much effort. When you're reeling in deep diving cranks, you can hardly tell you have a deep diving crank on the end of the line. This reel is a real powerhouse and feels like a winch! Buy it, you will not be disappointed! Oh and btw, this makes my Shimano Curado 51E feel like dog crap in comparison!

Comments: Besides the 51 size being much more comfortable than the too-wide 201s, there's the low gearing situation. I'll be ordering the lexa asap, I'm glad to see someone finally filled this niche.

From: Yo: Rutherford, NJ

Comments: I love to use Shimano 51s because they are easy to grip, however Shimano does not make a 4.9:1 gear ratio in the small size reels. The Lexa 100PL looks like it will be the lightest and smallest profile/low gear ration bait casting reel on the market at this time. I hope SHIMANO MAKES A CHRONARCH or CURADO 50/51 with 4.9:1 gear ration in the future.

From: JF: NY

***Note: If you have questions about this product or need assistance with an order please email your questions to info@tacklewarehouse.com