Daiwa Tatula 100 Casting Reel - $149.99
A whole new species of baitcaster, the Daiwa Tatula 100 Casting Reel features a stealthy new look and Daiwa's latest reel technologies. Perfect for skipping docks, pitching or making long bomb casts, its advanced hybrid TWS T-Wing Casting System, like the original T-Wing System, delivers enhanced casting capabilities for increased accuracy and distance, as well as a more natural, free fall for your lures. Now completely housed inside the Tatula's rock solid body as well, the new Hybrid T-Wing system is easier to handle and allows the Tatula's durable Aluminum frame and sideplates to maintain incredible rigidity that won't bend under pressure.
The Tatula also features a wider, next generation spool, which provides increased line capacity, while maintaining a frame width comparable to that of the TD Zillion. Daiwa's new Air Rotation System also facilitates a smoother feel, effortless winding, and maximum free spinning rotation of the handle. A longer, stronger drive gear provides increased power, and the 90mm handle has been lengthened and out-fitted with over-sized grips for increased cranking power. Also equipped with Daiwa's ultimate tournament drag system, the Daiwa Tatula 100 Casting Reel will have fish shaking in their boots and stopping dead in their tracks.
Features:
-New T-Wing System
-Solid Aluminum Frame and Side Plate (gear side)
-Ultimate Tournament Drag System UTD
-Air Rotation System
-MagForce-Z Cast Control
-Infinite Anti-Reverse
-Cut-Away 90mm Swept Handle
-New Daiwa Custom Handle Knobs
Featuring Daiwa's redesigned T-Wing Casting System for improved casting distance and accuracy, the Daiwa Tatula Casting Reel offers an easily palmable, low profile design and a host of Daiwa's most advanced features.
Comments: I am a Shimano guy and have about 15 Shimano reels and this one lone Daiwa. I bought it to put on a 13 Omen rod to keep at the house for fishing on a private lake (it isn't on my boat). It is kind of big compared to a lot of the new Shimanos (new Chronarch, new Curado, etc.) and somewhat heavy but overall- I really like it. It is very smooth, casts very well, good drag, etc. There really isn't anything not to like. In the $149 price range it is probably the best deal out there. If the Curado was $149 versus $179 it may be slightly better overall than this reel and is much smaller and lighter. That said, I'd have no issue owning a bunch of Tatula's. They have proven themselves to me.
From: Rob: Corinth, TX 9/19/14

Comments: I've fished with this since ice out and have been holding off on a review until I've had plenty of time with it. Firstly, yes it is (fractionally) larger than some reels and slightly heavier than some others...but most lighter reels are out of the tatula price range. I've never had any issues that some have mentioned, but I can only speak for myself. I can skip with ease (I have almost no experience in skipping), I can toss unweighted berkley back slides 30+ feet with complete confidence on 65# braid(was worried at first!). Pitching is a joy with t wing and I enjoy more accuracy when pitching when compared to traditional line guides. Retrieve is smooth and strong, even when hooked up. Line always returns to the guide when reel is engaged. Drag is very strong and probably even overkill for pulling bass from mats. I strongly recommend this reel and I plan on buying 2 more.
From: Montanaro: Touchdown City, WV 8/14/14

Comments: Received this reel at Christmas. I have been using it weekly since and love it. I got 6:4:1 ratio but plan on buying the 7 as well, I recommend this to anyone. Friend of mine threw with it 3 times and is buying one as well.
From: Justin: Cookeville, TN 6/13/14

Comments: I bought the 6:4:1 ratio and used it yestedsay for the first time and I would like to say that it is one of the smoothest reels of its class. When I would retrieve my spinner bait it would seem as though my drag was loosened!! It retrieved so smoothly that I had to make sure my drag wasn't broken but when I hauled in a 4 pounder with such torque I knew that my drag was in full function. Bottom line: this reel is extremely smooth with both cast and retrieve, the gearing in this reel is optimal, and the torque this reel has for hauling fish is amazing. I recommend it.
From: Bustamante: Carrizo Springs, TX 5/26/14

Comments: I've used this reel rigorously for about 4 months now, and I absolutely love it. I had a slight issue with the spool rubbing the frame at first, but with a little lube and use, everything straightened out. Although I mainly use it for throwing jigs, I have been able to throw weightless robo's with #8 line and a medium rod no problem. Distance is surprisingly great, reel runs smooth and quality is above its price category. Only draw back is that it's considerably larger than the rest of my reels, and thus heavier as well. However, its bulk does give me a sense of confidence when I hook into the big'uns. Really incredible reel, especially at it's price.
From: Kevin: CA 5/12/14

Comments: Just wow this reel is amazing I went fishing already with it and I was casting a spinnerbait against the wind and rain no lie about 50 yards, this reel is super smooth and. Fits my hand perfect
From: Bailey: Madisonville, LA 5/10/14

Comments: After looking at reels twice the price of the Tatula, I like this reel better. I launched hard baits farther on this reel than I ever have on more expensive reels I own. It's as smooth as silk, I will be buying more, great reel great price.
From: Jeff: Cincinnati, OH 4/24/14
Comments: Best reel for the money. In fact, this out performs some of my 250-300 dollar reels. Outcasts everything and it holds up. I've been horsing in tons of giants with this since it hit the market and it still works like new! I am now a Daiwa guy.
From: Tahoe: Coto de Caza, CA 4/20/14
Comments: This reel is excellent,you can throw any size lure from plastics to hardbaits and get the same distance on either one. I cannot wait to use this reel in the next tournament coming up,thats how much confidence i have using it.Thank you DIAWA for making this reel especially the price tag is worth every dollar and more.
From: Bill: Tampa, FL 4/18/14
Comments: After I got this reel I tested it out on Guntersville. Let me tell you, this thing is great. The TWS allows you to cast even a weightless senko a mile. It also has the smoothest drag I have ever seen in a reel. It really allows those 5 pounders to do their thing while you are fighting them in. It is also incredibly durable. I only have one negative thing to say about this reel. It gets uncomfortable to palm after a while of fishing. I don't have the biggest of hands though so this may not be a problem for you. But overall this thing is amazing, if you are thinking about getting it, get it.
From: Brody: GA 4/3/14
Comments: Just bought this reel last week and its amazing. This reel feels smooth, solid and its quiet. It can cast crankbaits a mile even with heavy line. Don't listen to the negative reviews from the haters! This reel is the real deal
From: Jordan: RI 3/14/14
Comments: I was very hesitant about getting this reel, because I have had some bad experiences with Daiwa's "lower end" (or cheaper priced) reels before, but this reel is solid! I am in no way affiliated with Diawa or any other reel brand out there, I have curado Gs, chronarch, abu, Lews, a little bit of everything. I got the 5.4:1 for cranking and let me tell you it does no disappoint at all. That said this reel is definitely not as comfortable to palm as some of my other reels, but I have kind of small hands. If you have really small hands this reel is not for you, so do not get it and complain about the size. It casts any crankbait I throw a mile, from dt4 or 6 all the way to a dt16 even flat sided crankbaits and a kvd 1.0 squarebill. If you have this reel and are having trouble with casting distance, then you are either throwing the wrong rod, or have to heavy line. My set up for shallow to medium runners is the 5.4 on Mojo Bass 7 foot composite crankbait rod and 12lb Sunline cast like a dream and is smoother than just about every other reel I own! Cant beat it for the price!
From: Big C: AL 3/11/14
Comments: This reel Is amazing I absolutely love it! the casting distance is great and rarely gets birds nested! Actually 2 days ago I took it out for the first time on the water with my 6'9 MH duckett ghost. I caught 2 Monster bass 7.5lb and 8.2lb so yeah This reel is one of the best for its price!
From: Garrett: Hoover, AL 3/3/14
Comments: First off this is an amazing product daiwa has created the reel is rock solid from the gearing to the actual frame itself it's all 100% solid. For those people who are complaining of grooving your full of BS! Unless your using a dam steel leader get out of here with that BS! I fish this reel 3-4 times a week since it came out last year using 50lb Sunline fx2 and I have not one single groove so go jump on either the lews or Abu bandwagon and stop bashing an amazing reel!!
From: HaHa: USA 2/25/14
Comments: This reel is awesome and should have very little to no bad reviews. have used it in the San Diego Bay fishing for spotties and took it to the lake fishing for large mouth. cast far and smooth. gotta get another one very soon for other applications.
From: Victor: San Diego, CA 2/24/14
Comments: I purchased one in the 6.3 ratio and was testing it out in the front yard, i could already see where the groves are forming so dudes not lying. I ended up taking it back and getting a lews speed spool and used the rest of money on baits. plus the speed spool out casts the tatula some how.
From: Jacob: Bee Spring, KY
Comments: This reel is the best reel ever for skipping. If you can't skip without backlashing, then you don't know how to skip. Also, I've found I can fish 1/16oz trout jigs on this reel farther than I can with spinning gear using 30lb braid, 6lb leader, and a 6'9 med/light seeker bushido. Great casting and super smooth. If this reel was $300, I would still buy it. Thanks tackle warehouse and Daiwa
From: Bryce: Lake Forest, CA
Comments: This reel does cast far and is very smooth; however, I bought the reel tip help me skip baits, like a weightless senko. No matter how I adjust this reel, I can't get it to skip baits without back lashing. It's not a bad reel, It's just that I should've purchased another Lew's reel instead.
From: Tom: Charleston, SC
Comments: Best reel on the market at its price point! For $150 you cannot go wrong this thing throws miles past any Abu or Lews PERIOD!!! The TWS is amazing and works flawless and you can really notice the AIR ROTATION it's just silky smooth even after abusing it for 2 months. The magnetic brakes are super easy to dial. I can empty my whole spool of 60lb Sunline FX2 throwing a 3/4 oz. megabass xpod easily!! LOL now that's what you call a country mile!!
From: Morebassthanyou: PA
Comments: Maybe a little bulky and heavy, but its a great reel. Super smooth and casts really well. I would recommend this reel
From: Unknown: IL
Comments: I purchased this reel several months ago after studying most of the reels in this price point and above. I've found this reel to be very similar to the Curado e7 in side by side comparison and internal construction as well. It shares the same design as the Curado e7 with a support bearing around the pinion gear instead of being placed on the spool where fouling can occure. It's a very tight reel with a lot of cranking torque, just like the e7. The mag z cast control is easy to dial in and will outcast any centrificul design with better control. Seems to me that this is the new Curado, just made by Diawa. Put them side by side and compare. Don't get me wrong, I own 10 Curado's and love them. This is my first Diawa and is just simply an amazing reel at its price point.
From: Todd: Shreveport, LA
Comments: was able to start my 2014 fishing season with this reel. Cast like butter , built solid and throwing weightless senko just fly. Palms nicely even with the wide spool. The 8.0.1 is a just have for flipping and pitching. Can't wait to fish it more.
From: Sai: Fresno, CA
Comments: I bought this reel because I wanted a 6:4:1 geared reel and I had a gift card at a place that only had 7:1's in other reels and this one in 6:4 - let me tell you, it is very impressive. I have Revo SX's, Chronarchs, Curados, Lews, etc.. Like someone else said, I have been trying different ones to see for myself. This one is a little bigger, but not much bigger and it casts farther and smoother than any of my other reels. I am going to buy a few more, they are awesome. You won't be disappointed

From: Slade: D/FW - Texas

Comments: the best real I have ever put in my hand... I have always been a fan of daiwa the zillions,rods, every thing I love everything about daiwa but this real goes threw the roof casts a mile, I can throw a zoom trick worm no lie at least 55 yards!!!! it looks nice feals nice it is amzzzzzziiinnnggg. it casdt farther then my sping set up good strong drag.. for lakes for big bass and light salt water conditions... you have to buy it...it is amazing... im 12 years old I fish every day till the sun goes down.. and this the reel I fish every day and it still feels brand spanken new BUY IT!!!!

From: Darien: cape coral,florida,usa

Comments: I really wanted to like this reel. The main complaints I had seen about this reel was it was a bit large and a bit heavy. I was using it on Dobyns 7' M Cranking rod it balanced good and felt fine in my hand. That is until I started to crank it. Everyone brags about how smooth these reels are supposed to be. The one I had an "H" version growled like a dog and was not smooth at all. I fished it a few times hoping it may get smoother it didn't. It got worse so I returned it. On a side note the claims about it casting further. I didn't really see it against the shimano Chronarchs and Curados I use. I will say it casted easier on short throws but when airing out a crankbait I didn't see any real difference between it and other reels I crank with."

From: Blake: Skiatook, OK

Comments: extremely nice reel! Incredibly smooth with plenty of power and it cast a mile no matter what You tie on. The best and most comfortable reel handles I've used. I love my quantum smoke 150 because of how low it sits on my Veritas and other things but my tatula sits much higher on my Veritas rod...just something to think about when buying. Other than that Not a single complaint about the reel it's perfect in all areas... Especially casting distance and color

From: gbass: Jacksonville, Fl

Comments: one of the best reels i have ever used and is deffenetly the smoothest. casting is amazing and the larget handel than the standard 80mm baitcaster handle provides plenty of power.

From: James: Atlanta GA

Comments: this reel is smooth alittle heavy but still fine. This reel is better then my abu garcia reels.I will be buying more of these
Comments: wow! this reel is pretty sick! yeah it is kinda big for a 100 reel, but man can this thing cast! i swear this thing has no gears in it cause it's so smooth. and the price is the best part about it. for a buck fifty it's not a bad buy at all

From: Mitch: st.cloud, mn

Comments: I had been wanting to try the Tatula since I first heard about it and was able to pick one up this past weekend and try it out yesterday. I'm definitely impressed, long casts require minimal effort. It's heavy and bulky compared to a Steez, but considering the price and performance, it's easy enough to overlook the weight and size. I think it's the best reel out there in this price range.

From: Slade: KS

Comments: I feel like this reel is going to set records at this price. It performs just like my Chronarch 201e6, and blows my AG Revo SX out of he water. The things I'm most impressed with is how easy it is to pitch because of the TWS, and how smooth the retrieve is because of the air rotation. I will be buying more of these for my future rods. I'm just amazed at how well this reel performs. This is my first Diawa reel, and I'm in love with it.

From: Sam: Greensboro, NC, USA

Comments: For the money its easily one of if not the best on the market in that price point. Nothing at all to complain about. Great reel at a super price. Can't wait to switch all of mine over.

From: Mark: Lake Fork, TX

Comments: best reel at this price range super smooth and casts a mile

From: JP: LB CA USA

Comments: WOW!!!! Amazing....simply amazing. Finally a Daiwa product that actually makes sense financially. Top of the line performance packed in a solid awesome looking reel.... TWS system totally revolutionizes baitcasting reels. Get three times the distance as any other baitcaster at any price level. Absolutely crushes the competition!!

From: Corey: Gettysburg, PA

***Note: If you have questions about this product or need assistance with an order please email your questions to info@tacklewarehouse.com
View Large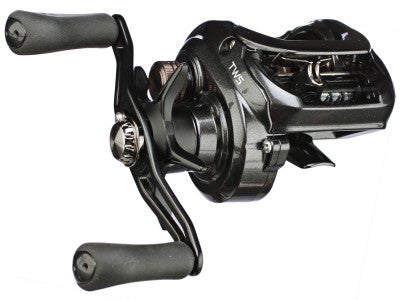 Place Your Order