Damiki Air Craw - $5.79
The Damiki Air Craw features innovative air pockets in each of its claws, which cause them to stand up in a defensive position no matter how you rig it. A great flip bait, it has a beefy yet streamlined body that can penetrate thick cover - then fan out once it hits open space. Its plastic formulation is also super soft so you can always get a good hook into fish, and aside from being a great flip bait, it's also an excellent choice on a shaky head, Carolina-rig, or used as a jig trailer. Available in a range of killer colors, the Damiki Air Craw is another cutting-edge offering from Damiki Baits.
| | |
| --- | --- |
| Length | Quantity |
| 3" | 10 |
| 4" | 8 |
Comments: Ok, well i ordered some (2) packs of these baits (both in 3in). White, and watermelon candy (watermelon candy is my favorite color for any bait). So I recieve these and i get some megastrike shake2 jig heads. I get the megastrike shake2 jig and a whit air craw. I put them together, and this is right after hurricane sandy hit so i didnt go outto any lake. I have a pond by my house so i got to that. This water is almost chocalate milk because of sandy's rain. I throw it out on 8lb test and hop it a few times. Then i hit some weeds and pop it free, i do this again and then i drug it and a LMB nailed it. It was awesome and without a doubt i will be using these craws FOREVER. I cant wait till next year to throw the watermelon candy, (i cant this year because of the water clarity). Bottom line- BEST CRAWS EVER!!!!!!! You should buy these!!!!!

From: Jake: Canal Futlon, Ohio

Comments: Caught lots of Spotted Bay Bass in the Watermelon candy! time to get more of these fantastic baits

From: Lawrence, CA

Comments: Incredible action - fish on 3/8 oz shakeyhead

From: Bojie: TN

Comments: Great bait!

From: Dan: Tulsa

Comments: the best cold water/finesse craw of ALL TIME!!!!!!!!!!!!

Comments: Incredible bed fishing bait.

From: Mike: Queer Pier, FL

Comments: Bomb jig trailer!

***Note: If you have questions about this product or need assistance with an order please email your questions to info@tacklewarehouse.com
View Large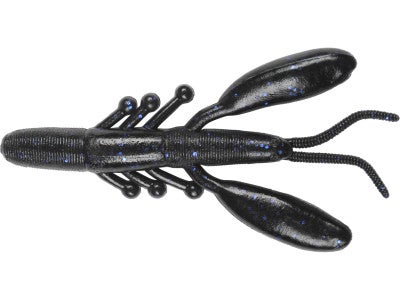 8 Available Colors