Damiki Gizzard Shad 5.5" - $6.99
The Damiki Gizzard Shad glides and swoops back and forth as you twitch it through the water. Unlike other fluke-style baits though, it will turn and fall away on the pause, triggering more strikes from bass. Incredibly realistic, it's available in a range of colors to help you match the hatch and hone into the fishing conditions no matter where you're fishing. Rig it weightless or on a weighted hook, the Damiki Gizzard Shad is the choice of top bass fishing professionals like Elite Series pro, Hank Cherry.
Comments: I bought a couple of packs from TW to see if the hype was true like in the videos and I have to say I am impressed. These "fish" are huge and cast a country mile. The only real setback is the Damiki hook that they recommend you use in the video. It's a pain learning how to put that hook in the right way so I just use a 6/0 EWG and it works fine. As far as colors go the baby bass and pro blue by far have bagged the most fish for me. I think because of the size of this torpedo the smaller bass stay away from it. I've only been catching 3,4, and 5 pounders as opposed to say a Zoom fluke. Overall these fish are pretty durable and they last. When they didn't last is because the tail was torn or ripped off completely. The groove in the tail gives it crazy action and fish just can't stand it.
From: Oscar: Mesquite, TX 4/2/14
***Note: If you have questions about this product or need assistance with an order please email your questions to info@tacklewarehouse.com
View Large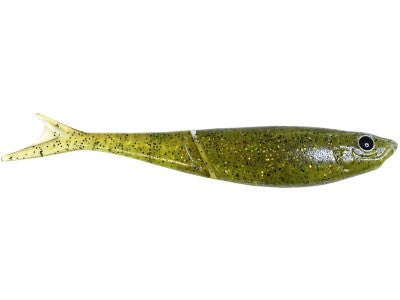 6 Available Colors