Damiki Hydra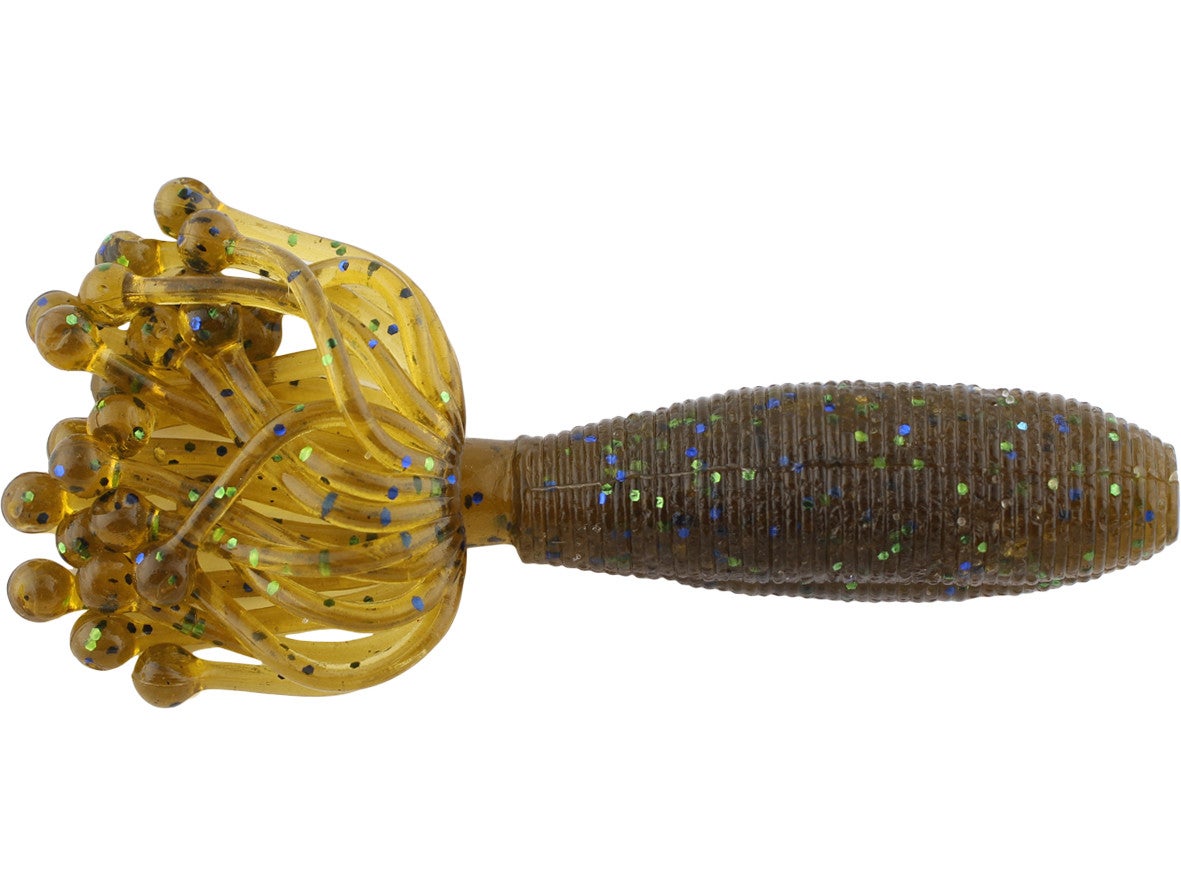 The Damiki Hydra features twenty-four ball-tipped tentacles. The balls at the end of each appendage allow the Hydra's tentacles to float up and fan out, moving with the current and giving the Hydra a more life-like appearance and a larger profile. The body of the Hydra is perfect for a variety or rigging applications. Deadly Texas-rigged, used as a jig trailer, etc., the Damiki Hydra is an innovative bait - new to the US.
| | |
| --- | --- |
| Length | Quantity |
| 3" | 10 |
| 4" | 8 |

13 Colors
More From Damiki Craws and Creatures
Customer Reviews
Comments: when the bass are just not bitting & you need to put a lot of keepers in the boat put this baby on! 4" with a 1/0 or 2/0 hook, weightless, the fish will swim a mile for this bait & is a bigger fish magnet then senkos or the Ika and a third cheaper!!! I haven't had much of a problem with the bait ripping after just one fish, I usually can keep the bait on for 2 or 3 fish &I then it will slide down the hook. Overall my new favorite soft bait! Just let the fish eat it for A LONG time then set.
From: Luke: USA 6/24/15

Comments: Used This last season to pitch and cast weedbeds near the shore, and they produced! As with most Salt Impregnated baits it's very soft and will tear easy. But the ability to catch fish far outweighs that issue. The only gripe I have is that the colors don't look like they do online. Green Pumpkin Black is very transparent, so be cautious.
From: Mike: OH 2/3/15

Comments: I've had this bait for about a year now, and have yet to get even the slightest nibble. I've tried various methods of rigging it, and still haven't been able to convince anyone to take a bite. Could be that I just have no clue what fishing is. Cool looking bait though!
From: Kev: CA 12/22/14

Comments: This is a very nice, subtle bait. But in using it you must count on using mend it, or some sort of glue to hold your hook in place from the get go or you will burn a bag on 10 hooksets-bait is EXTRA SOFT. Think even softer and more tearable than a senko. I wish the body plastic was slightly more firm.

From: Bill: NH

Comments: Fantastic shallow water flipping bait. I don't know if I like this or the Ika more. The Hydra falls slower so I think I prefer it more for a tough bite.

From: Chris: Fallbrook , California

Comments: People say this bait is too soft but I rather have a soft bait that penetrates the hook easier rather then losing a fish to hard plastic. This Hydra has been a money winner for me and if it means 1 fish 1 bait so be it. As long as I catch fish on it.

From: Rich: AL

Comments: waste of money. Sure it catches fish but name me a lure that doesnt.... Rips way tooo easy like everybody is saying. Even mend does not work too well. Great concept but horrible plastic. Money better spent elsewhere. 1 bite per lure. Hopefully is a big fish not a small fish and u get a hook up.

From: sir calvin

Comments: Caught the biggest bass I've hooked in 5+ yrs with this lure. It is very soft though, too soft I think. 1 fish per lure.

From: Joe: Bridgeport, IL

Comments: this bait just got me in the money,2nd tournament of the year,it gets bit,very soft though,i did add scent to the bag,maybe that did it,1 fish per bait.

From: Rick: Johnstown, OH

Comments: Was skeptical to buy these at 1st but, saw them at a fishin show, and got a good deal on em, so I picked up a few bags....They are soft, but I managed to make one last most of the day....Got a ton of hits and caught a few on the 4" June-bug color....They have great action and can be rigged several different ways...I can see where people would think they are not durable, they are super soft and flimsy but worth the money! They also make a decent trailer on a stand-up jig or a swim-jig...Great for high pressured fishin areas! Love em!

From: Shark: Where Blue Angels Fly, MD

Comments: Very soft with great action. Just not durable enough. Tear very easy. You will go thru a package in no time.

From: Don: OKC

Comments: Tried a pack of these today in Junebug 3in. They got me a couple bass, and they didnt get all torn up. I'm impressed with the action, I bet the 4inch wiggles around even more. I'm not sure how other folks were rigging it but I just tossed it on a worm set up, 1/8 bullet weight 2/0 hook, texas rigged it and the hook was big enough to come between the tentacles and tuck neatly into the body. So no unnecessary tearing from rigging. Tossed out it out and treated it like a worm hopping it on the bottom, bass kept attacking it. Will buy more.

From: Abhi: Somerset, NJ

Comments: Really like this bait in the 3" size. I use it rigged on a stand up jig with the spring screw type attachment and seem to get a couple fish per bait before biting off a 1/4" and re-rigging for a few more. I also use super glue which makes each one last longer. Only used the green pumpkin because it kept working. It was very effective in weeds for large mouth and hopping down drop-offs for small mouth all on Canadian shield lakes.

From: James: PA

Comments: Biggest problem is that they rip apart easy. Caught many at Havasu this spring on beds but only about 2 per lure. Damiki makes great lures but these just don't last. I tried many types of hooks but still rip easy.

From: Shawn: Orange, CA

Comments: Durability a Major issue. The bass did nail it and I will most likely buy more but I was averaging 1 bait to 1 bass in the boat.

From: Adam: Ontario, Canada

Comments: ive fished it on a spot remover hook the baits work well but they don't last long at all.

From: Adam: Nashville, AR

Comments: Looks great in the water. I have had some issues with finding an ideal rig for it. Very similar to a tube but a little more versatile. Still on the fence about this bait and I find myself going back to grubs. Worth getting a pack but I can't say if it out performs other grubs.

From: Nathan: Kingston, Ontario

Comments: Awesome bait. I love to use it on a shakey head hook. The tentacles float and wiggle around even when the bait is sitting still. Great bait for bedding bass. Great bait to swim. Great bait to do just about anything. Very highly recommended!

From: Joe: Vineland, NJ

Comments: this bait is one the best plastic bait ever made but wish it came in watermelon red-blk with red tentacles but fixed by buying both your color and red and cutting the red tentacle of and meating them onto your fave colors if you use my tip your fish catching rate will double good fishing

From: Shawn: Ontario, Canada
Comments: this is the best flipping/pitching bait on the market, bar none! pick your size and color, use your favorite rig and toss this amazing bait into the tules and weeds. it is a bass catcher. the stand-up jigheads in 4/0 to 5/0 work perfectly or texas rigged with a pegged or screw-in bullet wt. is also great--

From: Wes: Salinas, CA
Comments: This bait flat out catches fish. It can be used in many different applications: flipping, pitching, dragging, just to name a few. I've experimented with a number of techniques and the hydra excels at all of them. On the fall that bait can tantalize even the most finicky fish into biting. Durability can be an issue but it is definitely outweighed by its fish catching ability.

From: Destin: Erie, PA
Comments: Bait has great action and catches fish. Only complaint is that it is not durable , but ability to catch fish overcomes that downfall! Worth trying!

From: Bill: Germantown, TN