Damiki MTB Noisy Buzzbait - $7.49

The Damiki MTB Noisy Buzzbait features an exclusive Ball Knocker for increased sound and surface disturbance. Its M-Hull head design also allows the MTB to run better than traditionally designed buzzbaits. Like the hull of a boat, the M-Hull allows the Noisy MTB to track straighter, and also helps it resist rolling over at high speeds. A hand-tied skirt with the ideal combination of fine-cut and regular-cut silicone gives it additional lifelike action. Available in several color combinations, each Damiki MTB Noisy Buzzbait is also equipped with an extremely sharp and super strong Viper hook.
View Large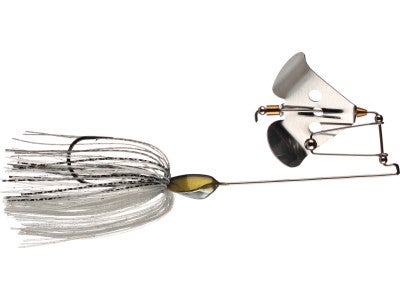 More Damiki Buzzbaits
Comments: great search bait in the mornings very loud and calls fish in from the distance. A little pricey for a bait that's thrown in and around rocks and wood but that's why they made braid
From: Jacob: CO 12/23/14

Comments: Purchased two, each of the was good for one fish. Flimsy bait. Ran great, super buzz bait, but not very hardy.
From: Rick: Delta, CA 6/15/14

Comments: A exceptional Buzzbait! I read the other comment below and I would have to disagree with what the others have to say. This bait ran true out of the box and by far is the noisiest one yet. First outing, landed a 6 and multiple 4's on it. I had no problem with it. Testing it in the pool doesn't mean anything.

From: Rich: San Diego, CA

Comments: like the bait but kind of flimsy caught a decent pickerel on it & had to toss it away do to it being all bent up

From: Steven: New London CT

Comments: Bought one at Bassefest (cool looking bait). Bait ran left and could not tweak to get to run straight. Called Damiki and they sent me a new for free. Just got the new one today tried it in the pool and same thing, runs left. Great customer service, BAD bait. Don't waste your money!!

From: Dustin: Fair Oaks, CA

Comments: Great and LOUD buzz bait like the weed protector for the prop but after one fish it bent mine out of shape; imo the wire is soft enough to bend back but it is too soft and kind of a hassel overall super loud but dislike the thick but soft wire

From: Ryan: USA

***Note: If you have questions about this product or need assistance with an order please email your questions to info@tacklewarehouse.com