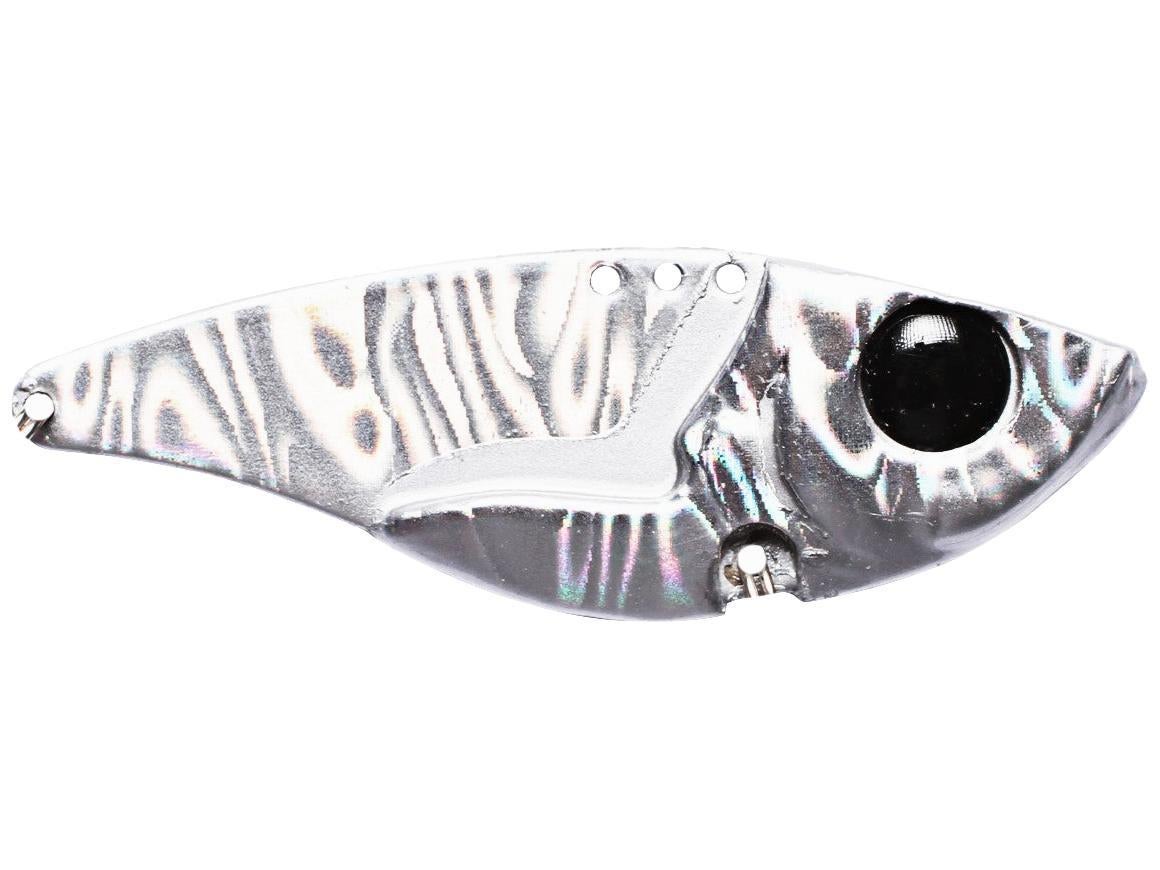 The Damiki Vault is a tiny blade-vibration bait - great for targeting bass, as well as, various other fish species. Excellent for ripping through baitfish in cold water, it accurately mimics a variety of forage species with its unique vibrating action and realistic color patterns. It also features 3 settings for tying your line. This allows you to vary the pull point based on how deep you want to fish it, and what type of vibration you want. The closer to the head - the bigger the wobble, and the farther back - the tighter the wobble. Also equipped with super sharp, high quality Damiki Viper Hooks and available in a variety of colors, the Damiki Vault is a versatile and effective bait that really allows you to adapt it to changing fishing conditions.
| | | | |
| --- | --- | --- | --- |
| Damiki | Length | Weight | Class |
| Vault 42 | 1.65" | 1/4-oz | Sinking |
| Vault 55 | 2.15" | 1/2-oz | Sinking |
12 Colors
More From Damiki Hard Baits
Customer Reviews
Comments: The 1/4 oz is tiny but powerful recently we caught over 30 bass, yellow bass and perch in 4 hours on it. Will catch pretty much anything from bluegills to bass. The 1/2 oz big brother rocks for stripers as well. Rear hook has a tendency to catch your line on a cast, to reduce this begin your retrieve immediately and then let it drop on a tight line. Black holo and white colors best.
From: fatswarcat: Tennessee 12/14/16
Comments: The smaller version is small but it mimics the small shad and fry perfectly. Don't let the small size fool you I have caught largemouth, smallmouth, spots, drum, catfish, crappie & it is deadly on big shellcrakers. Fished on medium action spinning rod and 7lb flouro you feel the vibration in 25-30 feet of water. Only drawback is the rear hook will catch your line and the treble is so small that it can bend on hook removal
From: Fatswarcat: TN 10/28/16
Comments: Great bait to use ripping off the bottom imitating dying shad. Black Holo is a great color but the only problem I had was the hooks were cheap. After a 4 lber the back treble hook broke so I would recommend changing the treble hooks
From: Caleb: WV 11/3/15
Comments: Jigging a hump on a Texas Lake for white bass and stripers. Use traditional slabs and spoons with no real good results. Switched to a vault and was able to boat a limit of stripers and a good 15 whites. I was really impressed with the tight vibration the lure has on the up stroke. And the fall imitates a wounded baitfish perfect. I have stocked up on these little bad boys in all colors but the ayu works best for me.

From: Eric: Houston, tx

Comments: This is a very good bait these cast a mile and catch fish. Not caught no big fish on it but they catch all types of fish. They look awesome in hand.

From: Kevin: KY

Comments: This little bait is a fish catching machine. i had been catching striper at the mouth of the creeks this March by casting crankbaits. I looked through my tackle box and found the damiki vault. I backed out into 19 feet of water and dropped it down to the bottom and started jigging it slowly and the stripers and bass ate it up. Before the day was done I had caught 40 striper and 8 good bass off of the damiki vault in the black halo color half ounce size. The will catch walleyes, sauger, smallmouth and large mouth bass anywhere anytime. I changed the hooks to mustad KVD's number 4 and never lost a fish. Try them you will never regret it. As a matter of fact I ordered me 10 more lures just to be sure that i had enough whenever bass move out into the deeper points this summer. Excellent bait.

From: William: Hohenwald, TN

Comments: I love this bait to Death While most of the fish have been small i caught 16 the last trip out. If the fish are boiling then this is a great bait to get out

From: Robbie: So Cal
Comments: I used these in black holo and spot green on a recent trip to Dale Hollow. We caught smallmouth, largemouth, crappie and some of the largest bluegill I've ever seen. This is a very hot bait in the fall. We used the 1/2 oz size,very small profile.

From: Darren: Mayslick, KY