Davis Bait Aaron Marten's Shaky Head 5pk - $5.69

Based on the original shaky head Aaron Martens handcrafted and whittled down himself years ago, the Davis Baits Aaron Martens Shaky Head went through many prototypes before it met Marten's exacting demands. Rather than having a ball or football head, it features a flat, oblong, off-centered head with a recessed line eye and single-barb collar. This unique head design provides it with excellent snag-resistance, allows it to stand up on the bottom every time, and also produces a deadly side-to-side action from your worm when you shake it. The position of the line-eye and the unique shape of the head also create a cam-action when you set the hook force the hook point into the roof of the fish's mouth for far better hook sets. Marten's also found that the sticky sharp Gamakatsu O'Shaughnessy 3/0 Hook does a better job of hooking and holding onto bass than other hooks. When fishing his shaky head, Marten employs a variety of retrieves from swimming it, to bouncing it and stroking it off the bottom, to dead-sticking it, etc. He also fishes it in depths from one to 30 feet. Available in a range of sizes, the Davis Baits Aaron Martens Shaky Head channels years of bass fishing experience to help you catch more fish.
Pair the Davis Baits Aaron Martens Shaky Head with the Davis Baits Aaron Martens' Series Shaky Worm for the ultimate presentation.
"It's honestly good everywhere. I've whacked them on the shaky head from Lake Shasta to Lake Mead to St. Johns River to Lake Champlain. It's got an awesome action." - Aaron Martens, Bassmaster Elite Series angler.
Comments: I like the concept of the head shape, but it does not stand up. I have used many different kinds of floating baits and still cant get this head to stand. There is no point in using a shaky head that does not stand up. If the head was a little wider it would be a perfect shaky head. Until then i dont recommend this shaky head.

From: Lake Guntersville
Comments: Without a doubt the best shakey head I've ever fished with, every fish that bites ends up hooked in the top of the mouth or in the gill plate. The hook is really sharp and pretty durable, you are missing out if you don't buy a couple packs and give them a shot. As for the paint flaking off, get over it, it's gonna happen and when it comes down to it I'd rather have an unpainted head that hooks fish in the nose than one that misses half of the fish that bite it, just my two cents though.

From: Jake: SC

Comments: Best on the market for hopping it along the bottom. This is not a dragging along the bottom head design. YOU DONT MISS FISH WITH THIS HEAD

From: ol kicker: given wv us

Comments: This shakey head stands up better than any other on the market. If it's laying on the bottom of the pool you are the problem. The angle of the hook and the cam head gives a hookup in the nose of the fish almost every time. The vertical line tie and the keeper on the back of the jig makes it extremely weedless. Thank you Aaron Martens and Davis baits. Excellent shakey head

From: Sean: Reno, NV

Comments: I bought a few packs of these to try them out thinking they would be good having been designed by A. Martens. I was proven wrong after fishing with them and testing them in a pool. These heads do not stand up but lay on its side. Paint flaked off after minimal use as well. Total bummer

From: Evan: Arlington, TX

Comments: I'm terrible at shaky heads and could never find one I liked until this one. Comes through rocks and weeds easily. Can't believe it took this long for someone to finally come out with a shaky head this simple and effective. Will be buying a ton more to replace my old ones.

From: David: Atkinson, NH

***Note: If you have questions about this product or need assistance with an order please email your questions to info@tacklewarehouse.com
View Large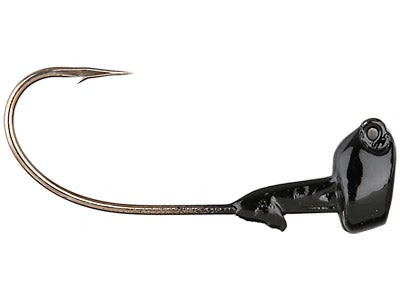 2 Available Colors
More Davis Terminal Tackle