Decoy Screw Worm106 Hook 2pk - $6.49 to $7.49
The Decoy Screw Worm106 Hook gives your favorite baits an added element of attraction that will make them stand out in deep or stained waters. Built with a smooth-running prop blade, the Decoy Screw Worm106 Hook produces a subtle flash and a buzzing vibration that bass love. Also, the Decoy Screw Worm106 Hook slows down the baits descent to give it a natural falling action without any extra effort. To keep baits locked in place, The Decoy Screw Worm106 Hook is designed with a wide gap and an offset shoulder bend that accommodates a wide-variety of soft plastic baits. On the drop or the retrieve, the Decoy Screw Worm106 Hook has that little something extra that will "propel" you into first place.
Decoy is a small Japanese company based out of the city of Nishiwaki. They are dedicated to providing anglers with the highest-quality fishing tackle for the most cutting-edge techniques on either side of the Pacific. All Decoy products are backed by a strict quality control and made with an unwavering commitment to excellence that makes them ready to catch right out of the package.
View Large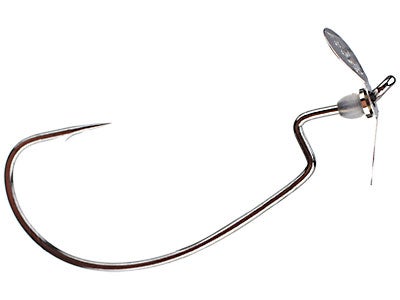 More Decoy Hooks
Comments: TACKELWAREHOUSE ALWAYS AMAZES ME.I HAVE BEEN IMPORTING THESE HOOKS FROM JAPAN AND PAYING 40% MORE.I BANGED A COUPLE OF LARGEMOUTH LAST WEEK WITH THE NEW LITTLE EASY GAMBLER SWIMBAIT A 5/0 FITS IT PERFECT I USE IT WEIGHTLESS GREAT FOR BERKLEY 7 INCH NATURAL CRAWLER COLOR I ALSO USE A CULPRIT RIBBON TAIL COL0R CHARTRUSE IN SIMMERTIME IN THE EVENING YOU GOT THE FRONT PROP SPINNING AND THE TAIL TWIRLING WHAT ELSE DOES A BASS NEED YOU HAVE A GREAT ASSORTMENT OF SIZES HERE. TO ME TACKELWAREHOUSE IS MY BOUTIQUE THEY CARRY A BUNCH OF GREAT HARD TO FIND BASS FISHING EQUIPTMENT THIS IS A SUPER QUALITY HOOK.TACKELWAREHOUSE IS RESPONSIBLE FOR 90% OF THE BASS I CATCH NOW LETS GET SOME FISH ARROW PRODUCTS AND DO SOME REAL FINESS FISHING GOOD FISHING GUYS

From: RICHARD: MOUNTAINSIDE NEW JERSEY
***Note: If you have questions about this product or need assistance with an order please email your questions to info@tacklewarehouse.com