Deps Basirisky Hard Belly Frog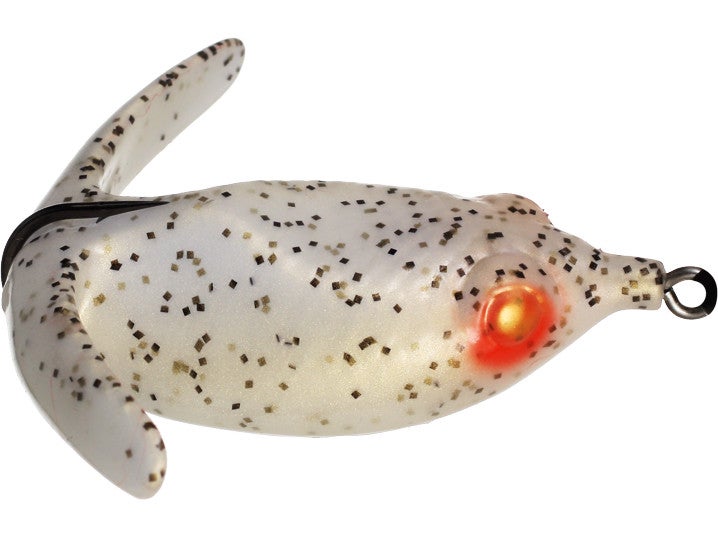 The Deps Basirisky Hard Belly Frog continues to raise the level of innovation with the addition of a hard polycarbonate belly. The hard belly design actually enhances many of the characteristics that made the original design so successful and adds a few benefits of its own. The unique forward facing 'legs' still help create the Basirisky Frog's unique action and also provide a larger profile, making the bait an easier target for lurking bass. As the bait is retrieved, it crawls in a rocking motion across the water's surface leaving behind a huge ripple. The hard polycarbonate belly actually accentuates this motion and improves the frog's balance as well, providing softer and better landings on casts.
Equipped with a single Owner hook, the hard belly allows only one side of the frog to compress. This improves the frog's hook up ratio by projecting the hook into the hungry bass' mouth and leaving less wiggle room for the bass to get off the hook. The bait is also vented to allow air to escape quickly, making compression more complete. Effective anywhere you would think of throwing a frog or rat, the Deps Basirisky Hard Belly Frog is an effective fish catcher on the mats, in thick grass or scattered vegetation, and even in open water.
Featuring a new hard polycarbonate belly:
4 Colors
More From Deps Frogs
Customer Reviews
Comments: Pros: unique design, unique action,easy to cast and skipp, attract fish. Cons: for open water or very moderate cover only(grass will kill the action, poor hookup ratio, very expensive bait
From: Ben: France 6/1/15

Comments: I had this frog and I loved it so much! I thought hookups were going to be horrible because of the wings, but I believe I hooked every fish that took a good bite at it. the wings do snag up a little bit on the matted algae in the surface but grass and such it does amazing. and that's expected, its not made to go over matted algae. a definite buy
From: Matt: USA 2/14/15

Comments: Great bait, especially in moderately dense vegetation. It really excels being worked through the heavy stuff like a typical frog, but as soon as it hits open water, just straight reel it. The bass can't resist it. Rarely do I catch small fish on this bait. Take some time and learn how to properly use it and pay attention to when it gets hit. A very productive bait.
From: Drew: MA 7/24/14

Comments: I have been fishing with this frog for about 2 years now. I have landed some decent size Bass on it. I think this frog gets some bad comments. Give it some time to work on you. It does act like a jitterbug in the open water. Nothing wrong with that. I hardly ever get drag any weeds back with it. It acts really nice on top of weed beds. A from me.

From: Mark: Wheeling, Illinois, USA

Comments: i prefer this frog over all others... due to the fact that when fished correctly, this is a tournament winning frog. i have put small weights on the nose.. pushing it up and down on the surface of the water. and this helps a ton. last year i caught a 40-50 percent of my bass using this method!

From: Cole: USA

Comments: First of all, most of you probably do not know how to fish this frog, it is fished like a weedless jitterbug! Imagine the potential this bait has! Your classic jitterbug action when slowly retrieving but in weedless form! throw this over the thick stuff and watch it do the work for you! Great lure, one of the most fun top water baits to fish! Great hook up ratio as well!

From: Chris: Deep South, LA

Comments: deps makes the best three frogs on the market period. this one the slither k and the new buster k make any other frogs obselete. the action that all these frogs put out is unbelievable this one is the only one in the buisness that has this kind of movement on the water the wide side to side wobble has boated me some mighty big bass one of the best baits that there is for big bass buy one it will change you fishing forever!!!!!!

From: Jim: Lake Tomahawk, WI

Comments: Very unique and different action from all other frogs. This is one of my best producing frogs! Every other feedback is positive so buy it!

From: Paul: Akron, OH

Comments: hands down the best frog on the market! last weekend helped me place 2nd. i was throwing the spro got a couple to hit it but no takers with 1 hour left in the turney and only 2 fish in the boat put this baby on got 3 real fast!! you guys gotta start carrying the black !!!!!!!

From: Tom: NY

Comments: Best Frog On The Market Its Just Amazing How It Outfishes Other Frogs

From: Adrian: So Cal

Comments: Found this lure at a mom&pop tackle shop it had dust on it.Paid $10 bucks and its amazing by far one of my favorite go to baits when the bite is slow.Its a fun bait to throw it never snags always looks cool and its just wobbles arcoss the water.The most badass thing about this bait is you can watch the bass follow it almost everytime then its GAME ON the sencond you slow it down i promise if you buy it you catch fish.No doubt worth the money

From: Brandon: Virginia Beach, VA

Comments: well worth the money......great bait..not just a night time bait....95%hook ups best frog

From: Greg: Brighton, MI

Comments: You really want to add some action and catch a lot more fish on this lure I have a tip for fishing the frog. Tie you about 8 inches of line on to the hook and Texas rig you a black floating worm on it. It will drive the fish wild. Bass will eat it up. Crank it real slow just enogh to get the plop, plop going and then stop the lure every 3 or 4 feet. They will bust it hard. It works great and night and daytime out in the open water around the stumps and lay down trees. Use the 70mm it works the best. Makes more noise and casts a lot farther. Try this tip and you will be amazed at what you catch.

From: William: Hohenwald, TN

Comments: Love this frog. My absolute favorite night bait. Period. Because this bait moves slower than a buzz bait (just for example) this allows bass to track better at night. The slow clumsy wobble drives them nuts. Reminds me of fishing a Jitterbug at night when I was a kid, but this bad boy is so much more weedless. You can take the risk and throw it close around and into cover. The wobble is better than a Jitterbug though. Looks like (or at night, SOUNDS like) it drank a six-pack of beer and went for a swim! The bait's action is totally killed when fishing matted grass and pads, but not a big deal. In this situation just fish like a Spro. I usually just fish it around the edges of cover and along the bank. Even though it does not wobble on grass mats, when it hits an open spot, resumes wobble again. Makes more of a splash when you jerk the rod too. Other hollow frogs don't do this. Try one!

From: Josh: Indiana, USA
Comments: I fish frogs all of the time. I love this frog. If you really want to experience topwater fishing at its best, tie you one of these babies on at night and hold on. I fished Pickwick lake last weekend and I bet if I had kept up with it, I had 50 explosive strikes. We caught a bunch of fish, and we missed a lot more than we caught. I don't think that it is the baits fault that you miss a lot of fish. They hit it so hard that they try to kill it. Give a kid a Zebco 33 reel and tie one on and he will be your fishing partner forever. I love this bait. I have both sizes and I prefer the 70 size because it will waddle a lot better and cast farther than the 60. Tacklewarehouse has the best selection and price of anyone, anywhere.

From: William: Hohenwald, TN
Comments: I love this bait!!! this is THE BEST FROG ever!!!

From: Marcel: Luzern, Schweiz
Comments: Brilliant frog design, has become one of my favorite topwater lures. Bass absolutely crush it! Really fun to fish! My absolute favorite night fishing lure. Fishesliene, a backwards weedless Jitterbug on steroids! Surprisingly, caught my personal best smallie on Lake Huron (not far from Mackinac Island area) fishing this frog around pads. Hook up ratio not 100%, but even the violent misses are great fun because they really get your adrenaline pumping!This frog shouldn't replace your Spro frog, but it is a terrific addition to any frog box because it offers such a unique action that few bass have seen! Try one out!
From:Josh: Noblesville, IN
Comments: Best Frog Bait ever!!! I have fished every frog bait there is, ( including the Spro Frogs). The Basirisky Frog is easily the best at casting, drawing strikes, and getting solid hook ups!! I tried both the small and large one, but ended up just using the big boy. It casts extremely far on 65 lb braid. My hook up rate is very high, at least 90% or better !! The most durable frog ever too. I have been using the same , soft belly model, for two years now and it is not torn at all, and I have caught many bass on it.
From:Blake: Cullman, AL
Comments: Got both versions. The bigger version (70mm) seems to waddle better than the smaller one. I can throw both versions pretty far. Personally, it seems to me that the bait works better at night. Hook up rate is about 60-70%. I like the SPRO frog better than this one cause when this one sits still there is extra no action from the frog. With the SPO at least the legs are still fluttering. Once the weeds get tangle into the hook the bait doesn't walk as well. And for about the same price you can get two SPRO frogs.
From:Phillip: Minnesota, USA