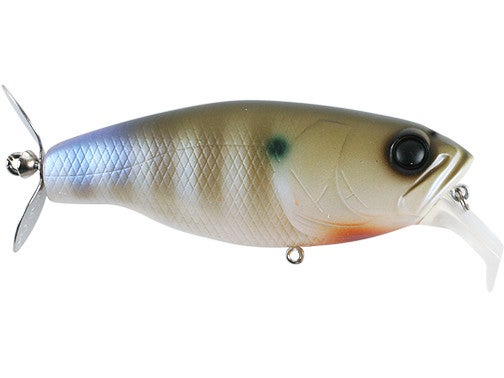 In our search for the best bass fishing tackle in the world we see and reject lots of new lures because the baits are just not effective or the quality is not what we'd buy and use ourselves. The high quality of these Deps lures first attracted our attention and we were even more impressed with how well they caught fish.
The Deps Buzzjet is a whole new concept in topwater lures, combining features from some of the hottest lures on the market today. Buzzjet offers a great walk-the-dog action with plenty of noise from the loud multiple rattle and plenty of splash from the bait itself and from the tail prop. Need a shallow running crankbait? Buzzjet will bulge and wake with the best of them. Rip it and the prop will drag a trail of bubbles underwater and the sliding weight system will shift and the bait will dart for the surface head first, just like a fleeing baitfish. Deadstick the Buzzjet with occasional twitches and darts to tantalize wary fish until they can't stand it anymore and HAVE to smash the bait. How ever you choose to use the Buzzjet you will have one of the most versatile hardbaits on the market today.
| | | | |
| --- | --- | --- | --- |
| Deps | Length | Weight | Class |
| Buzzjet | 4" | 1-1/8oz | Topwater |
14 Colors
More From Deps Hardbaits
Customer Reviews
Comments: Unreal action! Keep the rod tip high and do a short retrieve and let it sit, or reel slow on a steady retrieve. Blew up a 7 lb pre spawn hen on the delta yesterday. absolutely DESTROYED this lure
From: Chris: Union

Comments: Black is killer at night if a little or more wind - SLOW retrieve - catches fish all sizes - replace hooks if you can, they are so/so but the action flat out kills on the regular.
From: Ken: USA 6/27/15

Comments: Awesome bait!!! I have been fishing the buzzjet all spring and it got me some nice bass and pikes. I specially like the jetblack color for dusk and night fishing. If you wonder if the 4" is too big, well don't worry, I have caught bass less then a pound with it.
From: Marc: Montreal, Quebec Canada 5/18/15

Comments: Sounds like an old junk truck rolling down a dirt road. Big fish small fish buzz jets catch all fish. This model is a good alternative when wind waves mute the action of the regular bj. The hitch really is a good imitator of baby carp so it fishes fine in rivers. Wish tw would get some other colors of bone particularly black widow for night fishing
From: Fatswarcat: Irony, PA
Comments: This bait scared me because of the price but i got one( Jet Black) and i used it. I had to get used to the weight and how to really catch the fish but once you get the hang, THIS IS THE BEST BAIT I HAVE EVER USED...hands down
From: Michael: Greensboro, Nc
Comments: Hands down the best prop bait I've thrown there's no lack of detail on the bait!

From: Ryan: Temecula ca

Comments: This bait is awesome. Fish try to kill it. Use the 4 inch size. Good results using 25 pd mono but braid would be a good alternative since I lost one to break-off. Advice to cut off the split ring and replace with snap is accurate and way to go.

From: Biff: Paradox, NY, USA

Comments: Lure lives up to the hype, catches them all, big and small. Fish attack it with a vengence. Recommend the blue gill color first, then real largemouth. Heavy lure, found a med heavy spinning rod with 25 pound mono worked well. The advice about replacing split ring with snap is accurate, but you need to use a larger snap to allow it to do its thing. $26 lure, expensive, catching fish that won't hit anything else, priceless.

From: Biff: Paradox, USA

Comments: listen to me fishermen this is the best top water lure in many years the action the whole package nothing can top this bait. dont even bother looking at any other topwater if you look at all the reviews of all!!!!!! the deps lures no doubt they are the very best in the industy most incredible movement of any lure on the water save your pennys and buy one!!!!!! and then you can throw all your other topwaters away.

From: Jim: Lake Tomahawk

Comments: LOVE this lure! The action of this lure is like no other I've used before. 1st time on the water with it, caught multiple 1's & 2's!

From: Mike: San Jose, CA

Comments: Comments:Just got mine in the mail Sat after eyeing this lure for more than a year. The higher price tag had me in limbo. But, took it out last night, and had three fish in 10 minutes. Great bait!!! Worth every penny. Im a "silent" lure guy. And this thing is the exact opposite. But, im sold. Its now my fav lure to throw. So fun.

From: Chris: L.A., CA

Comments: just like everybody else has said, this is by far my most favorite lure in my arsenal... i dont like the price tag at all but it is so worth it, i have bought 3 more since. dont wait for these to go out of stock like usual and get one now.

From: James: Ft Polk, LA

Comments: This is one of THE BEST topwater lures out there!! This bait just replaced my jitterbugs, just had to write about this awsome lure again, do yourself a favor and GET SOME!!!

From: Mrbond007: East Lansing, MI

Comments: easily one of the top producers in my tackle arrsenal,it does so much for 1 lure.but the most important thing it does......it flat out catches fish ALOT!!!.sure its kinda on the high priced side,but for the sheer joy or landing those once and a lifeime lnkers,its worh it!!!i like the jetblack and the real bluegill best.buy one,you wont regret it.night time topwater,early morning shallow crankin or waken it in the summertime.the buzzjet does alot and produces well.

From: Steve: Homer Glen, IL
Comments: Cool bait, any bass guy worth his salt owes it to themselves to get this bait, a little heavy, but man, does it catch bass (and pike!) get the jet black color for night bassin, a must have lure!!

From: Mrbond: East Lansing, MI
Comments: This is my number 1 topwater lure. You can keep it a couple inches below the surface or right on top by lifting or lowering your rod tip. It makes enough commotion on top to bring fish up from the deep. I have one issue with this lure, the paint job has been nearly completely chipped off. I have the real largemouth pattern and it does great catching fish everywhere, but after about 15 fish there was a significant amount of the pattern chipped off. My friend purchased the real bluegill color and that has held up great. And if you're thinking of getting the jr. don't, the 4 inch is the way to go if you want to catch large fish. And little guys aren't afraid of it either, I've caught smallmouth under 2 lbs on the 4 inch.

From: Massachusetts, USA
Comments: Another DEPS home run, this bait can be fished a variety of ways but a slow steady retrieve will elicit some vicious strikes. Don't be afraid of the big one unless your pond fishing.
From: Lee: Jackson, TN
Comments: Good bait. Fished with a steady retrieve, or jerked, it makes a racket that draws the fish up. It's a big bait, and heavy, too. But it is exceptionally well made and the paint has held up well on mine. Great hooks. Premium price but worth it.

From: Rowland: Newport News, VA
Comments:Totally awesome bait! I purchased a couple of these lures because I thought well I didn't see very many reviews good or bad about the lures. I bought the blugill and the largemouth bass colors and gave them their first test Saturday on Pickwick.
From:William: Hohenwald,TN
Comments:Pike really like this bait. Ghost Bass color was the ticket for me at Lake Mary in Northern Arizona.
From:William: Flagstaff, AZ